In the Deep End With … Dan Mangan
Posted On November 9, 2022
---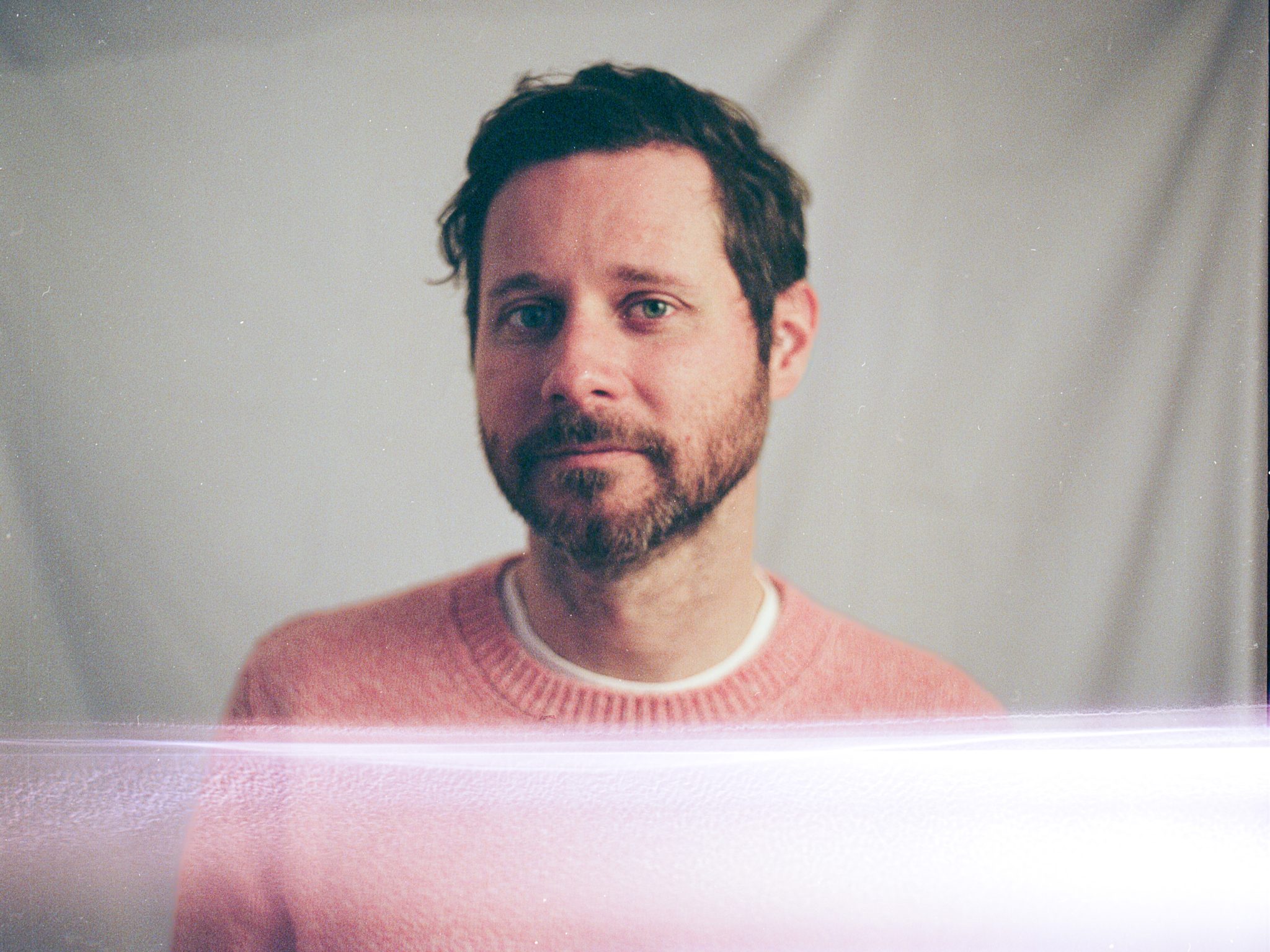 Photo by Jonah Atkins
It's the final day of Folk Music Ontario — a four-day festival and conference celebrating the folk traditions of Canada's most populous province — and singer-songwriter Dan Mangan has arrived from the opposite side of the country with just about 12 hours to spare before his event. He's scheduled to participate in the closing session, a conversational masterclass on songwriting presented in partnership with Society of Composers, Authors and Music Publishers of Canada.
Based in Vancouver, Mangan is a beloved songwriter in his home country. He's won two Juno awards and has been twice listed for the esteemed Polaris Prize as well. Mangan's sixth LP, Being Somewhere, was released in October and shows him pushing the boundaries of his earlier troubadour-like sound.
Dressed in a long-sleeved khaki Filson shirt and carrying his guitar and gear, Mangan slid into a booth at the conference hotel's restaurant. Over eggs and much coffee, he spoke with No Depression about Being Somewhere, songwriting evolution, writing about sensitive topics, and more. In keeping with the theme of the "In the Deep End With …" series, our conversation starts casual and gets, well, pretty deep, and Mangan's responses have been edited for length and clarity.
I just moderated a panel here at Folk Music Ontario called "What's The Story? Uncovering the 'Lede' in Your Bio and Press Releases." Riffing off that, what's the story of your new record, Being Somewhere?
In short, this record is my sixth record and it was made entirely long-distance. I was recording the acoustic guitars and the vocals in my basement and sending them to [collaborator/producer] Drew Brown in Chicago. And he was sending them to players in Los Angeles, New York, and London [UK]. It was a crazy process. It took us 2 1/2 years to finish this record. And there were times when a decision or some kind of impasse or problem that could have been solved in 20 minutes of talking about it took six weeks of back-and-forth over email and text and Dropbox and WeTransfer! It was, at times, an infuriating record to make. Maybe that's a strong word, but it was infuriating! It tested both of us. I don't think either of us would ever make a long-distance record again. However, [it was a] special moment, a time and a place, a perfect storm that could never be replicated.
I will say that there is something special about this record to me, in that it feels like a collaboration between myself and Drew. I think that when it comes to lyricism, or when it comes to songwriting and melody, I have particular confidence. I have a particular understanding or gut certainty about what I'm doing. And I know when I've tapped into the real shit. But when it comes to production, I question my gut much more. And Drew feels the same way about sound that I feel about the song. The aim is to have a great song and then also have the production of that song be as nuanced and interesting as the song in the first place.
Most of the songs on the new record are a little like electro-folk. "In Your Corner (For Scott Hutchison)" and the closing track, "No Tragedy Please," are a little bit more on the pendulum closer to traditional acoustic folk, but tell me about the sort of instrumentation of Being Somewhere and why you went in that direction.
Drew has a very deep philosophy and method around "modern classic." He wants records to feel modern of today and yet feel like they could have been made 30 years ago. There's a lot of synths on this record. But they're all analog synths from the '70s and '80s. But it's not a very digital record, despite the fact that it sounds very electronic.
Drew's worked with all my favorite bands: He's worked with Radiohead, Beck, Charlotte Gainsbourg, and so many amazing people. And he was Nigel Godrich's right hand in London for a number of years. So he was involved in so much cool shit that I have idolized. I've approached this whole relationship with the sense of imposter syndrome. But the cool thing about Drew is that he doesn't give a shit about what's cool. In fact, if something is "cool," that actually makes him less interested. And if you ride that wave up the chain, that's how these bands operate. Radiohead is the coolest band in the whole world and they don't give a shit about being cool. And that's why it's so cool! All they care about is following their creative gut.
Drew works with a lot of that philosophy that he picked up from Nigel, and a lot of it has to do with staying in "discovery mode" and staying in that openness. It's my sixth record and you get to a point where you want to be stretched. I've made classic singer-songwriter records, and every record of mine has wandered into different territories. I was ready to be stretched further.
Tell me about your song for Frightened Rabbit's Scott Hutchison [who died by suicide in 2018].
I met Scott at Glastonbury, I want to say 2012 or something like that, introduced by a friend. I don't know [Frightened Rabbit's] records inside and out, but I knew a bunch of their songs. And I knew that they were sweethearts, that they were great people, and that he was an amazing writer. They were really tight with Wintersleep, who are good buddies of mine, and they toured with Broken Social Scene, who are good buddies of mine, so there was always like two degrees of separation [between us]. In terms of popularity, they were on a higher level, more well known around the world than I have been, but they were operating in the same sphere of indie rock and folk and songwriters.
When I saw the tweets coming out, saying, "We're looking for Scott," I was keeping tabs on that. And then I remember his last two tweets … [they were] as poetic as any song he's ever written. I was fucking ruined, way more so than when Bowie died or Prince died or anything because he was about my age. He was a peer. And I think Robin Williams had just died. This thing about people who can muster and foster so much joy for other people, but can't feel it themselves, is so heartbreaking. I remember literally pouring cereal into bowls for my kids and just weeping uncontrollably that morning when I got the news. I didn't know him well, but for a week I was an emotional wreck.
That song happened very soon. I was thinking about "The Woodpile" — "Would you come back to my corner? / Spent too long alone tonight" — and how that resonated. The words just came. It happened really, really quick. Scott died in 2018, but the song lives now. When I've introduced this song live, [I say] that the song is for Scott, but it's for all of us as we ride those highs and lows, the ups and downs. The song is for anyone who's feeling a downswing. I hope these words can be helpful — "Leave a light on when it's bad / And we will congregate and make a plan / We will be in your corner."
I feel like the deepest thing that we need as evolutionary animals is to feel understood. Even love, which people say is the purpose of living, is an access point to feeling understood, feeling connected, and that sense of connection is what gives us existential respite. That's what keeps the existential dread at bay, is feeling understood and feeling heard. That's all we want — to not feel alone.
You made it to Folk Music Ontario and are about to lead a masterclass in songwriting. How you do expect this is going to go? What do you even say about songwriting to a massive ballroom full of other songwriters?
I get asked to do things like this semi-frequently. I've never put together a presentation; I always say that I would love to talk about songwriting in a format where I can just talk about songwriting without having a PowerPoint ready. I'm always better in conversation than I am with a laser pointer or something.
I put up my first record 17 years ago, which is crazy. I feel like when I was young, I wanted to be a part of the tornado. The music world is so appealing when you're young. It's this swirling, energetic thing and you just want to be a part of it. And so in order to be a part of the tornado, you're willing to throw your house in there, you throw your bike in there, you throw your friends in there, you throw anything into the tornado for the sake of being swept up into it.
And I think there comes a time when you realize you can't ask permission to join the tornado. You just have to be the tornado. For a while, I was just emulating my heroes and trying to sound or be like the people that I admired. And I think in those days, I had a knack for a turn of phrase and melody. But often, when I look back at the songs in my first couple of records, it's hard to really say what they're about. As I've gotten older, I demand more from myself in terms of the songs and knowing exactly what they're about, what they're saying, and why.
I think that songs fundamentally should unlock hidden truths of existence. They should take the feelings of melancholy and joy and elation that we feel and break them apart into a million pieces and investigate them and put them back together. There's form and function about songwriting — like the chorus is the thesis statement and the verses support that thesis statement — but there's also a sense that editing is crucial and that until you literally are at the very extent of your abilities and you cannot make a song better, a song is not finished. I can stand behind every lyric in my last few records because I refuse to be done with a song unless I know that that line is as good as I can make it. The alliteration, the sounds of the vowels and how they float against the other vowels, and the sounds of the consonants and how they are rhythmically in time with other consonants and internal rhyme schemes, and whether you are saying something or just saying words, all of these things matter. The more you hold yourself to a high standard, the more that high standard becomes easy to achieve.
One of the hardest things is having faith that there's more in the tank, that you're not done. There's always that fear, like, "I'm never gonna write a song as good as that again," or "That's the best thing I've done." You have to have faith that you can get better at this and you can keep growing at this.
Creativity is like a sponge. If it's sopping wet because you haven't output anything in a long time and you've been blocked, it's gonna get moldy. It's gonna get weird. it's gonna sit on the counter and it's gonna start stinking. You have to wring it out! And also, if your sponge is dry, you're not gonna have anything to wring out. So you gotta fill that sponge! You have to watch some great movies. You have to listen to some great music. You have to read a great book, you got to go see a play. You got to go to the museum. You need to always be both wringing out and soaking the sponge.
I don't want to presume that I know more than anyone else in the room. Any creative situation is going to be more fruitful if everyone involved has an open mind to where it ends up. But if I can make creative people who are feeling like they're struggling feel less alone in that struggle, then it may help them unlock some creative thing and they might write the best song that they can.
---