BONUS TRACKS: Miranda Lambert, That Small Town Song, and a Lost Suit Found
---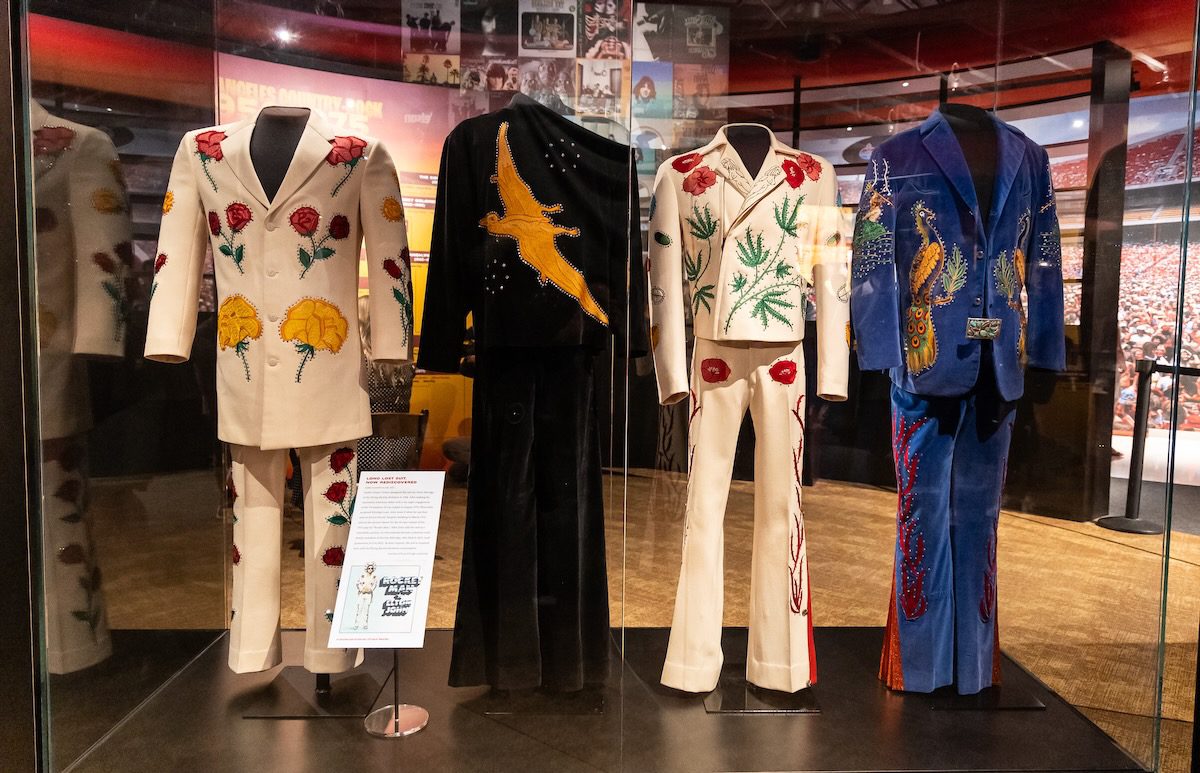 The four Nudie suits The Flying Burrito Brothers wore on the cover of "The Gilded Palace of Sin," together again for the first time since 1969. Chris Ethridge's lost-lost suit is on the far left. (Photo courtesy of the Country Music Hall of Fame and Museum)
Let's get the elephants in the room out of the way. If you've been online at all this week, you've heard that Miranda Lambert stopped mid-song to scold some fans for taking selfies during a show last weekend and Jason Aldean released a video for a clichéd song about small towns that somehow took four people to write (none of whom were him) and also was pretty gross.
(Deep breath.)
I find myself capable of holding two thoughts at the same time about the Miranda situation. One, taking photos with a flash (which appears to be the case here) at concerts is super obnoxious, for the artist and for other fans. And it's a shame so many people can't simply enjoy the show anymore — they have to take selfies and videos, talk to their pals during the music, and, I guess, throw stuff onstage. It's annoying to me in the audience, and I'm sure it's enormously frustrating for the good folks working hard onstage. BUT. I don't know that a Vegas residency titled the "Velvet Rodeo" at the Planet Hollywood casino is the place to get super precious about your art, or super ruffled — enough to stop the song for everyone in attendance — when people act rowdy.
Meanwhile, Jason Aldean released a new video for "Try That in a Small Town," a song about how things like carjacking old ladies and robbing a liquor store might fly in the city (hell yeah, we love it and it's completely allowed!), but not in a small town. Aldean — raised in Macon, Georgia, pop. 157,000 — has a gun from his granddaddy, he wants us to know, but he's awfully afraid of somebody coming to take it. The video features footage of Aldean performing in front of a rural county courthouse known for a 1927 lynching and is interspersed with footage of Black Lives Matter protests. But Aldean is definitely, definitely not inciting racist violence or anything like that and has extremely hurt feelings that anyone would think so. So who knows why CMT pulled his video off the air. "Cancel culture," I guess. Surely not simple consequences.
Actual songwriters, including Sheryl Crow, Jason Isbell, and Margo Price, have spoken out against the song and its racist dog whistles. And Adeem the Artist, another actual songwriter, even wrote a parody — all by themself. "As far as I can tell," Adeem tells Variety, "the only culture war that exists in country music is between people who believe in a just, equitable world with a little bit of space for all of us to feel safe and welcome and those of us who are so afraid of anything remotely different, they're willing to sing about hate crimes." Check out "Sundown Town" below, and read the backstory in this article from Variety.
View this post on Instagram
Every time I get the chance to visit the Country Music Hall of Fame and Museum in Nashville, the Flying Burrito Brothers' Nudie suits, as seen on the cover of The Gilded Palace of Sin, are a favorite artifact to linger over. (Also: Cindy Walker's typewriter.) But until yesterday, only three were on display. The fourth — a white suit with embroidered red and yellow roses worn by the late bass player Chris Ethridge — was reported stolen from a car in 1969. But recently, the plot thickened: It turns out that the suit had been returned to Nudie's Rodeo Tailors shop in Hollywood shortly after going missing, and Elton John (yes, THAT Elton John) bought it off the rack the following year. Ethridge's daughter, Necia, spotted the suit in an online auction recently and purchased it, and now it's on loan to the Country Music Hall of Fame and Museum for its Western Edge exhibit celebrating California country-rock. It is displayed alongside Gram Parsons' white suit with embroidered pills, marijuana leaves, and a radiant cross; Sneaky Pete Kleinow's black velvet piece featuring dueling dinosaurs; and Chris Hillman's blue velvet suit with peacocks, Poseidon, and a sun.
The FreshGrass Festival in North Adams, Massachusetts, presented by No Depression publisher the FreshGrass Foundation, has announced the finalists for the FreshGrass Awards. The finalists for the Band category are The Wildwoods from Lincoln, Nebraska, and The Ruta Beggars and The Cahaba Roots, both from Boston. The Banjo finalists are Emily Johnson-Erday from Brooklyn; Nikolai Margulis from Princeton, New Jersey; and Maggie Shar from Northampton, Massachusetts. The Fiddle finalists are Rosalee Walsh from Tallahassee, Florida; Ella Jordan from Austin, Texas; and Cat McDonald from Nashville. And the Guitar finalists are Luke Black from Birmingham, Alabama; Nick Weitzenfeld from Johnson City, Tennessee; and Micah Nicol from Boston. Finalists in each category will perform one standard or traditional tune and one original before a panel of judges and a live audience at the festival Sept. 22-24. Learn more about the finalists and the prizes here, and we hope you'll join us to check them out live at the FreshGrass Festival!
WHAT WE'RE LISTENING TO
Here's a sampling of the songs, albums, bands, and sounds No Depression staffers have been into this week:
The Infamous Stringdusters – "As It Was" (Harry Styles cover)
The Blind Boys of Alabama – "Work Until My Days Are Done," from their new album, Echoes of the South, coming in September
Emily Kidd – "Ramblin Days"
Claud – Supermodels
Lydia Luce ­– "Your Garden"
Carrie Brownstein narrating her memoir Hunger Makes Me a Modern Girl
Colter Wall – Little Songs
George Jackson's Local Trio – "Alhaji," from their new self-titled album coming in August
Dan Mangan – "Say When"
City and Colour – The Love Still Held Me Near
Joanna Sternberg – I've Got Me
DeYarmond Edison – "Epoch," the title track from a box set coming in August
Big Thief – "Vampire Empire"
No-No Boy – "Mekong Baby," from his new album, Empire Electric, coming in September
---