Connection and Community at FreshGrass | North Adams 2022
Posted On September 27, 2022
---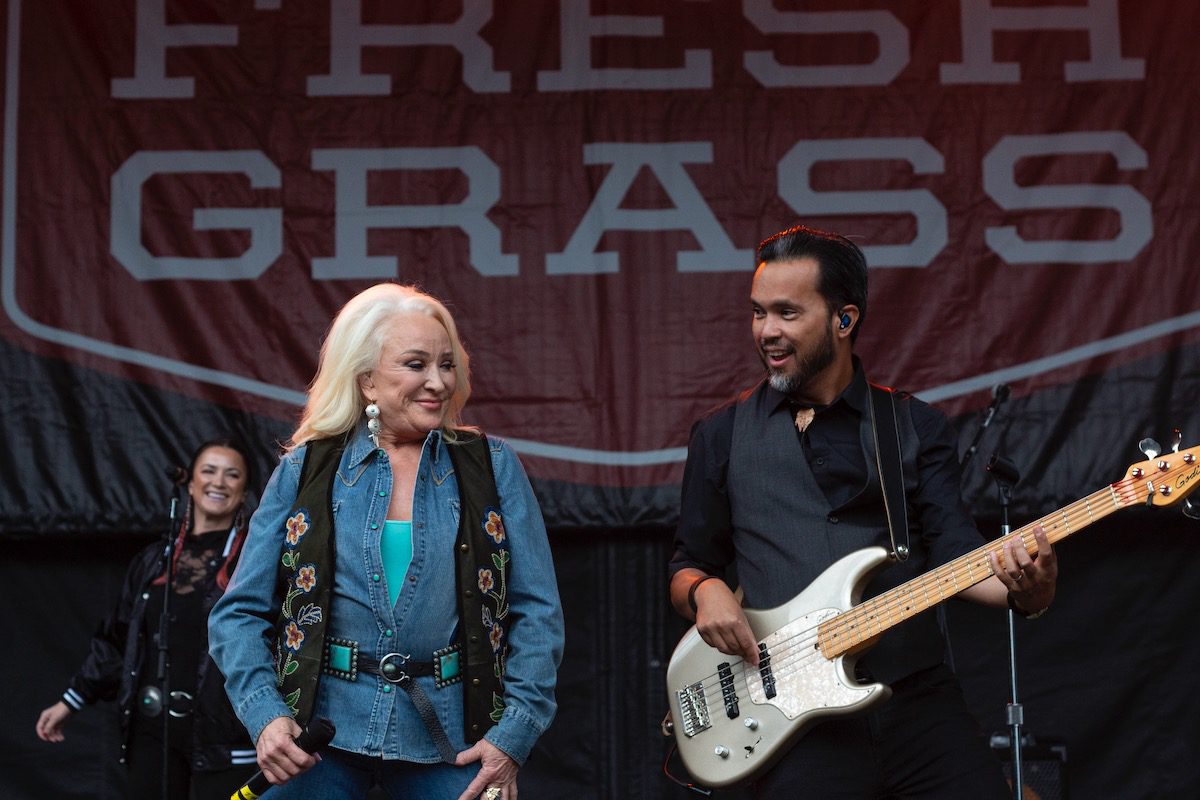 Tanya Tucker – FreshGrass | North Adams 2022 – Photo by Hilary Saunders
We get asked a lot where No Depression is based, and the answer in this age of remote work is, well, we're all over. So it's really special for us to get to gather as a staff, including our compatriots at Folk Alley and the FreshGrass Foundation, at the FreshGrass Festival in North Adams, Massachusetts (and now in spring in Bentonville, Arkansas, too) for good hangs, great music, and lots of chats about how to bring the sounds and stories of roots music to even more eyes and ears.
But now that we're all back home from this year's FreshGrass | North Adams, let's focus for now on the "good music" part of the equation. You can check the full lineup here, but here are the highlights from your friends at No Depression and Folk Alley, along with a photo gallery of even more of our faves:
Cover songs: It's not uncommon at a roots music festival to hear new versions of old songs, but this year's Fresh Grass Festival included a number of particularly outstanding cover songs. Some highlights for me were Old Crow Medicine Show turning KISS's "Rock and Roll All Nite" into a rowdy, shouty burst of bluegrass and Trampled by Turtles bassist Tim Saxhaug taking lead vocals on the Warren Zevon ballad "Keep Me In Your Heart" on Friday evening. Deep into the night on Saturday, The Lil Smokies brought out Sierra Ferrell for a rousing version of the late Justin Townes Earle's "Harlem River Blues." And on Sunday, Yola offered a soulful version of "Yellow Brick Road," which she said Sir Elton John himself endorsed! (ND Assistant Editor Stacy Chandler adds another: Sierra Hull's loving, hopeful version of "People Get Ready.") — Hilary Saunders, No Depression managing editor
Ensemble performances: There's nothing like a festival to bring people together, and that's true of musicians as well as fans. Two collaborative performances brought that spirit to the stage: The Black Legacy Project, which brings Black and white musicians together to interpret key songs that speak to the Black experience in America, and The House of Songs, which supports collaboration between musicians to create new songs and new connections and in this performance included Willi Carlisle, Bonnie Montgomery, Shannon Wurst, Billy Keane, Simi Stone, and Lisa Bastoni. — Stacy Chandler, No Depression assistant editor
Gary Clark Jr: Gary Clark Jr. is a commanding, cool figure who can absolutely shred on guitar but also slow it down for some deeply soulful blues. And between the incredible stage lighting and the power of his sound and presence, it was one of the best live performances I've ever seen.  — Adam Kirr, FreshGrass director, marketing and retail
Willi Carlisle: Willi Carlisle's Saturday morning performance felt more like a double shot of Saturday night. He leapt deftly between folk, country, and polka, plus plenty of well-timed jokes and pro-folk speeches. Easy highlights: An emotional retelling of Steve Goodman's "The Ballad of Penny Evans" and ending with the whole courtyard singing from his Peculiar, Missouri album (ND story), in soul-healing chorus, "Your heart's a big tent / you've got to let everybody in."  — Kim Ruehl, Folk Alley editor
Miko Marks: I knew of Miko Marks from her Race Records EP of covers last year (ND review) and her inclusion in a story in our Winter 2021 "Good News" journal (get it here), but I'd never seen her live. Her Friday night set — full of powerful vocals and boundless energy, old songs and new — made me a fan and excited for the new record of original material coming next month. — Hilary Saunders
The Del McCoury Band: I've seen The Del McCoury Band countless times over my years of working in the industry, but it's always a pleasure seeing these guys perform. Living bluegrass legend Del McCoury, surrounded by his longtime band members (and sons), brings a mix of true traditional, hard-drivin' bluegrass and stage banter, and the elite musicianship of each player always manages to give me chills. — Adam Kirr
Trampled by Turtles: With this being my introduction to the FreshGrass Festival, and to live bluegrass in general, there couldn't have been a better group to cap off day one than Trampled by Turtles. From the moment they took the stage, TBT brought a fantastic energy and the Friday night crowd gave it right back, jumping and whooping to the more frenetically fiddled pieces and meeting the slower tunes with hearty (and heartfelt) applause. Props to the cellist for somehow bouncing up and down as he played, insane. — Matty Jackmauh, FreshGrass Foundation intern
Sierra Hull / FreshGrass Concertos: Sierra Hull played two sets this weekend: One on the No Depression stage with songs pulled mostly from 2020's 25 Trips album, and the other a festival exclusive: A concerto she composed on commission from the FreshGrass Foundation. The former was an energetic display of the dazzling musicianship in her crack band. The latter was an exquisite, imaginative, cohesive artistic statement about which you'll just have to trust me when I say it was a gift. — Kim Ruehl
Thee Sacred Souls: Ominous skies on Sunday opened up just as Thee Sacred Souls were getting started, but those who braved the rain were richly rewarded. The soulful songs, mostly from the group's new self-titled album, generated their own warmth, and it was absolute sunshine when singer Josh Lane hopped off stage with his mic and wove through the crowd singing and speaking about love and unity. — Stacy Chandler
Taj Mahal: Taj Mahal walked on stage with a bright yellow Hawaiian print shirt, hip Ray-Ban sunglasses and a giant gold Marlin necklace, sat in front of his arsenal of guitars and banjos and proceeded to blow us all away. His set was filled with classics like "Honey Bee," "Lovin' in My Baby's Eyes," and "Fishin' Blues." He was cracking up the crowd with his stories about his childhood 32-year-old neighbor falling for his 16-year-old brother ("My momma said 'nu uh'"), making kissy noises, laughing, and growling during songs. His voice was strong and playing was very fine. It was just awesome to see everyone young and old enjoying this living legend who, after 58 years on stage, has not lost his edge. (Hilary Saunders can confirm, adding: "Taj Mahal blew me a kiss out the window of his van while leaving the festival. You can't beat that!) — Cindy Howes, Folk Alley senior host and assistant music director
Yola: With an unmatched voice range and stage presence, Yola captivated the weekend with her effervescent storytelling on stage, weaving personal anecdotes seamlessly into each song of her set. Even in the rain, the audience hung onto every word, spoken and sung, especially in standout moments like the story behind her hit "Diamond Studded Shoes." As she closed her set with the title track off her current record, "Stand for Myself," we were all shown the power of Yola, both as a skilled vocalist and an activist voice of this generation. — Hilarie Spangler, FreshGrass Foundation director of programs, grants, and ventures
Tanya Tucker: It's hard to think of a better festival closer than Tanya Tucker (TANYA MOTHER TUCKER, according to the T-shirt I bought). She's got enough hits to go for hours, and the energy for that too. Between classics like "Love Me Like You Used To" and "Texas (When I Die)" and of course "Delta Dawn," plus songs from her Grammy-winning 2020 album While I'm Living (ND review), Tucker sang the praises of stretch jeans, downed a few shots of tequila (and passed one to a photographer in front of the stage), and loved on her bulldog, Stella, who joined her onstage mid-set. — Stacy Chandler
Click on any of the photos below to enlarge or view as a slideshow.
---