BONUS TRACKS: Farm Aid and 'Fast Car'
---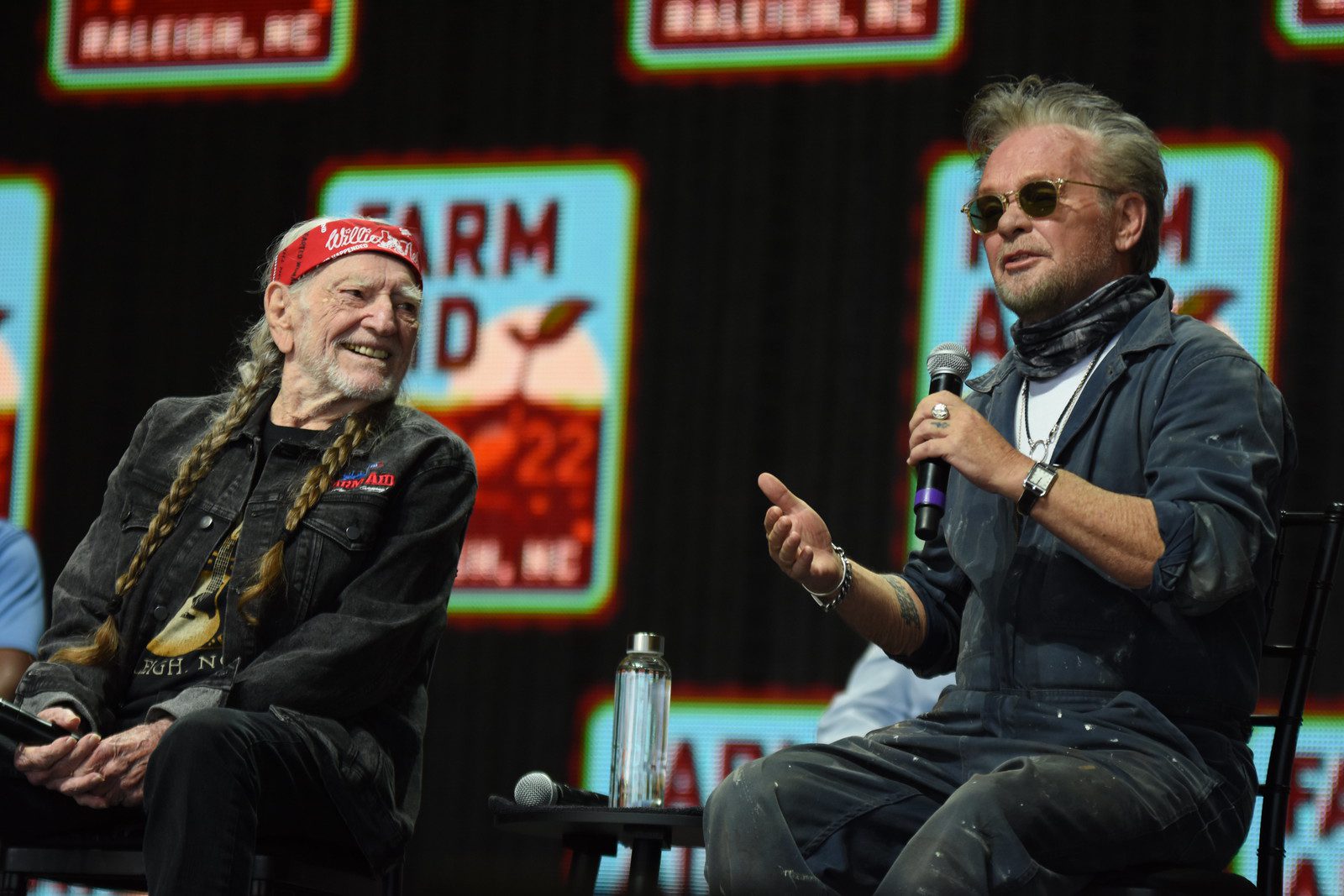 Willie Nelson and John Mellencamp speak at Farm Aid 2022 (photo by Brian Bruner / Bruner Photo)
Much is being made of the resurrection of the 1988 Tracy Chapman classic "Fast Car," now topping country charts and the Billboard Hot 100 in a rendition (bland, but fine?) by Luke Combs. In this, the year 2023, she's the first Black woman with a solo songwriting credit for a No. 1 country hit. (Other Black female songwriters, including Donna Summer and Alice Randall, have co-written country number ones.) It is and should be celebrated as a success, but the question should also be asked: Why doesn't this happen more often? Rolling Stone spoke with songwriter Tayla Parx about her experience as a Black woman writing for country music, and it shows how many barriers still stand in the way in Nashville and in the wider music industry, too. Read the full article here. The Washington Post is talking about this, too, outlining how Combs' version of the song got so huge (basically, TikTok) and gathering thoughts from The Black Opry's Holly G, artists Jake Blount and Rissi Palmer, Black Country Music: Listening for Revolutions author Francesca Royster, and others about who gets to rise and who can get erased in the modern music era. Read that conversation here.
When author Cormac McCarthy died last month, I immediately remembered reading The Road, and how it wrecked me. Despite the desolation, the language was beautiful, and I have been working up the courage to read other McCarthy books (like Blood Meridian, or All the Pretty Horses) ever since. (I'll get there one day!) It turns out his books were beloved by many a roots singer-songwriter, too, judging from past interviews and public responses to his passing. Rolling Stone collects thoughts from Jason Isbell, Bruce Springsteen, Lucero frontman Ben Nichols, and McCarthy megafan Robert Earl Keen, who collects first editions of his novels. Read more about McCarthy's mark on today's singer-songwriters here.
Farm Aid is moving back to the heartland this year, with founders Willie Nelson, John Mellencamp, and — for the first time since 2019 — Neil Young slated to take the stage in Noblesville, Indiana (near Indianapolis), on Sept. 23. Joining them in the annual event to benefit family farmers will be Farm Aid board members Margo Price and Dave Matthews, plus Nathaniel Rateliff and the Night Sweats, Allison Russell, Bobby Weir and Wolf Bros., and more. Tickets go on sale Saturday, and you can read more about this year's event, and the event's deeper history, in this story from People.
WHAT WE'RE LISTENING TO
Here's a sampling of the songs, albums, bands, and sounds No Depression staffers have been into this week:
Everything listed on No Depression's Best Roots Music Albums of 2023 (So Far), again
The Milk Carton Kids and Garrison Starr – "Fireworks"
Martin Simpson and Thomm Jutz featuring Cara Dillon – "Come All You Fair and Tender Ladies," from Simpson and Jutz's new album, Nothing But Green Willow, coming in September
Lowland Hum – "Together in That Way," from their new album, From Self, With Love, coming in September
Melody Walker – "Listen Sister"
Lindsay Lou feat. Jerry Douglas – "Nothing Else Matters," from her new album, Queen of Time, coming in September
Wilco – Sky Blue Sky
Jess Klein – "That Was My Family"
---