BONUS TRACKS: A Fund to Help Jesse Malin, An AI-Assisted Beatles Song, and More
---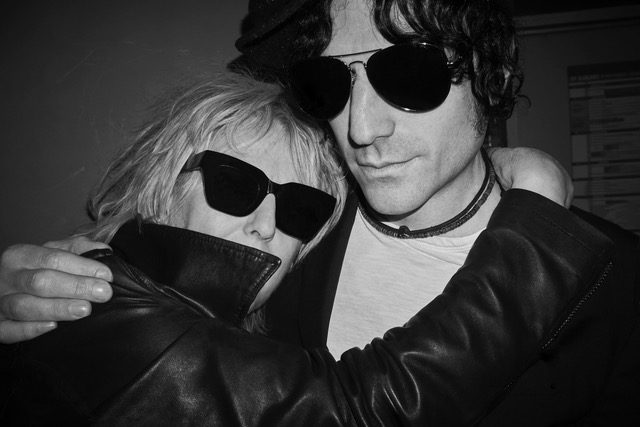 Lucinda Williams and Jesse Malin (photo by Ilaria Conte)
Jesse Malin, in addition to the good work of electrifying his audiences, has always been known for helping his fellow musicians in need as well as the New York City music scene he's part of. Now, sadly, he's hit an incredibly hard time himself as he recovers from a spinal cord infarction — "a stroke in his back," as Rolling Stone describes it. He's had several surgeries since the out-of-nowhere event in April and is now undergoing intense physical therapy and rehab, but he's paralyzed from the waist down, and the extent of his recovery is unclear. A fund for Malin's care has been set up via the Sweet Relief Musicians Fund — you can read more about that campaign and donate here. Read more about Malin's infarction and his outlook as he recovers in this exclusive interview with Rolling Stone. No Depression last spoke with Malin in 2019 about his long friendship with Lucinda Williams, which extends to three co-written songs on her new album, Stories from a Rock N Roll Heart (out June 30). One of the songs they wrote together was "New York Comeback," and we're hoping hard for a New York comeback for Malin, too.
Those odious fees tacked on at the very end of the online ticket purchase process aren't going away anytime soon, but at least they won't come as such a nasty last-minute surprise anymore. Live Nation (which owns Ticketmaster) announced Thursday that it will introduce "all-in pricing" for shows at its venues starting in September, and it will be an option for other venues and promoters it sells tickets for as well. SeatGeek also plans to add fee transparency to its ticket prices. The announcements came the same day the ticket companies sat down to a "roundtable" at the White House aimed at addressing what the Biden administration has called "junk fees." Live Nation was grilled at a Senate Judiciary Committee hearing in January, with the notoriously bungled Taylor Swift tour presale still fresh in everyone's minds, and the Justice Department is investigating whether an agreement from the Live Nation-Ticketmaster merger in 2010 is being upheld. Read more about the announcements in this coverage from The New York Times.
AI, it seems, is everywhere now. But for a sweet little while it seemed still pretty far away from messing with our music. You just knew, though, that someone was going to try it out. But I bet you didn't think that "someone" would be … Paul McCartney. He told the BBC this week that AI has been used to "extricate" John Lennon's voice from an old demo so it can be woven into a new (old?) Beatles song for release later this year. McCartney's description makes it sound like AI was used to strip away other sounds to isolate Lennon's voice, not to re-create the voice itself, which is some comfort. But still, I'm reminded of that old adage: "Just because you can doesn't mean you should." Read more about McCartney's interview in this summary from Stereogum, or hear the whole thing via BBC.
While Bandcamp Friday won't be back until August, the online music platform is holding a Juneteenth fundraiser for the fourth year in a row on Monday (June 19), with 100% of its share of sales going to the NAACP Legal Defense Fund. Read more about the fundraiser here. Aug. 4 is the next Bandcamp Friday, when the platform waives its fees for artists, followed by Sept. 1, Oct. 6, Nov. 3, and Dec. 1.
WHAT WE'RE LISTENING TO
Here's a sampling of the songs, albums, bands, and sounds No Depression staffers have been into this week:
Balsam Range – "Snake Charmer"
Lydia Loveless – "Toothache," from her new album, Nothing's Gonna Stand in My Way Again, coming in September
Blind Boys of Alabama – "Friendship," from their new album, Echoes of the South, coming in August
Nick Shoulders – "Whooped If You Will," from his new album, All Bad, coming in September
Son Rompe Pera – Chimborazo
Cimafunk – "Me Voy"
SUSTO – "Hyperbolic Jesus," from their new album, My Entire Life, coming in July
Tré Burt – "Santiago," from his new album, Traffic Fiction, coming in October
Denitia – "My Weakness"
Hurray for the Riff Raff – The Navigator
John R. Miller – "Nobody Has to Know Your Mind," from his new album, Heat Comes Down, coming in October
Israel Nash – "Ozarker," the title track from his new album, coming in October
John Prine – "I Remember Everything"
Buffalo Nichols – "You're Gonna Need Somebody On Your Bond" (Blind Willie Johnson cover), from his new album, The Fatalist, coming in September
---