The Sun Will Rise: Jesse Malin on His Friendship with Lucinda Williams
Posted On August 28, 2019
---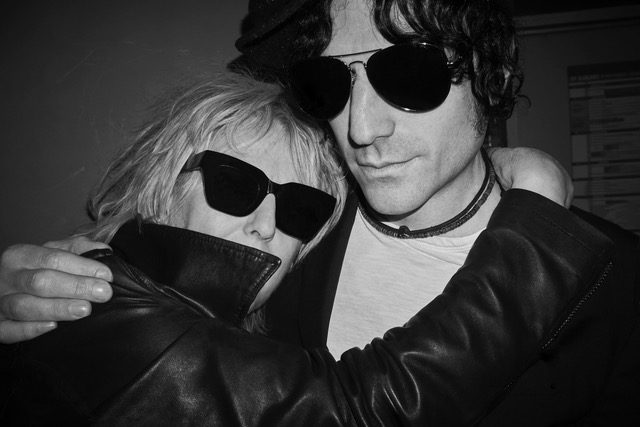 Lucinda Williams and Jesse Malin (photo by Ilaria Conte)
Though it's fairly quiet on a Monday afternoon, there is an energy that permeates the walls of Berlin, Jesse Malin's bar in the East Village. There are flyers hanging on the windows promoting a myriad of events — including a listening party for Malin's new record, Sunset Kids — and day drinkers who seem to be best friends with the bartender. And just a few steps away, upstairs in what is affectionately known as 2A, Malin is wrapping up a photo shoot and interview about his new album.
Like the bar he owns, Malin has a calm quietness about him, but it's impossible not to recognize the energy that pulses through his veins.
That energy has been with Malin for as long as he can remember. Born in Queens, his first rock and roll gig was at a CBGB audition night at age 12 with his hardcore band Heart Attack. After about four years, the band broke up, and later, Malin would reunite with Heart Attack guitarist Danny Sage to form the glam punk outfit D Generation. Following the initial break-up of D Gen in the late '90s, Malin decided to turn his efforts toward a solo career.
He found himself in a studio for five days with a D Generation fan from North Carolina as his producer, and that's when he recorded his debut solo LP, The Fine Art of Self Destruction.
"Ryan Adams had never produced a record," Malin remembers, "but he was this D Gen fan who used to come to our shows, and, for me, Whiskeytown really meant something. When he moved to New York, we really had a tight connection."
Since releasing The Fine Art of Self Destruction in 2003, Malin's energy has been focused on a lot of different things: He formed a fabled punk band with Adams called The Finger; he joined forces with Green Day for another instantly legendary act known as Rodeo Queens; he supervised the music for the documentary Burning Down the House: The Story of CBGB; he started a radio show with fashion designer John Varvatos (who owns the space where CBGB once existed); and D Generation reunited for several shows and recorded a new album, Nothing Is Anywhere.
Throughout all of that, though, Malin kept his attention on his growing solo career. "To be honest, I was really scared to be a singer-songwriter," he admits. "I'm grateful to have evolved, or devolved, because musically, it all makes sense. You know, on the outside, the press kept describing my shift from D Generation to my solo stuff as this glam punk rocker doing something totally different, saying I was jumping on Pete Yorn's back … but my real friends always knew that after Heart Attack, I was into guys like Bruce and Mellencamp. Even in the D Generation days, my friends would make fun of me with my acoustic guitar and call me Jesse Cougar Mellencamp, just to fuck with me."
He laughs to himself as he thinks about that.
"I probably shouldn't even put that out there."
Feelin' Alright 
For Sunset Kids, Malin turned to one of roots music's most iconic singer-songwriters for producing duties: Lucinda Williams, along with her husband, Tom Overby.
"It was fun to bring my songs to somebody who I respected and admired," Malin says. "But I was nervous. It was nerve-wracking, but that feeling kind of expires and then it just excites you."
Malin first came across Williams' work in 1996 when he was listening to Steve Earle's I Feel Alright; Williams joins Earle for the album-closing duet, "You're Still Standin' There."
"That was in the D Generation days," he recalls. "We were playing all these great crowds, but it was always just about the mosh pit or how fast we could play. It wasn't really about the songs or the content, but I wanted people to hear our lyrics because they weren't all about penises and cars. I mean, we were, sort of, socially conscious, and we had some kind of message we wanted to spread."
Because of that, Malin found himself listening to more of the kinds of songs he had grown up listening to, songs from artists like Jim Croce, Neil Young, Don McLean, and Bruce Springsteen. "I went back to that storytelling kind of stuff, even the early Elton John stuff, and so I started buying Steve Earle records, and Elvis Costello and Billy Bragg, too," he says. "You know, songwriters. At the end of the day, though, it's really all about what you're saying, whether it's on an acoustic guitar like Woody Guthrie or through a bunch of fuckin' Marshalls."
Malin fell in love with Earle's voice and message, and, thanks to "You're Still Standin' There," quickly fell in love with Williams as well.
"I was in. I bought all of her records."
A Blossoming Friendship
 About five years after coming across Williams on I Feel Alright, Malin finally met her at The Blue Note in the West Village at a Charlie Watts gig. "She was really nice," Malin remembers, "and I noticed there was something very vulnerable about her. She was present and humble, and, honestly, just very human. I appreciated how she interacted with people and how she cared."
Malin and Williams stayed in touch. He would invite her to a show, she would do the same; they would bump into one another in different places all over the world as their tours intersected. Eventually, their friendship was discovered and publicized.
"She came to a show I did in Los Angeles, and she was writing on the bar during the set," Malin explains. "She always says that the bar is her desk when she gets inspired, so that was an honor to see her doing that during my set. Well, there was a writer from Rolling Stone at that show who noticed it, too, and they decided to do this piece on our friendship, this connection between two different artists, and the piece mentioned something about a collaboration."
Malin pauses and wonders if that was the catalyst that led to them working together on Sunset Kids.
"I was telling my manager a few different ideas for producers and I threw her name out and he really liked it," he says. "That same week, Lucinda was playing with Tom Petty and the Heartbreakers at the Hollywood Bowl and she invited me. It was a great Lucinda show and the best Tom Petty show. It was a beautiful night under the stars, and the next night we went out talking about making a record, with Lucinda and Tom producing."
That show was on Sept. 25, 2017, and would be Petty's final show before he died on Oct. 2, a day after a gunman opened fire on the crowd at the Route 91 Harvest music festival in Las Vegas, killing 58 people and wounding more than 400. These two events initially slowed down the making of Sunset Kids, but eventually Malin and Williams would come together in the studio to fight off the blues.
"We spent a week over the holidays with David Bianco, who had done everything from Tom Petty's Wildflowers [for which he won a Grammy Award for the Best Engineered Album, Non-Classical] to albums by Primal Scream and Frank Black, AC/DC and Danzig, Bob Dylan and Lucinda," Malin says. "He had a real mix, and the fact that he had worked with Tom Petty and the Wildflowers album, that was wild. But he had also done my first record with D Generation that we recorded at Electric Lady in New York."
Bianco passed away in 2018, in the middle of the making of Sunset Kids, a few months before Malin would say goodbye to his father, Paul Eugene Malin.
Though Malin speaks at a speed that lives up to his hardcore days, he slows down as he collects his thoughts about all the lives that shaped Sunset Kids.
"The spirit of this album is really a dedication," he acknowledges. "We lost so many people, like Todd Youth of D Generation and Murphy's Law … all those kinds of characters. It was cathartic to write this album. After I saw that Tom Petty show, I went and wrote 'Shining Down' in Florida, where my father was ailing. I didn't realize he was gonna go. You have denial about those things when you believe in and love somebody. With Sunset Kids, yeah, there were certain moments where it was kind of tough, but I think knowing I would have to take these songs to Lucinda, that inspired me to do my best and to work really hard."
He adds, "You know, we look back at where we come from, but we have to live in the present. We can't just post all these old photos and live in the past. We have to realize it's 2019 and shit is tough and crazy and hard, but it's also right now. It's all you got. So much of that is what this record is about."
The Lyric Doctor
When they weren't recording in Bianco's studio, Malin and Williams would gather around her kitchen table and talk about lyrics. "She has a great thought process and she'd be able to narrow down tons of verses to just a couple, and add some different things, and that's how some co-writes came," he says, fondly. "She's the lyric doctor, she has an eye for it."
At the end of the day, Williams is a music fan and a creator, and because of that, there was and continues to be a kindred spirit between her and Malin.
"Lucinda always had a vision," he says, "and she could always pick the right take. We'd go in and record three takes to tape, to analog, and then we'd come into the control room and pick which one is the smoking one — if we dare had one — and we could always tell which one it was with her. Every time she picked it, she was spot on. She could feel it instinctively, if it was there. She could groove with the right take every single time."
So much more than an editor, though, Malin has found a lifelong friend and confidant in Williams, someone he journeyed with through darkness over a couple of years, and ended up with an unforgettable record.
"Lucinda sees the beauty in broken, messed up things, in people's struggles," Malin says with more than a hint of admiration in his voice. "She's a humanitarian, and she understands the dirt and the grit in what you sing about, and she knows how to make it a real thing."
He stops chatting, sits back with a smile on his face, as if still in awe of the reality of all that has preceded this conversation.
"I learned so much from her. Working with Lucinda was a gift."
---