---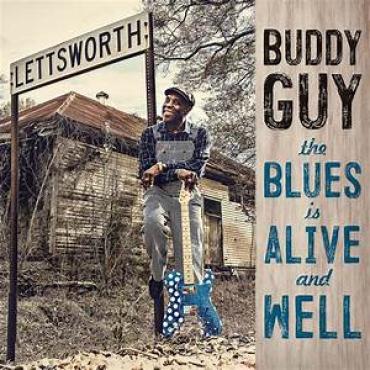 Buddy Guy
The Blues Is Alive and Well
Silvertone/RCA Records
Buddy Guy is coming up on his eighty-second birthday and this is about his fiftieth album, that alone speaks huge volumes about the relevance of this artist, the fact that he has more awards and honors than the space will allow me to list from about a Million Grammy Awards to two million Blues Music Awards plus all the awards for playing the guitar. Yes he has the awards, he still is extraordinarily relevant at the age of 81, and the answer is a resounding Damn Right He Still Has (Can Play) The Blues. As you grow older and see more of life and resonate with other people and their lives, you see how people live and how they make the best of their life and it influences the way you live your life. You can tell from his music that he has been influenced and learned from many, and that those experiences have made him a much more feeling person, and this is reflected in the relevance of his music. There is true feeling there each time he picks up his guitar it just pours out for your enjoyment.
There are some nice touches on this disc as long-time friend and collaborator Tom Hambridge produced the disc and co-wrote all but two of the songs. There is of course his singing which has grown much more infused with the emotions embedded in the songs. Then there is the playing of his guitars, which many times he plays so that it mimics a second voice singing. He has been recognized as a guitar player by so many organizations that we sometimes almost forget about it. He is a master of the guitar. On this disc he also brings in Keith Richards and Jeff Beck on "Cognac," to augment the guitar work. In a gesture that is typical of Buddy Guy he introduces us to relative new comer James Bay's voice on "Blue No More," and the gritty unsung harmonica work of Mick Jagger on "You Did The Crime".
He still is the vibrant guitar player he was when i first saw him some 50 plus years in the past when both of us were much younger and really full of ourselves. His work can both rip through your body, bone and muscle and go right into your heart, or at other times it is so soft and delicate it gently caresses the body so that it isn't even aware it is being stimulated until the effect is manifest. Damn near 82 and still teaching the young ones how to put together a riveting album of emotion.
by bob gottlieb
---