Buddy Guy Reissue Remains a Great Introduction to Chicago Blues
---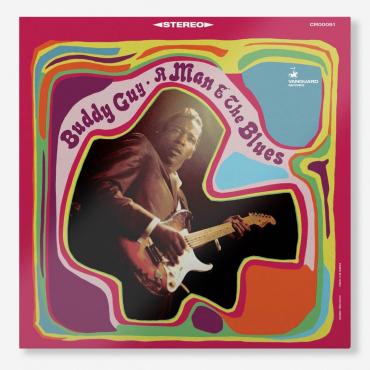 To celebrate the 50th anniversary of its release, Craft Recordings has reissued legendary Chicago blues artist Buddy Guy's debut solo album, A Man & The Blues. Originally released in 1968 via Vanguard Records, the reissue features recordings cut from the original analog masters re-pressed on a slab of 180-gram black vinyl. Unfortunately, this re-release does not include any additional liner notes or information other than the instrumentalist and songwriter credits listed on the flip side of the packaging. Even so, the work of this masterful blues guitarist and songwriter still resonates in the 21st century.
A Man & The Blues only comprises nine tracks, and the 20-some-year-old Guy wrote five of those. The opening title track seems to showcase both his personal journey from Baton Rouge to Chicago, as well as the transformation of those Southern, swampy, sticky blues to the jittery electric blues of the city. "A Man & The Blues" is still deeply rooted in the earth's rich 12-bar blues structure, but solos from Guy's not-quite-clean Stratocaster jump skittishly around those plodding chords, even as he wonders, "What can a man do when the blues keep following him around?"
Guy helped define the Northern blues with his electric guitar work and thrilling performances. The up-tempo nature of "I Can't Quit the Blues," bolstered by the three saxophone players and rowdy piano part, sounds like he doesn't even want to quit the blues, even if he could. And his interpretations of Motown hits like "Money (That's What I Want)" and "Mary Had a Little Lamb" (which Stevie Ray Vaughan later immortalized on Texas Flood in 1983) helped introduce that urban energy to a predominately Southern form. Alongside Muddy Waters, Willie Dixon, Howlin' Wolf, Big Bill Broonzy, and even B. B. King, Guy helped usher in the Chicago blues sound that gave a soundtrack to the Great Migration and created a lasting scene.
Incredibly, Guy is still touring, going out on a cross-country American jaunt this summer through early-2019. While this version of A Man & The Blues doesn't contain any unexcavated tracks or context, the reissue sounds rich and smooth, bringing the spotlight back to Guy's guitar tone and phrasing. It's worthwhile to revisit these beginnings of the Chicago blues anytime, but now, celebrating the 50th anniversary of its release, A Man & The Blues sounds as important as ever.
---