Samantha Fish Adds Pop Sheen to Her Signature Sound on  'Faster'
Posted On September 9, 2021
---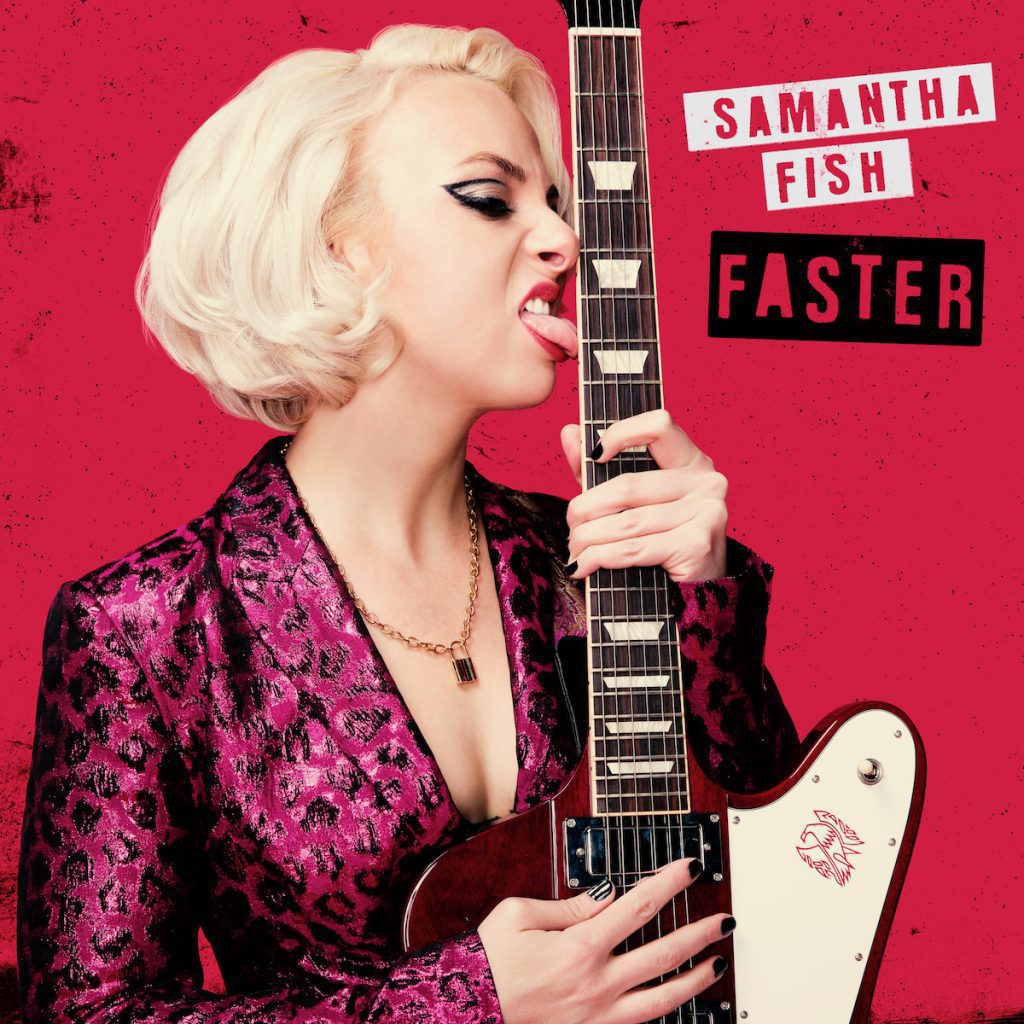 Singer/guitarist Samantha Fish is widely known and respected within the blues rock world for her soulful vocals and fiery guitar playing, but on Faster she shifts in a pop direction, one rooted in blues rock, but a departure from her previous work.
Faster has a lot of interesting musical touch points, from Kelly Clarkson to Britney Spears to Billy Idol. There's still plenty of explosive guitar moments, the kind that her fans love her for, but one has to wonder if the cover image — Fish licking her guitar neck, a shockingly common blues rock album cover concept — is signifying her kissing the straight-ahead blues rock part of her career goodbye.
Don't panic. The guitar work is still in her songs. It's just framed differently. For instance, "Loud" starts with piano and Fish's bluesy voice before a metallic groove kicks in, fleshed out with organ, like a punkier Clarkson. Rapper Tech N9ne eventually joins the track, rapping and then singing, before Fish launches into a big solo. Blues artists like Gary Clark Jr. integrate hip-hop elements into their music, so Fish isn't creating anything new to the genre, but it's new to her work.
Fish's distinctive voice is recognizable on the tracks, but the accompanying music can sound different, most likely due to the influence of producer Martin Kierszenbaum, who has worked with pop artists such as Feist and Lady Gaga. "Hypnotic" uses electronic drums to create a club groove. "All Ice, No Whiskey" sounds like classic, rock-and-roll-adjacent Spears. "Twisted Ambition" is all hook, Fish hitting the chorus less than 40 seconds into the tune. It's a counterpoint to an artist who has a 10-minute cover of Black Sabbath's "War Pigs" with over 3.2 million views on YouTube.
In addition to the pop moments on Faster, there are also some '80s and '90s rock ones. "So-Called Lover" has squealing guitar and a melody reminiscent of Idol's "Rebel Yell," with bratty vocals also grounding the track in the '80s. "Faster" has more of a '90s grunge vibe, sounding like a heavier version of The Breeders.
The music is unexpected, but the tracks work. The songs are solid, as is the production. But it feels like an extreme pivot to a very new sound. In Fish's defense, her songs are her songs and fans are often reluctant to let beloved artists grow and evolve. She's been making blues rock albums for over a decade and is entitled to branch out in new directions.
Fish's 2019 album Kill or Be Kind had a strong '60s rhythm-and-blues feel, and Faster feels like Fish continuing to move through the pop spectrum, but at an accelerated rate. Her voice is the same. Her guitar playing is still upfront, but Faster is an interesting new path. It's hard to say how her fans will react, and if pop fans will gravitate toward Fish's sound, but it's a fascinating step for an artist who always manages to find something new to say.
---