Samantha Fish: Muddy Belle
Posted On November 29, 2017
---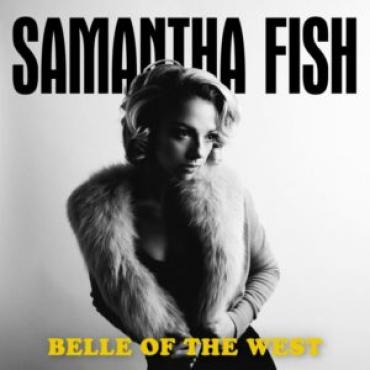 Although she has Midwest roots, Samantha Fish sounds like she crawled up a muddy Delta bank, spat out of a Mississippi catfish. To further add to the confusement, for her latest outing, Belle Of The West, Fish looks like a '50s lounge singer, her russet mane now dyed blond, a trio of photographs inside her latest CD showing her clad in gold lamé, a black cocktail dress, and in a low-cut, leopard print blouse.
Her last CD, Chills and Fever, which just came out in March of this year, was rooted in old school R&B, featuring a loungey, soulful cover of Barbara Lewis' '63 hit "Hello Stranger." But she pulled up those roots every now and then, gittin' down and wallowing in the mud for "Crow Jane," testifyin' like Dusty Springfield slumming in a Delta jukejoint, playing guitar like Tony Joe White with a headful of acid.
When she was out with Tab Benoit's 2014 Six Strings Down tour with Tommy Castro, she was more of a rocker, souping up Howling Wolf's "Who's Been Talkin'," cranking out rattly rawk with her oil can guitar on her original "Gone For Good," then grinding the gears to wring out an acoustic, back in the woods version of the Stones '71 "Dead Flowers."
With Luther Dickinson producing and playing on her latest, Belle Of The West, it's only natural that she'd kick it off with with some hill country blues on "American Dream." Othar Turner's granddaugher Sharde Thomas, who has kept the Rising Star Fife and Drum Band going since Turner's death in '03, keeps things marching smartly uphill with her flute swirling around Fish's sinister but chillingly accurate portrait of the current administration's policy: "Hand on a Bible/Foot on your neck/Living half-past half-mast/And semi-automatic."
Although she doesn't refer to it specifically, "Blood In the Water" could be a graphic description of the Myanmar army attack on the Rohingya residents of Tula Toli earlier this year, when Burmese soldiers executed nearly an entire village on the banks of a surrounding river. "Run from your people/Run from your home/I see the panic/I hear the howl/Tell me what did they do now /There is blood in the water," Fish moans as Thomas' flute flutters mournfully around her.
Jimbo Mathus penned the title cut, Fish pouring out country soul, blending Emmylou Harris and Tammy Wynette.
Fish goes back up the hill for a cover of R.L. Burnside's "Poor Black Mattie," letting Lightnin' Malcolm have the reins while she responds to his calls on an arrangement that sounds like a backwoods hoo-doo throw-down.
She revisits her oil can geetar for "Gone For Good," not quite as frenetic and raucous as her live version but still plenty rattly and fun to listen to.
An alluring shapeshifter, Fish is as much fun to listen to as she is to watch. The geography may be confusing, but the destination feels like home.
---