'Rolling Thunder Revue' Set Shows Dylan Connecting with Friends and Audiences
---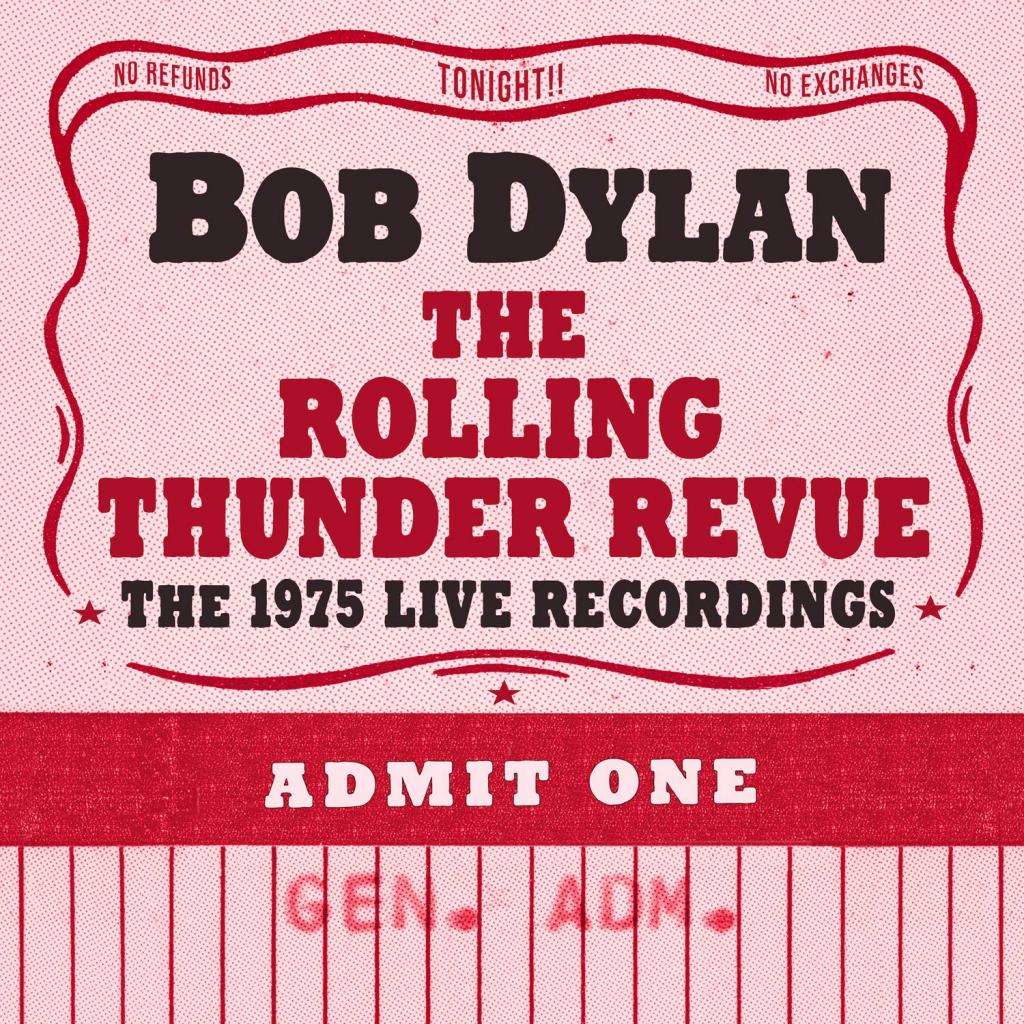 Photographs in this post © and courtesy of Sony Music Entertainment
Even in American history, 1975 was one hell of a year. A country reeling from the resignation of President Nixon in August 1974 saw the ignominious end to the Vietnam War as Saigon fell, on April 30, 1975. The Pine Ridge Shootout resulted in the deaths of two FBI agents and an American Indian Movement activist, and the later conviction of Leonard Peltier. In September, two separate attempts were made to assassinate President Ford.
As America tried to escape its crises and gear up for a national bicentennial, Bob Dylan was living as quietly as he could in New York City and working with a large and varied group of musicians on a record called Desire. The recording sessions over after an intense handful of days in July, Dylan decided to leave the city and head out into a country he had just begun to get in touch with again after a long hiatus from public appearances.
In 1974, he had hit the road in the United States and Canada with his friends and old Woodstock neighbors Levon Helm, Richard Manuel, Garth Hudson, Rick Danko, and Robbie Robertson, on a Bill-Graham promoted two-month tour that was a financial triumph. This time, Dylan put together a different band, and sought a far closer connection to his audiences, his music, and, perhaps, himself.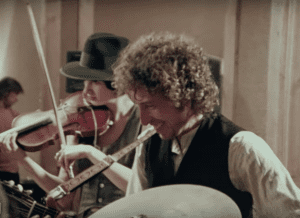 The Rolling Thunder Revue, a variety show emphasizing music but not limited thereto, set out at the end of October (after a little impromptu preview of sorts at Gerde's Folk City) and ended on May 25, 1976. The venues chosen were tiny compared to those Dylan had been wont to play a decade earlier; some had only a couple thousand seats. The assembled artists included Joan Baez, Ronee Blakely, T Bone Burnett, Ramblin' Jack Elliott, David Mansfield, Bobby Neuwirth, Scarlet Rivera, Luther Rix, Mick Ronson, Steven Soles, Rob Stoner, and Howie Wyeth. Roger McGuinn, Eric Andersen, Arlen Roth, and Ronnie Hawkins stopped in. Joni Mitchell joined the tour and wrote "Coyote" on one of the rolling buses. Allen Ginsberg led meditation sessions and chants, and danced in parking decks and graveyards. Sam Shepard came along and compiled his "Rolling Thunder Logbook." Larry Sloman came along to cover the tour for Rolling Stone (he soon quit that assignment but stayed on the tour, and got dubbed "Ratso" by Baez). Paul Goldsmith, with his handheld camera, filmed both concert footage and most of what would be later shaped by Dylan and Howard Alk into the dream documentary Renaldo and Clara (1978).
The RTR band, nicknamed Guam, was easily Bob Dylan's most democratic to date. Its performers, women and men, ranged from middle age to quite young (Mansfield had just turned 19, and Rivera was not much older). Their specialties and musical styles covered the breadth of both clefs: Elliott with his picaresque troubadour standards and sea chanteys; Rivera with her singing, speaking violin like a human voice; Ronson with his stinging guitar coming from his work a couple of years before with David Bowie's The Spiders From Mars.
Off they went, on the genial rampage — no, surely, on the glampage, with their flash ramshackle dandy outfits and face paint, from Rivera's snakes on the forehead to Dylan's whiteface, like that of Elizabeth I or an 18th-century fop (though kabuki and KISS were surely inspirations, too). They played shows first in New England and Canada, and then, after a holiday break interrupted on Jan, 25, 1976, by a benefit concert at the Houston Astrodome for boxer Rubin "Hurricane" Carter, through the South and Midwest. Most of the concert material professionally recorded then went unreleased for decades, though music fans were hungry for it.
A high-quality bootleg of the RTR rehearsal sessions slid out in 2001. Titled "Going Going Guam," it has been a personal favorite of mine since it emerged. Perhaps in response to this, The Bootleg Series Vol. 5: Bob Dylan Live 1975, The Rolling Thunder Revue, was released the following year. All of the live performances on it come from the New England and Canada leg of Rolling Thunder, and the record includes no rehearsal takes.
Now that, and so much more, is rectified by Bob Dylan — The Rolling Thunder Revue: The 1975 Live Recordings. The first two of the 14 discs are entirely composed of full and partial takes from the band's pre-tour rehearsals at S.I.R. Studios in New York. A small shard of "This Wheel's on Fire" is stunning. An incomplete take of an appropriately saloony "Lily, Rosemary and the Jack of Hearts" will delight the many fans of this Western movie of a song, who long one day to hear it live. "One More Cup of Coffee (Valley Below)," the Romani-inflected saga born, Dylan has said, of a trip he took in May 1975 to Saintes-Maries de-la-Mer during the religious festival honoring Roma patron Saint Sarah, is the standout of these sessions. Dylan's voice, alternately raw and lyric, full of tremolo, is in a duet with Rivera's pitch-perfect violin, rising and falling to follow the singer's lead.
"Just Like A Woman," from the rehearsal sessions at the Seacrest Hotel in Falmouth, Massachusetts (the tour began in Plymouth), is a sheer joy. The Seacrest sessions are Disc 3 of the set, and a tiny-desk concert all on their own.
The bulk of this new release is — not full concerts, mind you, but — all five of Dylan's full sets from the first leg of the tour that were professionally recorded. The shows are: Memorial Auditorium, Worcester; Harvard Square Theater, Cambridge; the doubleheader at the Boston Music Hall on Nov. 21; and the Forum de Montreal. These are the days when Dylan's set lists shift and flow. He includes his own classics like "It Ain't Me, Babe" and "Blowin' in the Wind," and then flays you with new ones, like "Tangled Up in Blue" (released in January 1975 on Blood on the Tracks) and "Isis" and "Hurricane." The performance of "Isis" from the night show in Boston is a revelation, with Dylan's exposed voice alternately shouting and crooning out the joint story of a marriage, and an archaeological expedition, gone very wrong. Howie Wyeth's sweet walking beat on the drums drives the song.
Dylan's covers, with Baez, of "Wild Mountain Thyme" are a benediction. When, in his new interviews for the Martin Scorsese film about the Revue, Dylan says "Joan Baez and me could sing together in our sleep," you can look back and hear it from the stage. Similarly, the raging glory of "Hurricane" is shaped every time by his duets with Rivera: his voice, her violin. As Rivera said this week, asked about such a hallmark of the tour, "I let my violin speak for me."
The importance of the other performers and their integral contributions made me all the hungrier, as I listened, for full concert recordings. I wanted to be there for the whole evening, for Elliott's "Rake and Rambling Boy" in Montreal, for Baez's "Diamonds and Rust" on Halloween night in Plymouth, for Bobby Neuwirth's wacky announcements and occasional performances, for Ronson's "(Is There) Life on Mars" at any one of the shows where he did it. This beautiful box set is a tantalizer. Dylan's art sparkles and shines all the more in the setting and context of his band's, his friends'.
A generous handful of gems concludes the set. Disc 14 includes a smooth cover of "Tracks of My Tears" from Chateau Champlain, Montreal, and a bouncing "Your Cheatin' Heart," sung on the tour bus. On Nov. 16, the band stopped at the Tuscarora Reservation near Niagara Falls, in Lewiston, New York, and gave a performance seen in part in Renaldo and Clara. Dylan sang "The Ballad of Ira Hayes" there; you can hear it here. A swingy "Simple Twist of Fate" from — yes — a mahjong parlor in Falmouth shows the still-new song continuing to evolve, and we know that Dylan continues to change it even now. Listen for the "She shoulda caught me in my prime" verse.
The record is out today. On June 11, the movie Rolling Thunder Revue: A Bob Dylan Movie by Martin Scorsese, which premieres this weekend at Alice Tully Hall, will be released on Netflix. Revel, relish, and stay tuned.
---