'Springtime in New York' Finds Bob Dylan Searching for Relevance in the Video Era
Posted On September 14, 2021
---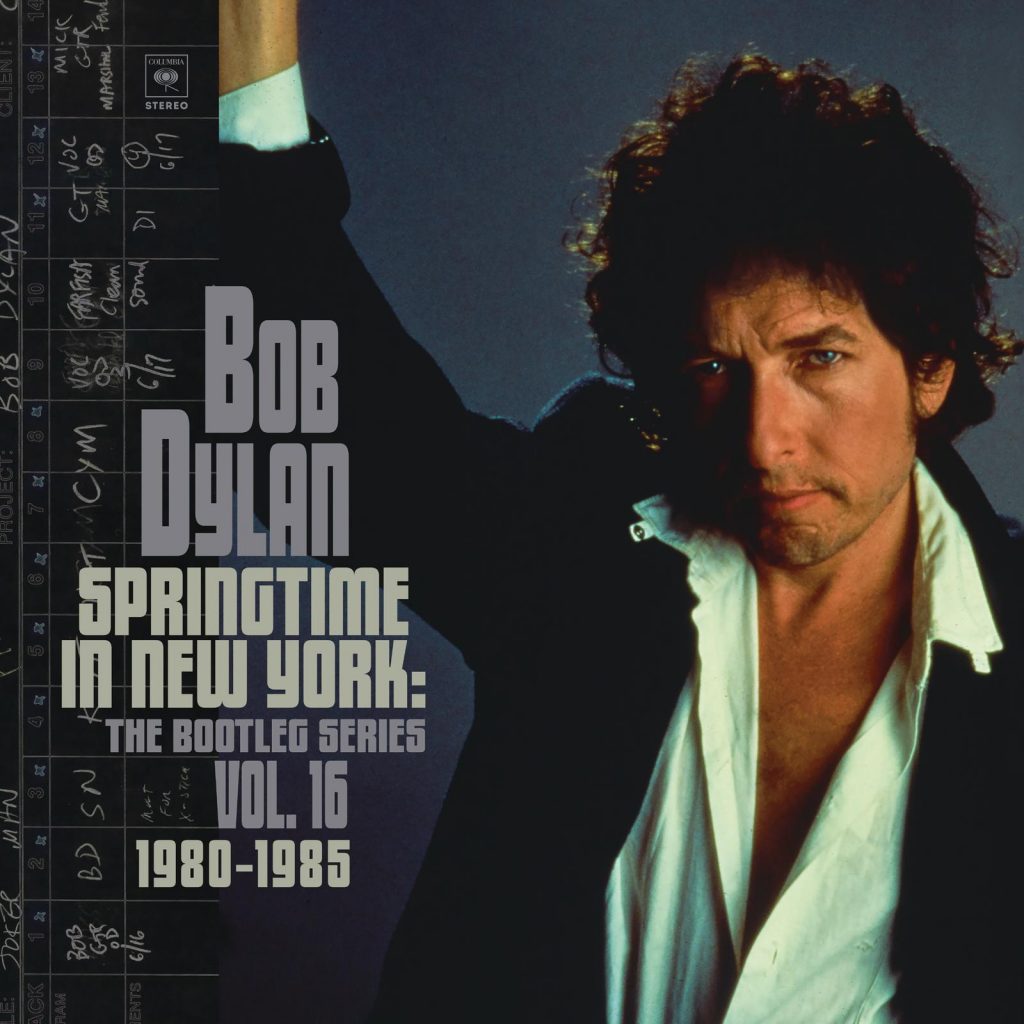 The release of the 16th installment in Bob Dylan's ongoing Bootleg Series, Springtime in New York, marks 30 years since the first three volumes appeared as a three-disc boxset in 1991. Three decades is an impressively lengthy career for anyone at any time in the music business. Considering this series only covers the outtakes, rehearsals, occasional B-sides, and other "throwaways" from a career that's lasted twice as long, it proves once again that Dylan, as always, travels in territory uncharted by anyone before or since.
Most of the volumes in The Bootleg Series have alternated through digging deeper into essential moments in rock history, revealing the creative process behind some of the genre's most revered recordings (Vol. 12, The Cutting Edge, 1965-1966; Vol. 11, The Complete Basement Tapes), and reframing previously dismissed or misunderstood eras to reveal hidden gems worthy of further exploration (Vol. 10, Another Self Portrait, 1969-1971; Vol. 13, Trouble No More, 1979-1981). Springtime in New York falls into the latter category. Covering the years 1980-1985, it finds Dylan, once again, in a period of transition.
Overlapping the era covered by Trouble No More, Springtime in New York chronicles the sessions that led to the albums Shot of Love, Infidels, and Empire Burlesque. At this point, the onset of music television had presumably killed the radio star, layering on an additional visual aspect to compete against. Dylan, for the first time, faced the threat of impending irrelevance. (Ironic, when you consider it was Dylan who recorded one of the earliest — and still one of the most iconic — promotional videos for "Subterranean Homesick Blues" almost 20 years prior, proving ultimately that it was MTV that had to do the catching up.) Dylan addressed this era in his memoir, Chronicles, Volume One, writing, "The previous ten years had left me pretty whitewashed and wasted out professionally … I hadn't actually disappeared from the scene, but the road had narrowed … There was a missing person inside of myself and I needed to find him." Springtime in New York is the sound of that search.
The journey begins with rehearsals in late 1980 for what became the sessions for Shot of Love, the supposed third entry in the trilogy of Dylan's "Christian phase." These cuts reveal the gradual process of returning to what's perceived as his more secular material. Previously recorded gems are revisited: a subtle, foreboding "Señor (Tales of Yankee Power)," a waltz-heavy rendering of 1964's "To Ramona." As the rehearsals continue, we hear Dylan trying on then-contemporary hits to the point where the sessions could in today's ears be heard as an exercise in yacht-rock karaoke. "We Just Disagree," "This Night Won't Last Forever," even "Sweet Caroline" all make an appearance. That some of these takes are more successful than others isn't the point; Dylan is loosening up, enjoying himself, trying on other personas to rediscover his own. (Much more joyously surprising are his strong interpretations of classics such as "I Wish It Would Rain" and "Fever.")
The heart of this collection canters around the sessions for Infidels, the Mark Knopfler-helmed project that saw Dylan return to the most mainstream critical acclaim he'd enjoyed since Blood on the Tracks. Many have pointed out — especially since the first Bootleg Series entry — that Infidels has become just as notable for what's not on it as for what is. Springtime in New York expands on that observation, including a previously unreleased full band version of the first Bootleg Series' devastating "Blind Willie McTell."
Also included is a more seductive take on "Don't Fall Apart On Me Tonight" that uncovers a strong R&B foundation that Aaron Neville only hinted at years later; an early, more groove-oriented arrangement of "Clean Cut Kid" that amps up the Dire Straits; and two versions of the previously unreleased gem "Too Late" (including many of the lyrics of what would become the more ominous "Foot of Pride") that sound as if they could have been recorded during the sessions that became Volume 14, More Blood, More Tracks.
Dylan's interest in country music, traditional as well as contemporary, was apparently strong during this time. He gives an impassioned performance of the Willie Nelson staple "Angel Flying Too Close to the Ground." Curly Putnam's "Green Green Grass of Home" is delivered with reverence, as is Hank Williams' "Cold Cold Heart." Throughout these songs, and this entire volume, the vocals of Clydie King are as present and powerful as Dylan's.
The mid-'80s sheen and bottomless reverb of the Empire Burlesque tracks are stripped away on Springtime in New York, unveiling powerful studio takes that deepen their intensity ("I'll Remember You," "Emotionally Yours") and give them new life ("Tight Connection To My Heart," two arrangements of "When the Night Comes Falling From the Sky"). They also point the way to the future: An early take on what would become "Brownsville Girl" — the highlight of 1986's Knocked Out Loaded — is featured here as the equally captivating "New Danville Girl."
The best parts of Springtime in New York, as with all the Bootleg Series entries, are the surprises — the songs previously unheard commercially. There's the ferocious "Julius and Ethel," an Infidels outtake that perfectly matches the spirit of that album. Another all-out rocker, "Price of Love," would have given Shot of Love a much-needed shot of fun. And we finally get to hear Dylan's bluesy takes on songs covered by both B.B. King ("Fur Slippers") and Bonnie Raitt ("Let's Keep It Between Us").
Ultimately, Springtime in New York offers the strongest argument yet that some of Dylan's most captivating moments are caught when he is searching for something new. Thankfully for us, that journey continues.
---