How to Paint a Masterpiece: Bob Dylan's "More Blood, More Tracks"
Posted On November 1, 2018
---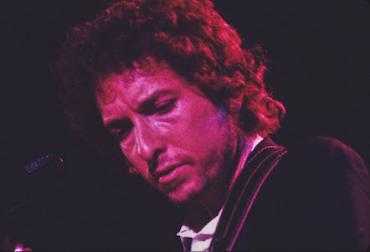 Courtesy Sony Legacy/Credit: Ken Regan
More Blood, More Tracks is a six CD box set of every surviving recording from the 1974 Blood on the Tracks sessions, four in New York, two in Minnesota.
First of all, before listening to it, put aside the fact that they've split up.
It's a distraction. Bob Dylan is not really a confessional songwriter. Think of his memoir, Chronicles, Volume One. It's based in reality, but it's been embellished, fictionalized. Occasionally, something personal might leak out in his songs, but I sometimes think of Dylan as an almost fictional character created by Bobby Zimmerman. Being one step removed, it gives him the freedom to create whatever myth he desires.
After almost eight years out of the spotlight, Dylan reunited with the Band and toured North America for six weeks in early 1974. During the interim, numerous "New Dylans" sprouted up, imitators stealing him blind. With "Tour '74," Dylan reclaimed the top spot. It reinvigorated him, leading to burst of creativity unseen since the mid-1960s.
After the tour, Dylan took a painting class with artist-teacher Norman Raeben. Raeben was tough on his students and Dylan the pupil was no exception, which must have been refreshing for the much-worshipped singer-songwriter. From Raeben, Dylan learned to see things from multiple angles, which would play a big role on his next batch of songs. Dylan said the experience changed his way of thinking, which led to poor communication at home. Soon after, the couple would separate.
A new year, a new label, a new beginning.
The subjects of the songs Dylan would write ranged from relationships old and new, possibly real and imagined, to fame, politics, and flights of pure fancy. After leaving Columbia Records for David Geffen's new Asylum label in 1974, Dylan returned to Columbia's A&R Studios in New York on Rosh Hashanah of that year, to record what would become Blood on the Tracks, considered by many to be one of the greatest albums of all time.
After the New York sessions, an acetate of ten new Dylan songs was pressed up and distributed amongst a small group of people. In the final days of the year, half the album was re-recorded in Minnesota with local musicians. Much like 1967's Basement Tapes, once fans became aware of the outtakes, it wasn't long before the songs were bootlegged, even if the version of "Idiot Wind" in circulation was defective. We drank up that sacred Blood like wine. Some tracks were released by Columbia in bits and pieces throughout the years. Originally scheduled to be volume 10 of The Bootleg Series, we finally have all the tracks here in one place on volume 14.
While Brian Wilson, and the Beatles with George Martin, used the recording studio as a musical canvas with orchestras and backwards tapes, Dylan accomplished the same thing in a more lofi manner. Throughout these six CDs, it's obvious he worked quickly, never staying in one place too long. Dylan fine tuned each of the eleven (more or less) compositions, slightly adjusting the tempo, arrangement, and/or phrasing, then moving on to the next one.
The first session, on September 16, 1974, began with multiple takes of five songs, here all on disc one. Just Dylan with his voice, guitar, harmonica, and, for percussion, the buttons on his jacket scraping his acoustic. The songs were still fresh, and Dylan was focused, confident, and intense. You can tell he knew these songs were special. It was a summation of everything beforehand, and he was taking it to a new and different peak. His voice had softened, now more nuanced, vulnerable. Not full of anger or self pity, just resigned to his new reality.
Later that same day, Eric Weisberg (of "Dueling Banjos" same), and his band, were recruited to add some instrumental backing, taking up all of disc two. It was not much of a success. "Simple Twist of Fate" sounds almost like Yacht Rock, while the country stomp on "You're Gonna Make Me Lonesome When You Go" fared somewhat better. Only the bluesy takes on "Call Letter Blues"/"Meet Me in the Morning" (same melody, different lyrics) could be called a success (although I question whether Dylan recorded both vocals the same day.)
On the 17th, Dylan returned to the studio with only bassist Tony Brown, and Buddy Cage on steel guitar, from the previous day, along with Highway 61 alumnus Paul Griffin on keyboards. This stripped down sound, which starts with track two on disc three, and continues into disc six, would define most of the original version of Blood on the Tracks. There was an interesting rehearsal jazzy/honky tonk bass-and-piano attempt at "Call Letter Blues," but this was abandoned.
The following day, Dylan recorded alone again, with four "remakes" of "Buckets of Rain," included on disc four. For the final mammoth New York session on the 19th, Brown returned. By this time, it feels like Dylan was now more trusting and comfortable with Brown, giving him some instructions for the changes on "Idiot Wind." At the start of the sixth disc, Dylan says he's apparently having trouble getting into "You're a Big Girl Now," evidence of his distaste of spending too much time in the studio. (I always wondered if this song was inspired by the Lovin' Spoonful's hit, "You're a Big Boy Now," written by mid-60s travelling companion and side man, John Sebastian.)
Despite different rhythms and arrangements on "Up To Me," the song did not make the final cut. It was later given to Roger McGuinn, who recorded it on his post-Rolling Thunder album, Cardiff Rose.
(Humorously, Mick Jagger, at the end of disc five, can be heard attending a session, and suggested Dylan play slide guitar on "Meet Me in the Morning." He complied, but the way he played it suggested he didn't really need anybody's advice.)
After this session, four final takes made it to the acetate stage, and Blood on the Tracks was completed.
Or was it? According to Jeff Slate's detailed liner notes, Dylan was having second thoughts, despite assurances from just about everybody that he had created a masterpiece. Columbia could have rushed out the album in time for the lucrative Christmas holiday market, but Dylan decided to re-enter the studio in Minneapolis just before New Year's, with a bunch of local musicians.
Five songs were re-recorded in two days with (mostly) guitarist Chris Weber, keyboardist Gregg Inhofer, bassist Billy Peterson, and drummer Bill Berg, with Peter Ostroushko adding mandolin on "If You See Her," and Kevin Odegard not only playing guitar on "Tangled Up In Blue," but suggesting Dylan move his capo up two frets to change the key from G to A.
The outtakes were either discarded, erased, or just disappeared. Dylan was justifiably paranoid about being bootlegged, so it may have been his idea to delete them one way or another. After about five hours of glorious outtakes, these familiar tracks would not be expected to have much impact. However, in this context, they reminded me of the effect of scenes from two Beatles' movies. In A Hard Day's Night, after being cooped up in a train and a room, and a car and a room, and a room and a room, the Fabs escaped and exuberantly played in a field to the tune of "Can't Buy Me Love," and in Let It Be, after the dreary sessions in Twickenham Studios and the Apple basement, the Beatles played a joyous farewell set on the roof of their office building.
The five Minnesota tracks have a similar effect. First of all, there are subtle differences in the unadorned, speed corrected mixes here, most pronounced to these ears on "Tangled." But it's the re-creation of these songs that fascinate. Fans have been debating the merits of these versions for decades, but it's doubtful Blood would have gotten as much traction with the more personal, quieter New York sessions. In particular, the September and December versions of "Tangled" and "Idiot Wind" each stand alone as great recordings. The earlier takes are more raw, but the latter ones take the same narratives and give them a different point of view. "Lily, Rosemary" certainly benefits from the energetic backing, although the updated "Big Girl" may have lost something in the transition.
Finally, the anonymous Minneapolis gang is officially getting credit. Maybe this will also correct the oft-repeated mistake that keyboard-playing R&B legend Billy Preston played bass on the album, instead of Billy Peterson.
Even with this box set, the story doesn't end here. More than any other collection of songs, Dylan continues to tinker with these compositions. Check of the final verse of "Simple Twist of Fate" from a 1975 John Hammond tribute. (Note also the reference to a clarinet, in homage to Benny Goodman, also on the bill.)
Jeff Slate has already detailed the evolution of "Tangled," so I'll post some videos here to help illustrate the point.
8
However, if you really want to see the blood on these tracks, check out side two of the 1976 live album, Hard Rain, or better yet, watch the video.
Then, if you can take it, you'll be ready for 1978's post-Elvis, post-Renaldo & Clara, post-divorce, I-threw-it-all-away manifesto, Street-Legal.
Even Jakob Dylan said Blood on the Tracks was like hearing his parents talking. Certainly some lines directly related to his parent's personal situation, but there's more to the album than that.
Dylan is painting a picture here. It's not a diary set to music. How boring, limiting, and self indulgent would that be? It's infinity on trial, more abstract and surreal than a self portrait. It's the situations he created that have touched us, and captured our emotions and imaginations, for more than 40 years.
Not to mention there is also some protest music in these grooves. Blood on the Tracks was written and recorded during and after the Nixon/Watergate era. On "Tour '74," Dylan would start the second half of each concert with a five song, solo acoustic set. The climax was a ten year old composition, "It's Alright Ma (I'm Only Bleeding)." After singing the prescient line, "Even the President of the United States must have to stand naked," the crowd would cheer as loudy for that statememt as for any other Dylan classic.
In class, Raeban would call his students idiots, then include himself in that club. In "Idiot Wind," Dylan rails against friends, lovers, imposters, journalists, politicians, and even his fans, before turning the spotlight on himself. That song says as much about society now as it did then. Maybe more so.
Then there's this gem included in "Up To Me," "I was much too stubborn to ever be governed by inforced insanity."
This Tuesday, there is a U.S. midterm election, the most important in my lifetime.
Don't be an idiot. Vote.
AMAZON:
6CD: amazon.com – .co.uk – .de
2LP: amazon.com – .co.uk – .de
1CD: amazon.com – .co.uk – .de
87 mp3s: amazon.com – .co.uk .de
11 mp3s: amazon.com .co.uk .de
For more details from Peter Stone Brown, Dylan scholar and Tony's brother, check out Blood on the Tracks Revisited.
Missing pages from the box set: Download here.
---