Dom Flemons and Black Cowboys
---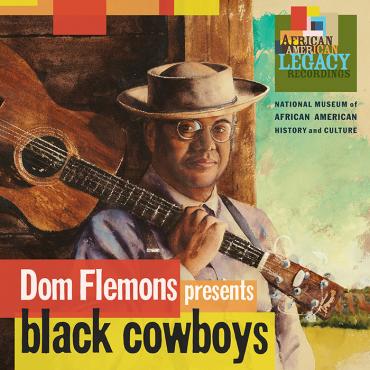 In conjunction with Smithsonian Folkways Recordings' 70th anniversary comes a collection of African American cowboy songs titled Black Cowboys. The almost legendary interpreter to such anthems in this collection is none other than founding Carolina Chocolate Drop and historian, scholar, collector, artist, and anthropologist Dom Flemons – a fine picker and songman in his own right. You may have caught him on television in his role as Joe Hill Louis, Bebop Boy, on CMT's Sun Records or heard the phenomenal Chocolate Drops out of North Carolina before he struck out on his solo career back in 2013.
On this project, Flemons curates and emulates African American frontiersmen's traditional songs as well as offering his own recreations of that era of songcraft. From the field holler album opener of "Black Women," Flemons' intent is apparent. He lives and breathes his art. This is an audible extension of the heart and soul and wonders within, a desire to capture the lifebeat of the original arrangement and melodies of songs that were one of the only forms of entertainment at the time. Flemons dreamt up the idea after chancing upon "The Negro Cowboys" on his own pilgrimage of sorts while driving from North Carolina to his home state of Arizona back in 2016.
Flemons doesn't stop at song. The spoken-word poetry of "Ol Proc" is equally as satisfying as the fife-and-drum gem "The March of Red River Valley" that precedes it. Flemons runs the realms by way of styled offerings on Black Cowboys. The bluegrass gem "Knox County Stomp" is a picker's paradise not to be outdone by personal favorite and Flemons original "He's a Lone Ranger" the story of Bass Reeves, an escaped slave who became the first African American deputy U.S. marshal on the sun-setting side of the Mississippi, set to a 12-bar blues progression that boogies.
Who better than Dom Flemons to curate this timeless collection of history? Judging by the recent announcements of artists involved in upcoming releases, Moses Asch's mission of "documenting the people's music" is in safe and able hands. A few of those incredibly able hands on this effort are those of bluesmen Jimbo Mathus and Alvin Youngblood Hart, with award-winning folklorist and Folkways' director Dan Sheehy helping guide the rudder. The album art is impeccable and the 40 pages of liner notes makes Black Cowboys about the coolest of auditory histories no matter what heritage you represent.
---