ALBUM REVIEW: Dom Flemons Revels in History and Humanity on 'Traveling Wildfire'
---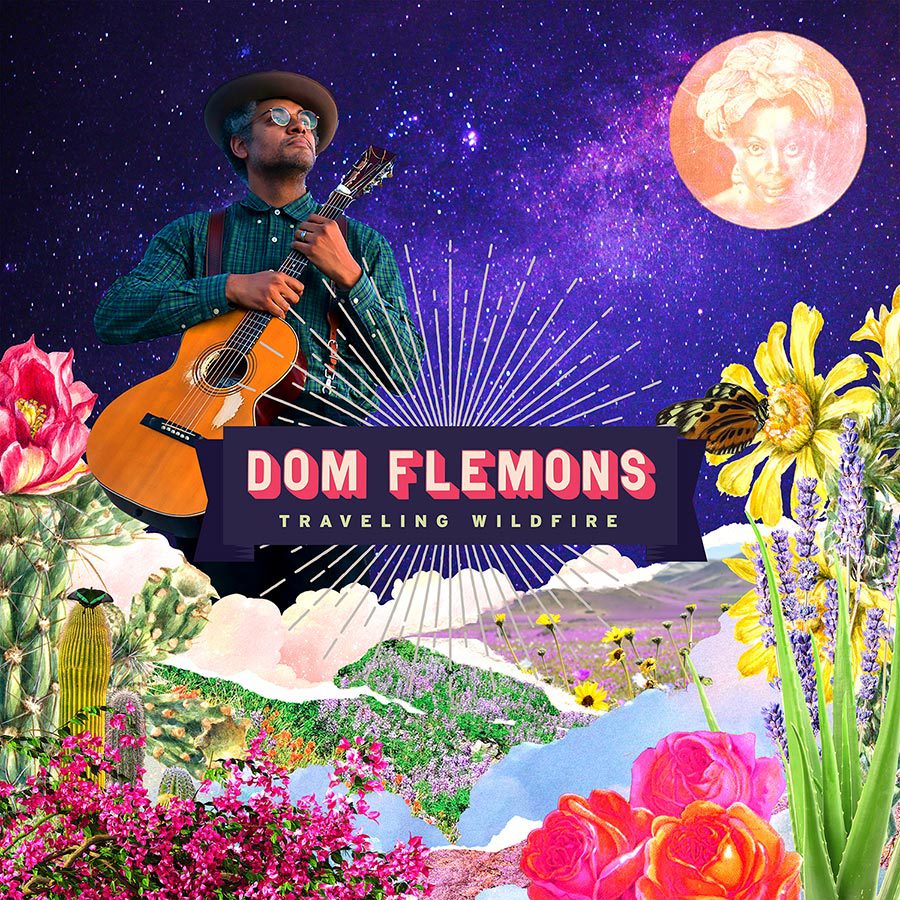 With his new album, Traveling Wildfire, Dom Flemons builds on his solo oeuvre and previous forays with The Carolina Chocolate Drops, per usual displaying songwriting savvy, instrumental prowess, and a knack for contemporizing often obscure yet important works.
Waltzy opener "Slow Dance With You" would be appropriate fare in a roadhouse bar, a church gathering, the straw-littered stage of Hee Haw, or the esteemed environs of the Grand Ole Opry. That is, the piece has broad appeal. Flemons' voice is smooth, expressive yet euphonic, aptly complemented by his own harmonica, Matt Pynn's pedal steel, and David Hidalgo's shuffling drum part.
"Dark Beauty," meanwhile, is a sultry number; the singer, nearing the end of his time on the range, anticipates reuniting with the woman he misses. Flemons draws from the cowboy subgenre a la Gene Autry while touching on the gothier timbre of Johnny Cash. The title song shows Flemons at his most pensive. Addressing climate change, specifically the 2021 fires that ravaged California, he observes the destruction before him, almost like a biblical figure beholding a vision, implicitly commenting on humanity's entrenchment in destructive paradigms.
On several tracks, Flemons performs distinct reinterpretations, accentuating his depth as a folk archivist. With "We Are Almost Down to the Shore," he rearranges the 1936 spiritual by Jimmie Strothers. While the original epitomizes a rural blues style featuring Strothers' gravelly voice, Flemons' version is more choral, his delivery like velvet. Though written 70-plus years ago, the song's general message regarding resilience and specific encouragement in the fight for equality are as relevant as ever.
Reverend Gary Davis' "Saddle It Around" effuses an off-the-cuff and minimalist tone while Flemons forges a relatively polished and precisely instrumented version. The song nostalgically addresses the farming life and ways in which the poor have, throughout the centuries, been legally marginalized. As with "We Are Almost Down to the Shore," "Saddle It Around" conjures a different epoch, though it clearly points to the very current challenges faced by independent farmers who can't compete with corporate food producers. The song additionally stands as a reminder that the judicial system still favors the wealthy. With "Guess I'm Doing Fine," Flemons remakes Dylan's sardonic tribute to Woody Guthrie, his voice optimistic, his instrumentation rollicky, including Sam Bush's adrenalized fiddle.
"Big Money Blues" highlights Flemons' abilities on guitar, particularly a catchy descending riff that would get a nod from Robert Johnson. "Tough Luck" showcases Flemons' banjo skills and riveting interplays with Tedd Hutt. The album closes with "Songster Revival," featuring well-oiled exchanges between Flemons on banjo and marching bass drum and James Fearnley of The Pogues on piano accordion.
Throughout Traveling Wildfire, whether offering originals or notable redos, Flemons exhibits his encyclopedic knowledge of music history. All the while, he demonstrates his versatility and penchant for dynamic collaboration. In this way, he continues to honor the past while underscoring its relevance to the present — and keeping an unflinching eye on the future.
Dom Flemons' Traveling Wildfire is out March 24 via Smithsonian Folkways.
---