Buddy Guy Can Still Get the Job Done
---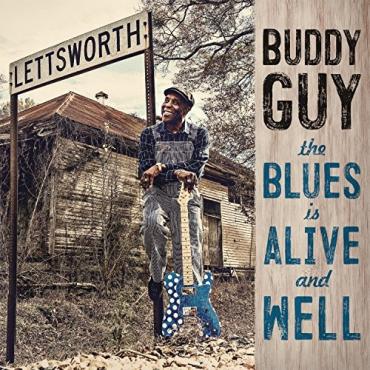 Buddy Guy, who will receive the Americana Music Association's Lifetime Achievement Award on Sept. 12, shows no sign of slowing down. In fact, he's just released a loud, brash, blast of blues a month shy of his 82nd birthday.
Helmed by longtime producer/collaborator Tom Hambridge, Buddy Guy's latest follows the formula he's perfected since his "breakthrough" 1991 Grammy-winning Damn Right, I've Got the Blues.
Guy again enlists some big-name assistance, this time calling on fellow guitar-slingers Jeff Beck and Keith Richards for a celebration of "Cognac." Co-penned by Guy, Hambridge, and Richard Fleming, it showcases all three guitarists with some vocal encouragement from Guy throughout.
Hambridge co-writes every song here but two, sharing credits with Jamey Johnson on "Blue No More" – a smoky duet with new English soul crooner James Bay – and even '70s country songwriter extraordinaire Mac Davis on the strolling, cautionary "Bad Day." Gary Nicholson shares a co-write on the title cut, a mid-tempo groove musically reminiscent of Albert King's "Breaking Up Somebody's Home," and the McCrary Sisters add some vocal punch to the horn-driven "Whiskey for Sale."
Few artists other than Buddy Guy could recruit Mick Jagger for just his harmonica talents, and he does so on the slow-burning "You Did the Crime." If you loved the Rolling Stones' 2016 excursion into the blues, Blue & Lonesome, consider this an encore. Jagger's mastery of the mouth harp seems to be finally getting its due.
Guy also runs through a straight reading of Sonny Boy Williamson II (Rice Miller)'s "Nine Below Zero" and brings the shred to "End of the Line," proving why Hendrix sat at his feet with a tape recorder all those years ago.
The Blues Is Alive and Well lives up to its name and is a solid addition to Buddy Guy's repertoire. Make sure you take time and see him tour this year. Not solely out of respect of one of the last authentic Chicago bluesmen still kickin' – though there is that – but because as he sings in "End of the Line," he "can still get this damn job done."
Oh yes, he can. The blues is alive and well in Buddy Guy's hands, throat, and soul.
---