A Toast to Amanda Shires' "Sunset"
---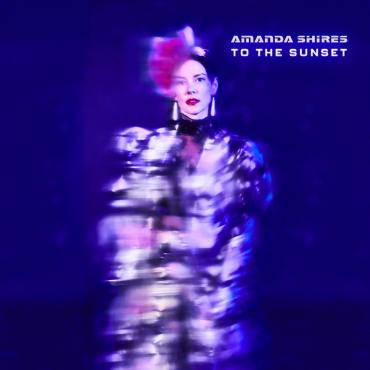 For an artist with as deep ties to country and roots music as Amanda Shires, evolving can likely feel like an intimidating challenge. There is a pull to stay true to tradition, but a strong desire to move forward in different creative directions. With her new record To The Sunset, Shires manages to toe the line between the past and present with astounding grace. On what is her most pop-heavy record yet, her deeply intelligent and thoughtful songwriting remains intact with some of the best songs of her career. Her signature warble, with all of its quiet twang and beautiful imperfections, is at its most powerful as she tackles motherhood and the messiness of love.
At recent performances at the Newport Folk Festival and New York City's Mercury Lounge, Shires' band had grown in size, and as a result, her sound has, too. It's big and loud and epic, with two guitar players (three when she joins in), her fiddle, keys and synth, bass, and drums. Sunset standouts like "Parking Lot Pirouette" and "Leave It Alone" are passionate and explosive. On the former, Shires recalls a fiery encounter and the way an all-consuming love haunts and lingers. Belting out the chorus, her voice has never been so muscular. The latter is the album's catchiest song with its dreamy guitar riff that'll be buzzing around your head like vibrant, Technicolor butterflies as you listen.
Borrowing one of her loveliest tracks from 2011's Carrying Lightning, "Swimmer," Shires beefs it up with a synth-laden arrangement that elevates it from a spare folk song to a shimmery pop gem. Elsewhere on Sunset, she pays tribute to her own mother on the delicate earworm "Charms" and rocks out on the electric boot-stomper "Eve's Daughter." "Break Out the Champagne" is a celebratory drinking song, toasting to the "shitshow" of life, and the existential "White Feather" is a clear-as-day stunner.
Shires is a revelation in this all-in leap into the next chapter of her journey as an artist. Sunset is a sparkling, polished and fearless album from a refreshing, complex artist.
---