Newly Proclaimed Rock-and-Roller Amanda Shires Lets Loose and It's Glorious
---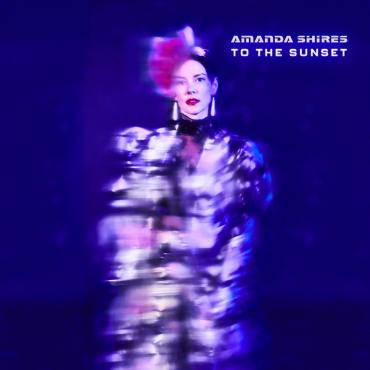 You don't have to hate golf to fully translate the weighty tone of Amanda Shires when she exclaims, "I'm rock and roll – you're golf." She is making no mistake and holding nothing back any more. Aside from her world-renowned fiddle playing, Shires has always been known for her cutting lyrics, but this new record, To The Sunset, pads those words with some sharp new edge. It's fuzzy, loud, and totally unapologetic. Those three adjectives may directly describe Shires herself, but rarely her musical output to this point.
From the very first note of the first song, "Parking Lot Pirouette," you can tell you are in for something different. Then the chorus hits and Shires' voice reaches a triumphant peak with a wailing guitar and spacey sound effects in background. From there, part of the fun is all the surprises along the way.
The roots of To The Sunset are still the same as they have been for her previous records, like 2016's excellent My Piece Of Land. She pulls directly from her own life's experiences and creates poetic, vivid story lines tugging at all parts of the human emotion spectrum. The difference is now her words are surrounded by far more keyboards and synth sounds than straight fiddle and the acoustic guitars are swapped out for her husband Jason Isbell's electric guitar solos and overall grit. Shires' trembling, yet commanding voice and famous violin sounds are run through pedals and scuzzy distortion effects giving it an under-water sound.
Isbell was not the only famous name to lend their talents to the record. Dave Cobb, whose producer pedigree only continues to soar after records with Isbell, Sturgill Simpson, All Them Witches and Chris Stapleton, helped Shires find the sound she was envisioning in the legendary RCA Studio A-Room. While To The Sunset sounds nothing like Dolly Parton or the countless other country classics records to be cut there, the sound and attention to detail is palpable.
Each song has a distinctly different feel. The sign of a great album can usually be carved down to the flow and energy of the track order, another area where To The Sunset shines. Each song brings a whole new energy, a new story and a new layer to Amanda Shires-the artist. "Charms" is probably the closest thing to "country" for Shires on this go around. "Eve's Daughter" is a full-blown rocker. "Break Out The Champagne" is a new anthem for turning gloomy emotions into celebrations and "Wasn't I Paying Attention" takes an eerie suicide tale and transforms it into a charming album closer.
Simply put, there is no room for golf or boredom, which can be one in the same, on this record. As Shires so eloquently puts it, "let's get on with the shit show / look out below / adios."
Originally posted on oldrookie.com
---