After Founding Member Steps Away, Steep Canyon Rangers Navigate a New Road
Posted On August 30, 2022
---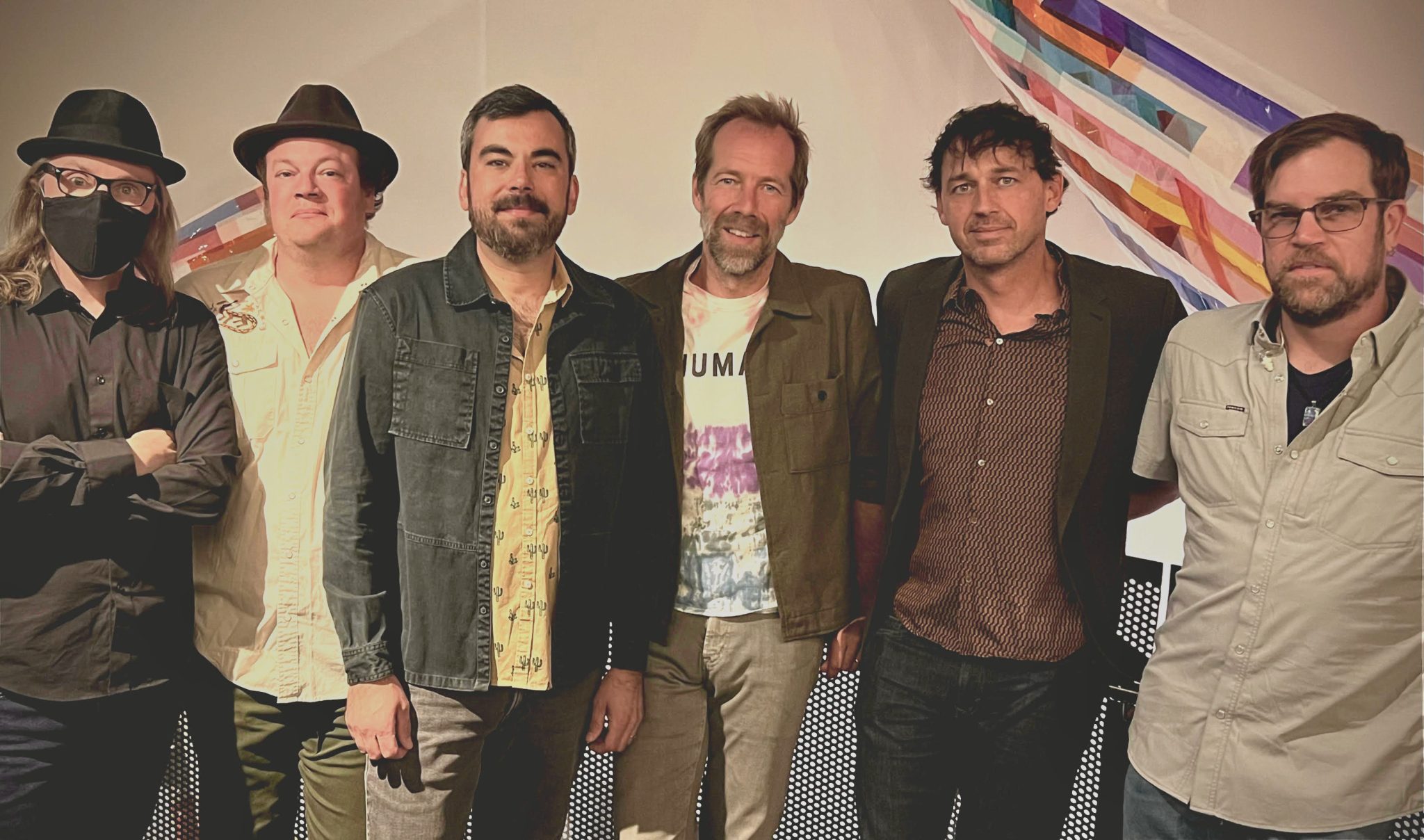 Steep Canyon Rangers, with newest member Aaron Burdett at far right. (Photo courtesy of the band)
During the pandemic, Woody Platt was in one place for the longest time since he was in high school. For a lot of musicians, that stillness chafed. But when his modern bluegrass and roots band Steep Canyon Rangers got back on the road, Platt found himself reluctant to leave.
Platt gratefully reunited with his Steep Canyon Rangers bandmates, some of whom he's known since childhood. But his 18 months at home stayed with him like a tune he couldn't get out of his head, and he knew it was time to make a change.
In April the band announced that Platt — a singer, guitarist, songwriter, and founding member — would be leaving after one last string of summer shows, a bombshell for fans who'd identified Platt with the band since its formation two decades ago at the University of North Carolina. But despite the heartbreak, both Platt and his bandmates saw opportunity and have cheered each other on amid the changes. It's a fitting mindset for a band that grew to be brothers as they traveled the backroads of their native North Carolina and then far beyond.
"We weren't really brought together by music," Platt says. "We were brought together by friendship."
Formation and Friendship
Platt, banjo player Graham Sharp, and bassist Charles Humphrey III formed Steep Canyon Rangers in 1999 as students in Chapel Hill, playing bars and restaurants and building momentum as they carved out a sound from the bluegrass and folk traditions from back home in Western North Carolina. Mike Guggino, a childhood friend of Platt's, joined on mandolin, along with fiddle player Lizzie Hamilton. In 2001, the Rangers won the Rockygrass Festival's venerated band contest, an achievement that vaulted their reputation as well as their ambition. After Hamilton left the band in 2003, fiery fiddler Nicky Sanders danced into the lineup, and the engine revved to full power.
To date, Steep Canyon Rangers have released 13 studio albums, including 2013's Nobody Knows You, which won a Grammy for Best Bluegrass Album, and their latest album, 2020's Arm in Arm (ND review). They've become widely known even outside of roots music circles from their partnership with actor, comedian, and banjo player Steve Martin, with whom they've released three albums. For the last decade, the Rangers have gone on several tours with Martin's live comedy and music show with Martin Short, fitting in runs among their own extensive performance schedule.
By any measure, they're a band at the top of their game, their hard work rewarded with headlining spots at top festivals and sold-out venues thanks to a loyal fanbase that grows with every new release. So why, it seems reasonable to ask, would anyone walk away?
"It is very simple to boil it down to the fact that I've become more of a homebody and just wanted to travel less than would probably have worked for everyone," Platt says. "And I didn't want to have to put the pressure on the band to slow down to my pace, to accommodate me. As much as it felt like a selfish decision to step away from something that I was a big part of, it seemed like the right decision because I didn't want to do something I didn't want to do, because then my heart wouldn't have been in it and the art wouldn't have been as true as it had been."
As this feeling bubbled up over the last couple years, Platt paid attention and talked to his family — wife Shannon Whitworth, also a singer-songwriter, and their 6-year-old son — about a life change that would keep him in and around his home in Brevard, North Carolina.
"Once I started really thinking about a departure, I couldn't shake it," he recalls. "And I just sort of smiled thinking about staying home. So I had to be honest with myself and my bandmates at that point."
It wasn't an easy conversation. Platt wanted to tell his five bandmates — now including Barrett Smith on bass and Mike Ashworth on drums — one by one, so he sat down with each in early March.
"We had just finished soundcheck with Steve Martin and he asked me to talk a walk with him," Sharp remembers. "We went back to the bus, where we've spent a lot of time over the years, and that's when he let it out."
It was a shock, Sharp says, but that feeling of brotherhood kicked in immediately: "In that moment, all you want is for your friend to feel better.
"He was really worried about us, worried about what was going to happen to us and the rest of the band and our families and everything like that," Sharp continues. "And so the first thing that I did, and I really believe, was just reassure him that we're going to be fine. He just needs to take care of himself and his."
Platt stayed on through the end of July, playing emotional but ebullient last shows in North Carolina and then a final string in Colorado, including a headlining slot at RockyGrass — a real "full circle" moment, Platt says.
'The Voice We Wanted'
The next step was to plot the band's plans to move forward. The five remaining members spent a lot of time playing music without Platt — "just modifying the band's DNA and really seeing what's there," Sharp says. They felt strong as a five-piece band, but also wondered what they could bring in. "It didn't really feel like we were having to just plug somebody necessarily into Woody's role, but like we could look at it in terms of, 'Here's what the five of us can do really well. What is this lacking? If we were to add anything to this, what would it be?'"
The answer, as it turned out, was right next door in the North Carolina mountains most of the band still calls home.
When Saluda, North Carolina-based singer-songwriter and guitarist Aaron Burdett got a Facebook message earlier this summer asking him to call a member of the Steep Canyon Rangers, he figured it was about an opening slot, or playing the band's Mountain Song Festival. He'd been taking a break from social media and hadn't heard the news about Platt leaving the band.
But working through their network of music contacts back home as they considered a new member, the Steep Canyon Rangers heard Burdett's name suggested and decided to ask him to send in some demos.
"To a man, it just blew us all away," Sharp recalls. "I think we all knew instantly that this was the voice we wanted."
Burdett has spent the last decade or so winning songwriting contests (including the Chris Austin Songwriting Contest at MerleFest in 2020) and crafting albums of songs that celebrate the simple life, working folks, and the sounds of the Appalachian Mountains. His latest was last year's Dream Rich, Dirt Poor (ND review).
Within a few weeks of that initial phone call, Burdett was onstage with the Rangers, Martin, and Short at the Hollywood Bowl in Los Angeles, with 17,000 fans in front of him and the L.A. Philharmonic playing behind him.
"That was a lot," Burdett says with a chuckle. But he and the band both felt it went well, and Burdett got to work learning the band's extensive catalog. He even watched a Steep Canyon Rangers set at a festival in Durham from the audience in order to take in the experience from the other side of the stage.
"I told them afterward, I don't see anybody doing anything up there that I don't think I can do, but I do see 20 years of camaraderie and experience together," he says. "It is a little intimidating to step into that."
Today, the Steep Canyon Rangers announced that Burdett is officially their newest member. Not a replacement for Platt, but a new recruit with a sound of his own that dovetails nicely into what the band has built.
"Obviously they're looking for somebody to do a lot of the things Woody did, but they're in no way saying, 'Do it like Woody does, come be a stand-in for Woody,'" Burdett says. "That's been really reaffirming: They're like, 'Please sing these songs that Woody sang and please play the guitar, but please bring your own thing to it, please just be you.'"
Out of a sad occasion of saying goodbye to their musical partner and friend, the band has found a way forward and a strengthened connection with its core.
"I think maybe if [this] had happened 10 years ago, we wouldn't have known what to do," Sharp says. "But I think the five of us were able to sort of shore up our own confidence and belief and then got the opportunity to add somebody like Aaron, who's already sort of his own fully formed musician with a very different life experience and everything. It's a really cool opportunity to take what the Steep Canyon Rangers are and sort of graft another shoot onto it."
Stepping Into the Future
Now that he's home, music is still a big part of Platt's daily life, nestled alongside fly fishing and family time. He's playing and singing at home with his wife and at a few local gigs here and there, and he's done a little recording and helped with this month's Blue Ridge Banjo Camp (hosted by Béla Fleck) and Bryan Sutton's Guitar Camp in Brevard.
"I'm sort of living with what's right in front of me," he says.
Platt and his old bandmates check in with each other frequently as the Steep Canyon Rangers continue a run of summer tour dates and settle in with their newest member.
"I have a real good feeling about the future for the band," Platt says. "And that makes me smile, because we put a lot of blood, sweat, and tears into it for a long time."
Sharp, too, is optimistic for the future: "While it's going to be different, it's going to be undeniably Steep Canyon Rangers."
---