A View from the Second City
---
Editor's note: This article originally appeared in the Spring 2017/Heartland issue of No Depression in print. It has been digitized for our summer subscription drive, but articles appearing in the journal are typically exclusive to print. Subscribe today for just $6 per month and never miss another issue.
* *
I moved from New York to Chicago at 20. I had rarely left the East Coast, and my impressions of the Midwest came from novels and stereotypes. A lot of the funny people I admired — Garrison Keillor, Bill Murray, David Letterman — came from the area, as well as much of the masthead of my beloved National Lampoon; but what all these sensibilities shared was hard to pinpoint. Aloofness? My boss at the midtown Manhattan publishing firm where I worked, an explosively ill-tempered runt named Don Fine, spoke simple words when he learned where I was headed. "Chicago's a hick town!" he asserted. "You won't have any trouble there."
About the trouble he was right. Apartments in Chicago in 1983 were cheap, parking plentiful and often free. The winters were long and ugly but also had an aspect of majesty. With stoic solidarity, Chicagoans bore up under some of the ruder ordnance in nature's arsenal. The geography of the North Shore — Green Bay Road snaking parallel to the tracks of the commuter line, itself mirroring the coastline of Lake Michigan — was softly dazzling, as a raft of snowglobey scenes in John Hughes movies was soon to memorialize. Downtown, the "L" wheezed circularly like a dilapidated Coney Island ride. Newspaper men like Mike Royko and Bob Greene sat in pupil-enlarging, cigar-choked bars at midday. Gimlet-eyed workers stomped through sooty slush. Each morning I bought a Tribune and sat in a toilet stall of the Greyhound station marking want ads. I found an okay-paying job doing boring work at a law firm within a few weeks.
Nights, I played at clubs in then-bohemian Lincoln Park, places like Holstein's and Orphans. They weren't hard to get booked in. A year after my move, I began teaching at the Old Town School of Folk Music, and a year after that quit my day job to play guitar for Special Consensus, then as now the only bluegrass act in town with a national profile, which it toured nonstop to maintain. At that point I became what I've been ever since and will probably die being: a Chicago-based working musician. Try moving to New York with no particular brains or skills, getting a nice apartment, and becoming a working musician in three years. (Actually, I had tried that.)
Second-rate Syndrome
If you're based in a mid-Atlantic state, you can route major cities almost at random — Richmond, Baltimore, Philadelphia, Boston — and your drive times will stay reasonable. With a little stamina, you can even avoid a hotel stay. Though the distances are brief, the Eastern cities are at a marked cultural remove from one another. By contrast, in the Midwest you drive 4 to 8 hours to arrive at places that have at least a cousin-strength resemblance in topography, weather, and manners to your departure point. Cleveland, Columbus, Indianapolis, Louisville, Knoxville, St. Louis, Milwaukee, Madison, Iowa City, the two Bloomingtons, Ann Arbor, Omaha: the towns are like soft-bordered squares in a homely, harmonious quilt.
A Chicago base brings a challenge, however. As a theater director in Sue Miller's novel The Lake Shore Limited says: "What happens in Chicago stays in Chicago." "Famous people just don't live in Chicago," an L.A. personality complained to me once (a little insultingly, since he had asked me to appear as a guest on his podcast during its Chicago visit). Actors here have seen casting agents separate out from a stack of resumes the serious candidates, those with New York addresses in the top corner. A music promoter once advised me in organizing a program for a venue: "No Chicago musicians, for God's sake!"
Saul Bellow defined Chicago as the city where they love you after you've made it in New York. That's close to how it worked out for me: I drew so-so in small clubs for my first 13 years in Chicago; only after I had gone to the majors and gained an audience elsewhere was I set. If there's a superstition that second-city art is second-rate, the headquarters for the heresy is right here, unfortunately. The first thing we Chicagoans can do to improve our cultural position is to stop celebrating ourselves so ardently, insecurely, and constantly. Chicago's the only place where a show will kick off with an emotional speech from a venue manager, radio personality, or politician about how great Chicago is. Yikes. Shut up and show something.
Glue People Together
I lodged the Morells (they later rebooted as The Skeletons) in my mind after hearing or reading that they were a "heartland NRBQ," a rather dull medal they were awarded by dull writers. Like Christ our Savior, the great winter of 1979, and Professor Irwin Corey, NRBQ was a category with only itself as a member. One of my first inklings of the Midwest's otherness was in 1984 when the 'Q, a cherished fixture back east, were booked at Cabaret Metro and then cancelled after only 18 tickets were presold. Later that year I bought the Morells' Shake and Push LP. Led by a lean, bald-headed, pot-smoking populist named Lou Whitney, the Springfield, Missouri, band joined two opposed aesthetics, old-pro skill and teenage zest, and they essayed multiple styles. All like NRBQ — but where their easterly brethren embraced avant-gardism and theatricality, offering themselves as rock stars, the Morells were defiantly ordinary. You knew they were pro-union Democrats because they had a song that said so. They were fondly attached to their town, a small eccentric place; they wrote about it and covered local songwriters like Ronnie Self and Wayne Carson. Comfortable in their skins, Lou and his bandmates (one of them was his wife, a nutty middle-aged lady in short pants) projected minimal performative self-awareness on stage. They wore what they might wear to go buy medicine at Walgreens.
Lou's dead now, and the band dispersed a lot of years ago. For me the magic midpoint of the line segment whose ends are "first falling in love with the Morells" and that previous sentence is the year 1995, when I started working with them and we all became friends. Lou was someone around whom anyone could relax. He had a princely authority emanating from his body language — tall frame, loose shoulders, bouncing gait — and a steady hail of witty persiflage. He loved his neighborhood, and was always loaning out gear and time at his South Street studio to struggling businesses or young whippersnappers of no discernible talent who wanted to learn the ropes or just receive the thrill of hearing themselves on tape. ("I like to drop acid once a year," he remarked, "to keep in touch with the kids.")
He was a little professorial, and he liked taking charge. At a mom-and-pop Italian place, he'd grab your condiments, small bowls of garlic and grated Parmesan, and mix them together, even if you hadn't said, "I don't know how to mix two kinds of food together; would you please show me?" If you told him, as I did, that your politics ran libertarian, he'd shoot back, "Wanna know why that'll never work?" and explain how the GI Bill saved America. If you told him, as I again did, that you were going to release music on your own, without an outside label's help, he'd say, "You wanna know why putting out records from your dining room table will never work?" It was sometimes a bit much, but his good humor always won out. He used his imposing personality to glue people together, not push them around.
What it Looks Like
If there's anything different about Midwesterners, maybe it's because the land around us looks as it does. Economic forces, which help give cities their look, are implied. My friend Scott, who plays in the current version of NRBQ, says the big difference between the coasts and us is that we don't have charming small towns. It's true: our small towns are by and large depressing and hollowed-out. Work takes me through places like Mansfield, Ohio; Benton Harbor, Michigan; Mt. Vernon, Illinois. Not charming. I think about what I see in these places and write songs about it. It's stark and lonely and hard to get out of your mind.
Hardluck towns — of which one of the most pleasant things you can say is there's no entertainment business in them — draw out definite traits in people. Bitterness, naturally. Boastfulness. Resentment against people in loftier places who talk down to us — and as payback from us, please enjoy your new president. (The election demonstrates again that Midwesterners suspect Midwesterners of being second-rate.) A reinforced chauvinism — it's ugly but I love it all the more, goddammit. A determination, if you're an extraordinary person, to be extraordinarily gracious, to rise and lift others with you.
A melancholy memory I have is from a documentary about Lou that the journalist Dave Hoekstra started making a while back. In it, Lou, sick with cancer, stands on a sunny street, recalling when Maybelle Carter and the Carter Sisters lived in town, temporarily, during the long-ago reign of the Ozark Jubilee TV variety show. "I think it's pretty cool that the Carters — the Carters! — lived here, right in Springfield," he says, gesturing behind him. But he's pointing at a vacant lot.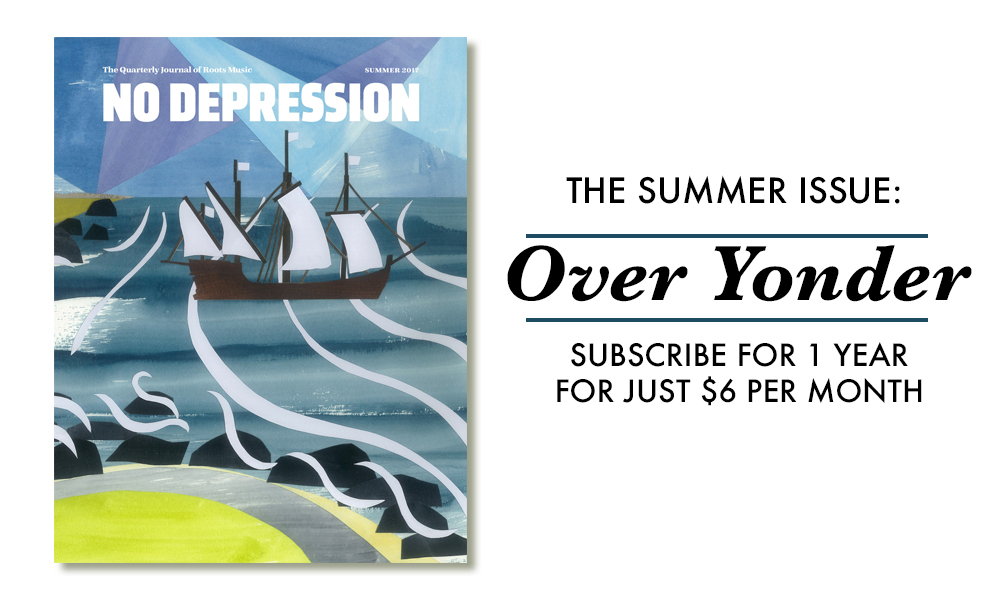 ---