The Wandering Hearts and Ruston Kelly in London
Posted On November 29, 2018
---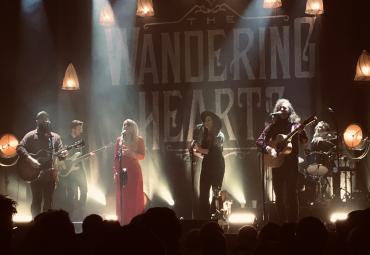 Both the Wandering Hearts and Ruston Kelly should feel 2018 has been a good year. Their performances at London's Islington Assembly Hall were ample evidence that each in their completely different ways should appear in several "best of 2018" lists.
The Wandering Hearts are fast becoming the UK's next country superstars. After a couple of EPs, their debut full length album Wild Silence, released in February, has drawn widespread acclaim, as have their live shows. In June they became the first UK band ever to debut at the Ryman Auditorium and Grand Ole Opry. Some have described their music as "UK Americana," but that's too restrictive. The Wandering Hearts certainly add a British take on mainstream country, but their songs are foremost thoughtful, beautifully arranged, and performed with soaring harmonies.
Ruston Kelly is a complete contrast. Shuffling onto the stage with guitar slung over his shoulder and harmonica hanging from his neck, he looked as if he'd stumbled into the wrong place. His songs are gut-wrenchingly blunt, almost confessional, as he told of his days obliterated by substances of all kinds. For that reason his recently released Dying Star should also feature among the best albums of 2018.
What both have in common is an ability to craft songs that speak from the heart.
Kelly's introspective musings, accompanied by sparse guitar and lonesome harmonica, required concentration. Most of the quickly filling venue showed him that respect, but a loud minority did not. After only one song Kelly noted "this is a talkative crowd." After the next he asked the motormouths to "shut the f… up" and two songs later he just stopped, saying he couldn't hear himself: "I'm just trying to do my job," he said. His next song was well aimed: "Asshole" brought the house down for those who'd come for the music.
"Blackout" typified where Kelly has been: "I black out in a bar / I get high in my car / I drive 'round in circles / 'Till I'm seeing stars." So did "Faceplant": "I took too many pills again / Blacked out for a week didn't eat, didn't sleep /Came to, hit it all again." There isn't a hint of self-pity, Kelly tells it as it was in a voice that rasps with every last hit that ripped him apart.
Even for a support, Kelly's set was short. Perhaps he didn't like the distractions, but hopefully he will be back, but headlining.
The Wandering Hearts have worked their way up from the pub and club circuit, played most of the UK festivals, as well as broken into the US. On their way they have won awards and caught the ear early on of no less than "Whispering" Bob Harris. Islington's capacity audience repaid all that effort. In a line of four they looked ready for the big time. From the left Tim Prottey-Jones was hipster cool, Tara Wilcox shimmered in a long red dress while Chess Whiffin in bell-bottoms and floppy hat and AJ Dean with hair and moustache both added a seventies look. Shades of mid-'70s Fleetwood Mac came to mind visually and musically.
The Wandering Hearts excel in blending country, ballads, and a '70s West Coast vibe into a very contemporary British sound. They flow with a confidence from quiet a cappella through pulsating guitar lines to spiraling harmonies.
"Biting Through The Wires" seemed a good opener as it set out what lay in store; Dean's country voice opened for the first harmonies from Whiffin and Wilcox, all driven by Protty-Jones's guitar. "Wish I Could" maintained the moderate pace; it felt as if the Wandering Hearts were settling into their stride. Such is their conviction they don't have to tear off at full speed. "Iona" had a haunting hark back to English folk, particularly its ghostly solo whistle.
"Rattle" opened the throttle. Dean has a powerful voice but his rasping "rattle my bones" sounded like sandpaper compared to the luxuriant harmonies of Whiffin and Wilcox. From last year's EP came "Nobody's Fool" and "Burning Bridges," the latter with all four gathered around a single mic. These earlier songs served as a reminder how the Wandering Hearts have evolved from an acoustic act for small venues to their now expansive sound. As Whiffin recalled, "coming here we remembered that it was only two years ago we played in a room above a pub just down the road. The only people there were our mums and dads."
A sign of what is to come came with the set's only new song, "Till The Day I Die." Led again by Dean, the song had a more mainstream country/pop sound. Of course, it's the Wandering Hearts but with a feel that's more big arena than pub.
The penultimate "Heartbreak Hotel" was a perfect buildup for the set's finale, "Wild Silence." Throughout the show the Wandering Hearts expressed their gratitude for their fans' support. As this show closed they were one.
In three encores they went from sing-along "The Wonder of You" to their first single, "Devil." This must be the Wandering Hearts anthem. The Islington Assembly Hall thought so.
The Wandering Hearts deserve all their plaudits and success. They have created a very British country sound. Where they go next will be fascinating.
---