---
It's been a smidge more than a week since we announced our new subscription deal and the subscription drive we're running, and I'm thrilled to say that we've passed the 1,500 subscriber mark! (Our ultimate goal is 7,000.)
If you haven't subscribed yet, will you do that now? For just $6 per month (a little extra for shipping, if you're overseas), you'll help keep the lights on at ND and receive our beautiful quarterly print journal.
Let me tell you a little bit about the journal, in case you've never seen it.
It contains more than 100 pages of deep-digging music journalism about the artists and ideas that swirl around our roots music community. Past features have included a story about paddling rapids on a bluegrass river tour, how roots music has been used to rehabilitate prisoners, a cultural history of "We Shall Overcome," a look at sibling duos and family bands, a history of Levon Helm's midnight rambles, an exploration of the next generation of innovative stringbands, and a deep consideration of race and country music. There have also been new, illuminating interviews with artists like Lucinda Williams, Jason Isbell, the Cactus Blossoms, King Creosote, Pokey LaFarge, Front Country, David Grisman, and so many more.
We've published little-seen drawings from the Woody Guthrie archive and exclusive essays written by artists like Robbie Fulks, Eliza Gilkyson, Allison Moorer, Mary Gauthier, Amy Ray, Leigh Gibson, Scott Miller, and others.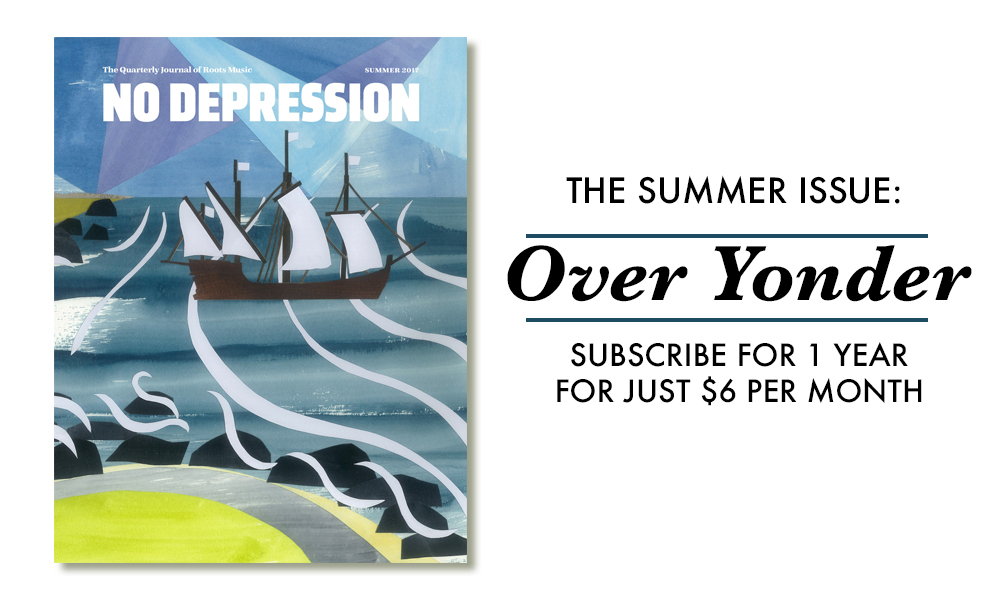 The cover of the journal is always an original artwork by a visual artist, including work by the Waco Brothers' Jon Langford and a forthcoming cover designed by Whiskeytown's Caitlin Cary (for our Fall 2017/Foremothers issue).
If you subscribe, you'll get a copy of our Summer 2017/Over Yonder international issue as well as the Fall 2017/Foremothers issue, which we're already starting to make. I'm writing about a century of American roots music through the lens of the Carter Family's women (I've already spoken at length with Carlene Carter and Rosanne Cash). We're running long features on Elizabeth Cotten, Annie Oakley, Karen Dalton, Ruthie Foster, Trio (Emmylou Harris, Dolly Parton, and Linda Ronstadt), Alice Gerrard, Bonnie Bramlett, and more. We're also running the third installment from our ND Writing Fellow, Sarah Smarsh, about Dolly Parton's influence on working class women.
For Winter 2017/Singer-Songwriters, we have in-depth interviews about songwriting with Ani DiFranco, the Avett Brothers, Sam Beam (Iron & Wine), Josh Ritter, the Wainwright-Roche clan, Colin Hay, and the list goes on.
As for the paper on which all of this is printed, I've heard concerns that print is wasteful for the environment, which is something that also concerns us. That's why we do our best to align ourselves with sustainable printing methods, using recycled paper and working with a carbon-neutral printer in North America. The journal is shipped in a cardboard container, which costs a little extra, but considering the work we've put into designing and building these things, we think it's important to maintain the integrity of the product until it reaches your home.
Frankly, we're excited about all that's in store for No Depression's life on paper if you subscribe now. After all, none of it will be available online, and we absolutely cannot do it without your help.
---