THROUGH THE LENS: Roots Music Releases to Snap You Out of the Summer Doldrums
---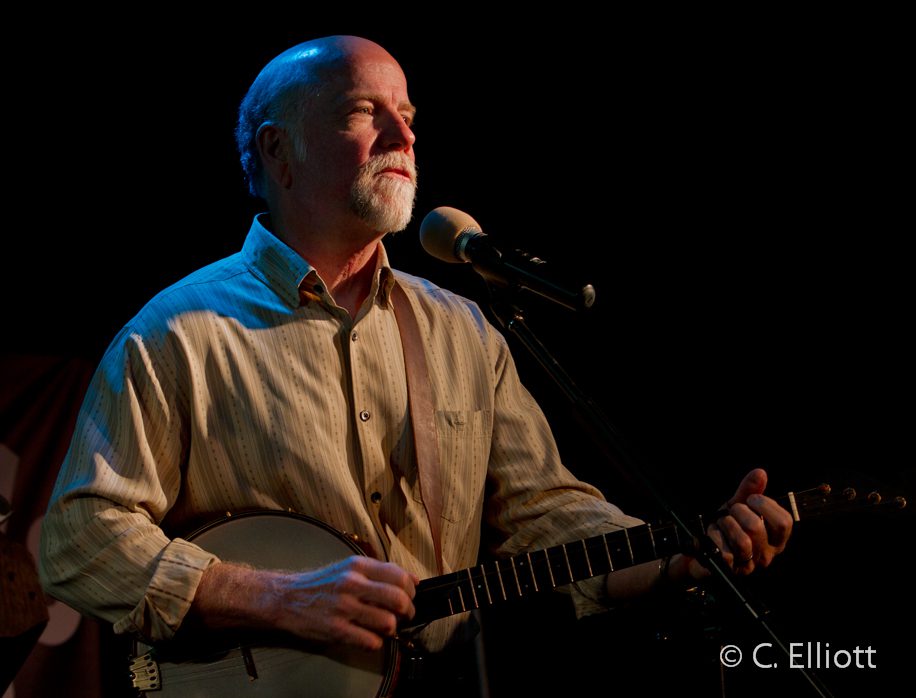 John McCutcheon - Photo by C. Elliott
It's been a long, hot summer. Water is drying up in the Southwest, and the thunderstorms here in the East have been so numerous, and devastating in Eastern Kentucky, I have stopped counting. Is there relief in sight or can it be, as R.E.M. so eloquently put it, the end of the world as we know it?
With that out of my system, it's time to turn to three of my favorite albums that are in the offing in the coming weeks. If they have one thing in common it's their shared sense of community. Hopefully you'll read more in-depth reviews of these marvelous records, but till then here's something to whet your appetite.
Peter Mulvey & SistaStrings – Love Is The Only Thing (Aug. 12)
Having seen this collaboration perform earlier this past spring, I was primed to hear this album. It must be stated upfront that SistaStrings' Monique Ross and Chauntee Ross (cello and violin, respectively) are not mere additions to the album (and Mulvey's tours), they are integral to Mulvey's songs about loss, tension, and the love that sees us through it. As they have also toured with Allison Russell and Brandi Carlile, as well as playing shows as a duo, you may already be familiar with them.
The album kicks off with the classic "Shenandoah" that longs for a kinder, gentler America, but it is the next song, "Soft Animal," that grabbed me, as it undoubtedly was inspired by "Wild Geese," one of my favorite poems by Cape Cod's unofficial poet laureate Mary Oliver. The poem's opening lines go: 
You do not have to be good.
You do not have to walk on your knees
For a hundred miles through the desert, repenting.
You only have to let the soft animal of your body
love what it loves.
The album as a whole is a lot like the poem, a way of looking at life that serves as a guidepost to living it, experiencing it, participating in it. 
Another highlight is "You and (Everybody Else)," a two-beat measure that circles back on itself where the mood is tribal, rhythmic. There's a Buddhist reference, "hungry ghosts," and a Black Sabbath-style rhyme, with a descending string line that would be equally at home on a Led Zeppelin album as it would in the bluegrass world. 
Martha Spencer – Wonderland (Sept. 2) 
During the past few years there's been a lot of talk about classic country singers from the mountains and their homespun tales of simpler times. While they are certainly to be admired, most packed their bags for other places a long time ago. While this is not to say they got above their raisin', we also need to pay attention and celebrate those whose songs embody those traditions and stayed. This is where Martha Spencer, the Queen of Whitetop Mountain, Virginia, comes in. If it seems I've written a lot about Spencer in these columns it's because I have, and that's because of her authenticity. She's also guest-wrote this column not long ago.
Her previous, self-titled album was my favorite country album of 2018, and this new collection of 16 songs (half are originals) gives free rein to her singular, soaring soprano voice as she digs even deeper into those traditions. 
My favorite has to be "Young Rover," a cautionary tale. Before there were "players" there were rovers who plied impressionable young women with glamorous stories of their travels, pretty lies, and kisses sweeter than wine. A lyric goes, "The pretty flowers have lost their blossoms / And the arms that once held her so tight / Have long disappeared in the passing of the night." On the other side of that coin, she resurrects Lee Hazlewood's "Summer Wine," a duet with Kyle Dean Smith (a ringer for Kris Kristofferson) and imbues it with a duplicity that Nancy Sinatra could never imagine. There's not a false note on this album. In fact, I don't think Spencer could hit one even if she tried.
John McCutcheon – Leap! (Sept. 2)
It was a great serendipity that after listening to this album on my way to the Appalachian String Band Music Festival (which, coincidentally, will be the focus of next week's column), I found that the lone record seller there had an LP copy of McCutcheon's first album, How Can I Keep from Singing? (1975). Having seen McCutcheon quite often back in the day and having many of his albums, you can definitely call me a fan. 
From his early albums to this one, his 43rd(!), McCutcheon's skills, both as a songwriter and an instrumentalist, have evolved, but his Pete Seeger-like vision remains firm. His uncanny storytelling illuminates moments great and small, elevating the ordinary to the extraordinary, and is delivered with a warm, welcoming voice that feels like home. This is his third album of songs written during the pandemic, but, as he told me in a note, "These are not songs about the pandemic, they are songs because of the pandemic." 
The 18-song collection covers lots of ground. He takes you from the backroads of Appalachia to Belfast, from a front-porch salesman to an immigrant waiting outside a steel mill on his first day of work, from a 9-year-old at recess to a chance meeting in a New York subway. With able assistance from Stuart Duncan, Tim O'Brien, and Kathy Mattea, McCutcheon has delivered not just the folk album of the year, but one that will also win many hearts and minds.
Click on any photo below to view the gallery as a full-size slide show.
---