THROUGH THE LENS: Martha Spencer on Love and Endurance in the Time of Coronavirus
---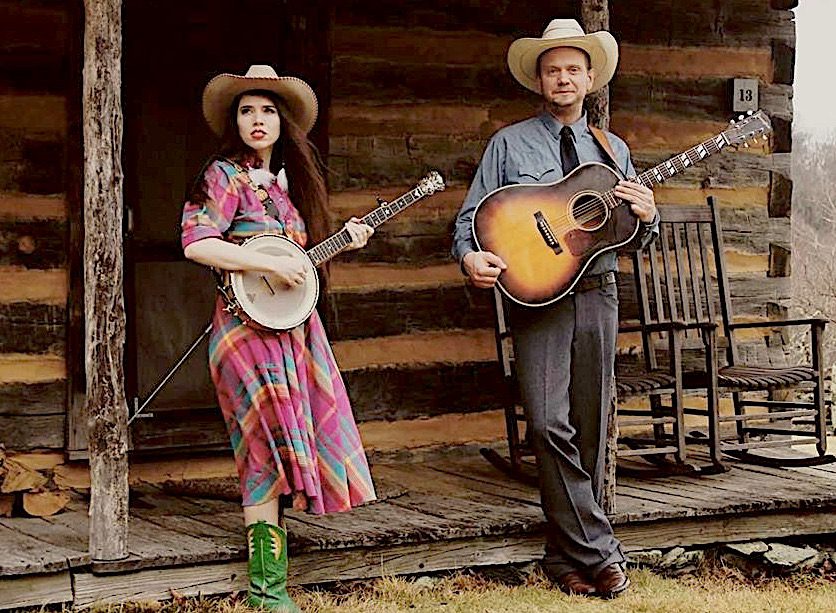 Martha Spencer & Jackson Cunningham Australian 2020 Tour Poster Photo by Deana Kelley
Born in the mountains / Fifty years ago / I traveled the hills and valleys / Through the rain and snow / Seen the lightning flashing / I've heard thunder roll / I've endured, I've endured.
— Ola Belle Reed (Martha Spencer's cousin)
I have written several times about musician Martha Spencer, from the Blue Ridge Mountains of Virginia. Her self-titled release was my favorite country album of 2018, and she was featured in a November 2019 Lens column titled "The Women Who Are Taking Back Country Music." While she's involved with more music projects than you can shake a stick at, including seven bands, she also hosts a radio show, is a dancer, and writes for several publications.
This week Spencer shares with us her recent trip to Australia amidst the coronavirus outbreak. She and her musical partner Jackson Cunningham were scheduled to play 27 shows and had planned to visit old friends and take part in numerous jam sessions. As it did with every other touring musician, all that came to an abrupt halt. But it was especially troubling for Spencer, as it happened halfway around the world, after months of planning, and at great financial, physical, and emotional expense. 
However, as you will see, Spencer's account is also full of hope, love, and resolve, along with a certain grace that comes from having been born and raised in the mountains of Appalachia.
Departure 
As a kid growing up on Whitetop Mountain in Virginia, one of the places I always dreamt of going was Australia. Over the past few years I've been fortunate enough to tour there several times: I love the people, the unique wildlife, countrysides, the festivals we've played, and musicians I've met. 
So, after a couple years, I was really excited to be returning this spring for a six-week tour as the Whitetop Mountaineers, a duo with Jackson Cunningham. We would be going back to some festivals and venues we'd played before, like the Blue Mountains Music Festival in Katoomba (a multi-genre fest located in a beautiful area not so unlike my Blue Ridge Mountains back home); the National Folk Festival in Canberra, where all the folkies come out big time for a big celebration Easter weekend in the capitol there; and the Yackandandah Folk Festival, located out in a neat Victorian bushtown, along with a string of dates from Sydney to Melbourne.
The week before we headed out, there was talk about the coronavirus, but being where I was in the mountains, and hearing from friends in Australia, it didn't seem to be affecting much yet, and there weren't many cases over there and all was still a go. We were told to wash our hands and be careful in the airports, so we bought some wipes and the bit of hand sanitizer that we could find and figured we'd do our best to stay safe on our Charlotte-LAX-Sydney venture. 
Jackson is also a luthier (Cunningham Handmade Instruments) as well, so we packed up a new guitar he just made, an open-back banjo, my fiddle, and his mandolin along with a bunch of new vinyl Never Met a Stranger EPs, a newly bought Ear Trumpet mic, our suitcases, and a bunch of Lysol.  
Arrival and Sudden Return
After the 24-hour travel day, we arrived a bit haggard from the jet lag, but the first day everything seemed relatively normal besides a slight worry and tension in the air. However, all the festivals posted they planned to go ahead. We used the day visiting old friends, rehearsing, and checking out some waterfalls. The next morning, the news back home started getting crazier and crazier as everything was closing, a pandemic declared and worries of the virus magnified. 
All was still a go in Australia until the morning of our first festival, when a local high school had a case of the virus, which made them have to call theirs off. We felt in limbo as to whether we could finish up any more gigs, but after talking to our manager, John McAuslan, and seeing over the next day or so more and more things started canceling, we decided the safest and smartest thing was to head back home and hunker down. It was a tough decision as we had invested a lot of time and money in the tour and we weighed the chances that some shows could still go. Plus, we were excited to see old friends, but we decided it was for the greater good to hit it home. Before we left, our friends Ross Waldron, a videographer, and his partner, Emma Power, recorded a video for us to let folks know we decided to head home along with a few songs and dances to send some positivity and hope out in the world during a tumultuous time. 
A travel agent friend of Emma's managed to change our flight after a 3-hour wait on the phone. We hit the airport the next morning for Sydney-Dallas-Charlotte flights and got home without too much issue, besides a few hiccups in Sydney trying to stick us on several different flights, and our baggage being delayed. Then we headed straight home and to self-isolation for a couple weeks since we'd been traveling in the airports. 
So after a trip around the world and back in a week during a pandemic, we don't have a whole lot to share from this tour besides a video, a few photos from the waterfalls in Blue Mountains, and some old photo memories from those same festivals from a few years back. And now we can just wait and see when we can get back out again. 
Keeping on the Sunny Side
It is a scary and hard-hitting time for many artists and everyone out there with more and more work lost, but I reckon the best we can do for now is keep our chins up, keep a positive outlook, and have hope. I know I am thankful to be from an area where there's a lot of space in the mountains, trees, rivers, and a culture of self-sufficiency and knowing how to make your own entertainment. I'm also thankful that the Mid Atlantic Arts Foundation had provided some support for the tour as we'll need it. We got home before the borders closed.
With everything canceling right now and the unknowns, the dying, the sickness, the disappointments, the losses, the financial hardships, the feeling of being alone … know that we are not alone. We as a collective can take time for renewal, a reset so to speak. We can learn to be more thoughtful of our actions and how they impact others and the world; be more generous, compassionate, less wasteful; walk a bit slower to enjoy those precious moments in life; be supportive of our local communities, shops, restaurants, and artists. 
As a musician personally hit hard in this time, I hope that the days of online free music with little going to artists from streaming services will be rethought, and when festivals and venues open again, that people will be so grateful that they will come out more than ever to listen to, dance with, sing with, and see people in person. 
Until then, you can't take away hope, memories, or love. If you're sick, I'll still love you. If you're poor, I'll still love you. If you feel like you're failing, I'll still believe in you. I hope.   
You can see what Martha and Jackson are into by visiting the following sites, where you can also support their music. 
Marthaspencermusic.com
Thewhitetopmountaineers.com
Marthaspencer.bandcamp.com
Facebook.com/cunninghamhandmadeinstruments
Instagram: @cunninghamhandmadeinstruments
Now the photos of that would-be tour, and from previous tours of Australia.
---