'Tis the Season: The ND Guide to Holiday Music that Doesn't Suck
Posted On November 27, 2018
---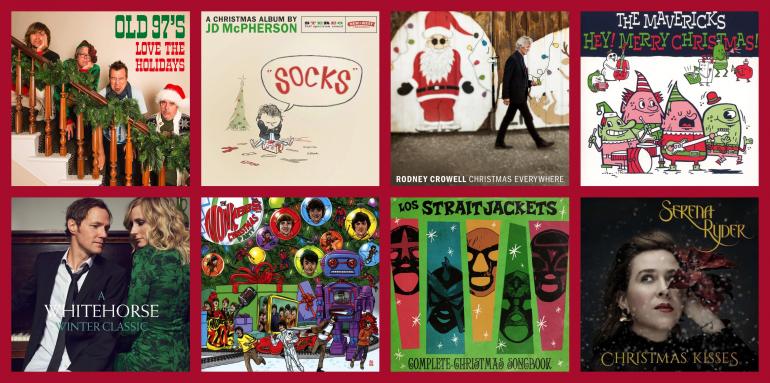 The holidays are here again, and some of our favorite roots artists have gotten in the spirit this year by releasing new albums of music for the season. By and large, they're not content to rehash the classics, either. They've written new songs to capture what Christmas feels like in 2018, carols for the here and now. Some are lighthearted, and some are … not. But they're all from the heart, and it's great to have an expansion of options for your holiday soundtrack as you shop, wrap, trim the tree, write your cards, and drink your eggnog.
Here, collected in one place for your convenience and merriment, are our reviews of some of this year's roots music holiday releases.
JD McPherson – Socks
On "Socks," the title track to his Christmas LP, JD McPherson sings out every child's most feared Christmas morning moment:
Pick out a gift from mom to me, bring it to my ear / Give it a little shimmy-shake and what do I hear? / Socks! / This is the worst gift I ever got!
Socks in a box from mom, socks in a stocking from Santa. It'd be a terrible reality, but as a Christmas-themed tune, it's great fodder for constructing a wry track. And McPherson nails it, lamenting over a melody evocative of the closing sequence to Elvis' "Trouble," "Santa, why did you let me down?"
In the time between the Buddy Holly-meets-Little Richard style of his 2010 debut Signs and Signifiers and the Link Wray-inspired garage psych on last year's Undivided Heart and Soul, McPherson has become a wittier, punchier lyricist. On Socks,McPherson maintains that deft verbal touch while throwing it back to his musical roots. The end result is an old-fashioned rock-and-roll album that's fun to listen to when spreading Yuletide cheer and still maintains its charms when being absorbed on a fall day when it's 64 degrees outside.
"Bad Kid" works as a tale of a kid on Santa's naughty list or as a nod at the Beatles' "Bad Boy," while "Hey Skinny Santa" repurposes "Hey Good Lookin'" to describe just how Mr. Claus packs on the pounds. "Holly, Carol, Candy and Joy" is a real gem, a teasingly lecherous tale of keeping warm in the winter months. McPherson closes the album with "Claus vs. Claus." Ascendant talent Lucie Silvas plays the part of Mrs. Claus on a sly, romantic duet about the strain Christmas Eve preparation takes on the Kringles and wrapsSocks up nicely.
McPherson may sing "Why'd you waste the paper on a lousy pair of socks," but unlike that dreaded present, his Socks is a gift worth receiving.
— Jim Shahen
Old 97's – Love the Holidays
The Old 97's are feeling festive. The band isn't just celebrating because it's their 25th anniversary; it's the holiday season and only a real Scrooge doesn't get excited for that.
To help spread good tidings and cheer this winter, the Old 97's put together Love the Holidays, the first collection of Christmas-centric tunes the alt-country titans has ever assembled. On Love the Holidays, the group's sturdy professionalism and mastery of songcraft combines with a palpable enthusiasm for the material to create an experience that'll have you rockin' around the Christmas tree this December.
The standard version of Love the Holidays contains nine original cuts and a cover of "Auld Lang Syne," while the deluxe edition includes four more standards gussied up in the Old 97's style. Covering the classics runs the risk of feeling hokey or clichéd, but the rockin' spin on "Auld Lang Syne" and the ramshackle country rendition of "Angels We Have Heard on High" have real life to them.
Of course, if covers can be a tricky proposition, so can entering your own songs into the holiday canon. Whether any of the songs on Love the Holidays rise up to the level of essential is a discussion best left to the holiday music diehards, but none of the tunes belong in the trash heap with [in order to not offend anyone who, unlike me, loves Paul McCartney's terrible Christmas song, insert whatever Christmas song you despise most here].
The title track rips and sounds like one worth revisiting every holiday season. "Gotta Love Being a Kid" and "Christmas is Coming" capture the energy of being young and excited for Christmas. Behind lush soundscapes and vivid lyrics, "Snow Angels" and "Wintertime in the City" paint dreamy December pictures.
It's tough, 25 years into a career, to still offer up something new. With Love the Holidays, the Old 97's manage to pull it off with aplomb and seasonally appropriate vigor.
— Jim Shahen
The Mavericks – Hey! Merry Christmas!
The Mavericks' Hey! Merry Christmas! is destined to become a Christmas classic. In the tradition of The Ronettes' Christmas album, the Mavericks' album exuberantly captures the longing, desire, wide-eyed wonder, and mythological magic of the season.
The album opens with a jubilant stride piano on "Christmas Time is (Coming 'Round Again)," a song that scampers off into a hand-clapping, dance-around-the-Christmas-tree party anthem. A raucous sax on the song's bridge gathers 'round the revelers as they shout with joy and welcome us to their Christmas party. "Santa Does" opens much like a Phil Spector Christmas tune, replete with boisterous sax and ringing chimes, and plays off the musical structure of the classic tune "Must Be Santa" and Springsteen's "Santa Claus is Coming to Town." With its chorus warning "who knows when you've been nice or naughty / Santa does, Santa does," the animated song could easily replace "Santa Claus is Coming to Town" as a Christmas favorite. The bright, accordion-filled "I Have Wanted You (for Christmas)" waltzes across the party floor declaring the singer's eternal longing for his lover: "I have wanted you for Christmas / Ever since the world began / Before there even was a Santa." It's a wonderful wink-and-a-nod to the ardor and passion that lies at center of the wish for a gift from lovers at Christmas. The jazzy blues "Santa Wants to Take You for a Ride" reveals just how naughty Santa can be; the music mimics Santa's seductive whispers.
The Mavericks include their singular takes on the Christmas standards "Christmas (Baby Please Come Home)" — and this is the version that stations should be introducing this year before they play Ronnie Spector's standard — and Irving Berlin's "Happy Holidays." Let's hope that the songs on Hey! Merry Christmas! make it onto playlists everywhere; they'll certainly be played over and over at Christmas parties.
— Henry Carrigan
Rodney Crowell – Christmas Everywhere
Rodney Crowell delivers a wonderfully playful salute to the excesses, loneliness, and misplaced magic of the season in his sardonic and satiric Christmas Everywhere. On an album full of songs with titles such as "Clement's Lament (We'll See You at the Mall)," "Christmas Makes Me Sad," "Christmas for the Blues," and "Let's Skip Christmas This Year" (written with Mary Karr), we know we're not being invited into a glittering dream world of sugar plum fairies and magical elves making toys for all good little girls and boys.
The raucous Teaxs roadhouse tune "Very Merry Christmas" skitters across the floor with a cynical grin, with John Jorgensen blowing rowdily on an alto sax and driving the song with his urgent, surf-style guitar. "Christmas in Vidor," with vocals by Mary Karr, tells a very unsentimental Christmas tale absent the bright lights of consumerism in a small east Texas town where the singer was once full of hope but whose hopes have been dashed by poverty, job loss, and the claustrophobia of a town where the highlight was once the possibility — never realized — of going to the Astroworld amusement park. The song delivers a picture on life of the back side of the Christmas tree: "Christmas in Vidor, can't pay the bills / Christmas in Vidor, pop a few pills / Christmas in Vidor, our baby girl's due / Christmas in Vidor, hope it don't look like you."
The album opens with "Clement's Lament," sung almost as a hymn by Tania Hancheroff and Kim Keyes, where the night before Christmas "we'll gather 'round the tree" to sing "favorite carols with sentimental glee." The gathered party will tell the same stories they tell every year, and they "won't bother with the truth when those they love are near." The song ends with a resigned sigh that "the season starts in August now, we'll see you at the mall."
Christmas Everywhere richly captures the malaise of the holiday we so often mask with glittering lights, silver bells, and smiling fat elves in red.
— Henry Carrigan
Whitehorse – A Whitehorse Winter Classic
Mix some melancholy with some cheer, sprinkle in sweet harmonies only a married couple can produce, finish with a dash of gritty grooves from a Gretsch and what do you get? A Christmas record from Whitehorse, of course. The coolest part of this seasonal musical gift from Luke Doucet and Melissa McClelland is that, unlike most holiday offerings, the nine-song collection includes seven originals written by the pair, along with two holiday classics ("Blue Christmas" and "2000 Miles"). The duo take turns singing lead.
The disc opens with the tongue-firmly-planted-in-cheek tune: "Merry Xmas Baby (I Hope you Get What you Deserve)." Doucet's distinctive White Falcon guides the melody while his life partner sings of the mixed emotions each December brings where "every season's greetings is a bad joke."
On "Two Snowbirds," McClelland's voice soars to new heights; subtle piano and Doucet's whispering harmonies add to this gorgeous song. "December's Children," a lament on love in all its forms, follows.
"Snowballs and Snow Angels" is another ballad about love and longing best enjoyed with a cup of hot chocolate as you watch the first snowfall outside your window. McClelland moans: "Throw snowballs at my window / I've got cabin fever like you won't believe / Oh how I miss you every time you leave."
The morose "Cheers to Another New Year" speaks of the perennial march of time and is the perfect bookend to this wonderful wintry collection.
— David McPherson
Serena Ryder –Christmas Kisses
Embrace the love and feel the gratitude that comes out in every groove of this new offering from Canada's Serena Ryder. The 10 choice cuts include nine holiday favorite sing-alongs, along with one original. Produced by Canadian Music Hall of Fame Inductee Bob Ezrin (Lou Reed, Peter Gabriel, Pink Floyd), the six-time Juno Award winner (Canada's equivalent of The Grammys) recorded this batch of timeless tunes in Toronto. This was a passion project for Ryder. It was also an opportunity for the talented musician to explore her jazzier side – seeking inspiration from some of her earliest vocal influences such as Ella Fitzgerald, Nina Simone, and Chet Baker.
Highlights include a sultry version of "Santa Baby" and a blues-soaked version of "Blue Christmas." The title track ("Christmas Kisses"), the lone original, was co-written by Ryder and fellow Canadian award-winning songwriter Simon Wilcox (Camila Cabello, Demi Lovato, Carly Rae Jepsen). The song is a bouncy, pick-me up tune that balks at the materialism of the season. Serena croons: "My bank account is closed and I've got pockets full of holes / I don't have too much / So my love will it be enough if I give you kisses for Christmas?"
Christmas Kisses is the perfect seasonal soundtrack to make gray, gloomy days a wee bit brighter.
— David McPherson
Los Straitjackets – Complete Christmas Songbook
Envision Santa on a surfboard, beard tucked under a full-face Lucha Libre rasslin' mask, humming Ventures tunes as he makes his appointed rounds. That's the image conjured up by Los Straitjackets' latest offering, a surf/rockabilly fusion makeover of beloved Christmas carols twisted beyond recognition but sounding cool as hell.
The masked surfers put their unique touch on "Jingle Bell Rock," rockin' that old chestnut with a surfboard full of twang as drummer Jimmy Lester tries to drive it to the ocean floor with his relentless pounding.
"God Rest Ye Merry Gentlemen" turns into the soundtrack from an Ennio Morricone spaghetti western. Los Jackets heat up "Frosty the Snowman" with a blistering rockabilly treatment with Lester getting all Buddy Rich on the drums, guitarists Eddie Angel and Day Amis blasting by on alternating surf and 'billy waves. "Little Drummer Boy" sounds a lot more sinister in Straitjacket parlance, dominated by a relentless, menacing beat, Lester's percussion setting the tone once again, beating the little drummer boy to smithereens with his adult sledgehammer. Jason Smay takes over on drums on "We Three Kings," easing up on the percussive element a bit as Amis surfs like Dick Dale. "Que Verdes Son" sounds suspiciously like "Oh Christmas Tree" decorated south of the border with plenty of splashy surf and twang. But for a full-blown beach party, it's hard to beat the Jackets' reverb-drenched take on "O Come All Ye Faithful," Angel breaking out into Ricky Nelson rockabilly for an instant before Amis takes it back home to Ventures territory.
After Santa leaves, say goodbye to the season with the coolest version of the new year farewell song ever recorded, "Soul'd Lang Syne," retro-rocked Boots Randolph "Yakety Sax" style with Ron Dziublo's horn help, a fitting closer for the holidays, Straitjacket style.
— Grant Britt
The Monkees – Christmas Party
Unwrapping a few songs newly written just for this album, and putting their own ribbons on a few classic Christmas songs, The Monkees deliver some musical memories just in time for Christmas on Christmas Party. Eleven of the 13 tracks feature newly recorded vocals by Mickey Dolenz, Michael Nesmith, and Peter Tork; the late Davy Jones' voice, taken from digital archives of vintage recordings, appears on the Christmas standards "Mele Kalikimaka" and "Silver Bells." Songs on the album range from Strawberry Alarm Clock Christmas psychedelia — "House of Broken Gingerbread" (co-written by the album's producer Adam Schlesinger and novelist Michael Chabon) — to the playful, soaring "Unwrap You at Christmas," written by XTC's Andy Partridge, which blends the oompah of a polka band with the harmonies of The Beach Boys. Nesmith delivers a gorgeous, steel guitar-drenched take on the old chestnut "The Christmas Song" (produced by his son Christian Nesmith), and he offers up a slow, jazzy paean to winter weather, "Snowfall," that features his other son, Jonathan, playing a loping bass line. The Monkees issue an invitation to funky Christmas town on the title track, a jubilant, souled-out dance track, culminating and fading out on Peter Buck's and Scott McCaughey's blistering guitars. Buck's bright and ringing guitars introduce the Alex Chilton-penned "Jesus Christ," floating underneath Dolenz's vocals, while Tork plunks the banjo underneath his vocals on his somber take on "Angels We Have Heard on High." The Monkees bring the party on this album, inviting us in for some eggnog, a few drinks, and a night of dancing to celebrate the highs and lows of the holiday.
— Henry Carrigan
Stocking Stuffers
Here are a few more releases on our radar (we can't review 'em all!):
Eric Clapton – Happy Xmas

Mike Love – Reason for the Season

Martina McBride – It's the Holiday Season
Chely Wright – Santa Will Find You

William Shatner – Shatner Claus

---