THROUGH THE LENS: Worldwide Roots Music Shines Bright at Australia's WOMADelaide 2023
---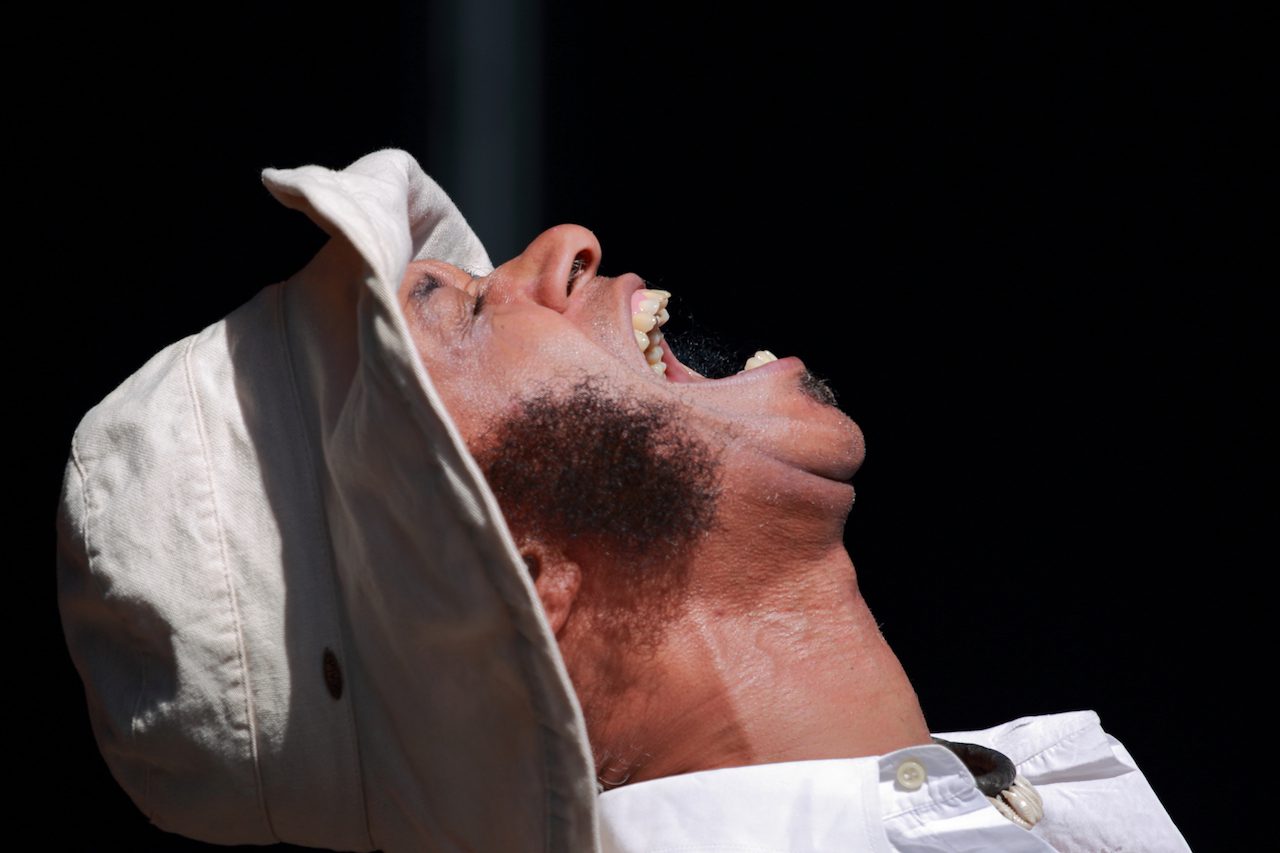 Fantastic Negrito - WOMADelaide 2023 - Photo by Steve Ford
This week's column takes us to Australia, where Steve Ford returned to Adelaide for the first time since 2020 for the WOMADelaide festival. WOMAD, an acronym for World of Music, Arts, and Dance, is held in Adelaide, the capital of South Australia. The city becomes a center for the arts for a month each year as it hosts three overlapping fests: the tony Adelaide Festival, the outré Adelaide Fringe, and WOMADelaide. WOMADelaide was founded by Peter Gabriel in 1993 and this year was held March 10-13 in the idyllic Botanic Park, a short walk from downtown. Here is Steve's report:
WOMADelaide 2023 by Steve Ford
My last trip to WOMADelaide, in March 2020, was a blissful time on the cusp of the pandemic. The festival went off without a hitch, albeit in the shadow of a looming international crisis. There were no more music festivals in 2020, as live music was quickly closed down, along with so many other aspects of our lives.
Several of Australia's important festivals were badly battered in the last three years, struggling with both the pandemic and the vagaries of climate. Our tragic bushfire summer of 2019-20 gave way to three years of "La Niña," which brought multiple devastating floods to the Pacific coast and beyond. 
WOMADelaide fared better than most, with a replacement series of concerts in 2021 and a festival of domestic artists in 2022. This year's edition was a reset to normal, with major drawing cards Bon Iver and Florence and the Machine heading an eclectic roster of international artists. Justin Vernon and Florence Welch each played to sold-out crowds (oversold, according to many on social media). Ghanaian-Australian artist Genesis Owusu and Sampa the Great, originally from Zambia, also delivered stadium-ready sets to large and enthusiastic audiences, as did eccentric Norwegian songstress Aurora.    
Around those crowd pullers were a dazzling mix of established and emerging acts, as well as the sometimes-overlooked "arts and dance" aspects of WOMAD. These include the excellent Taste the World sessions. I sat in on Abigail Washburn and Béla Fleck during one session where Washburn prepared a Chinese dish. It was a mix of cooking lesson, music workshop, and interview that worked extremely well. As you may recall, Washburn once lived in China.
Quinteto Astor Piazzolla were my surprise standout this year, given that my preference is generally for improvised music. I sat mesmerized through their two early afternoon sets. Astor Piazzolla's semi-classical "new tango" is a little like Bach for me: precisely composed, but with spontaneity somehow baked in. I happen to love the sound of acoustic instruments at volume through a good sound system, and this was as good as it gets. 
In a similar vein, Kronos Quartet are making their final tour of Australia, but it's an initial tour for Paul Wiancko, who just weeks ago took over the cello chair from Sunny Yang. (Wiancko was not born when David Harrington founded the group 50 years ago.)
Cimafunk is the both the professional name of Erik Alejandro Iglesias Rodríguez and his backing band. It's a new take on Cuban music, fusing funk, hip-hop, and Latin sounds. I saw them twice and could have come back for more. 
Is there a more distinctive voice in African music than Youssou N'Dour? N'Dour was a guest at the first WOMADelaide, 30 years ago. This was his fourth visit, but my first time seeing him, and it was a privilege. His Monday night set was a perfect end to my festival.
Madeleine Peyroux's set of relaxed jazz was another Monday highlight. She played to a large but comfortable audience on the hillside as daylight faded and a light breeze came in. Her take on Bob Dylan's "You're Gonna Make Me Lonesome When You Go" has stayed in my head for days.
Among many others to impress were London's Afro-jazz band Kokoroko, Tuareg singer-guitarist Mdou Moctar, and Moroccan psychedelic rock band, Bab L'Bluz.
German techno marching band Muete were great fun, and much more than a novelty. Ditto the delightful ADG7, mixing K-pop with Korean tradition.
There is usually a major dance performance at WOMADelaide and this year it was Terrain, performed by Australia's own first nations company, Bangarra Dance Theatre. It was their first appearance at WOMADelaide for many years, and the first under artistic director Frances Rings. Rings' choreography and the music of David Page mix tradition with a contemporary perspective.
Place Des Anges (Place of Angels) was performed nightly by French aerial circus company Gratte Ciel. Think dance, acrobatics, a giant inflatable, a storm of duck feathers, and a sea of smiling faces. 
Click on any photo below to view the gallery as a full-size slideshow. 
---