THROUGH THE LENS: Australia's WOMADelaide Fest Was Perfection Before the Pause
---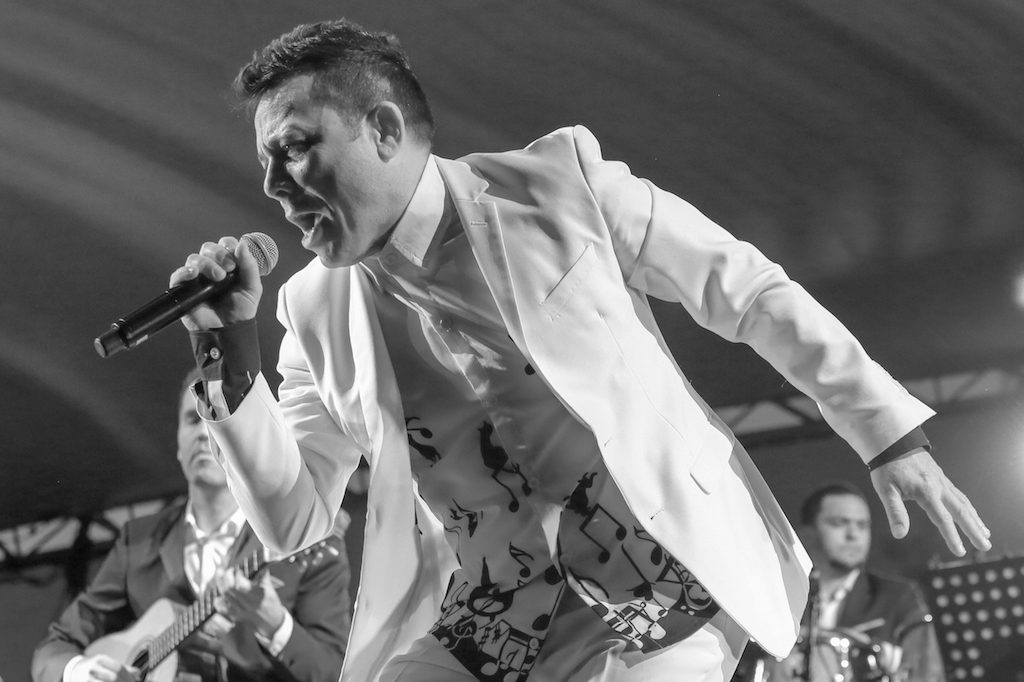 Jose "Pepito" Gomez of Orquesta Akokan - WOMADelaide 2020- Photo by Steve Ford
He didn't know it at the time, but when Steve Ford, our long-serving Australian contributor, set out to take photos at Australia's annual four-day WOMADelaide festival, he was capturing the last major music festival in his country prior to the COVID-19 shutdown. Steve was also lined up to cover the Blue Mountains Music Festival and Bluesfest Byron Bay, which attract some of the biggest names in roots music. But Blue Mountains was shuttered hours before opening night on March 13, and Bluesfest, scheduled to start April 1, fell over days later. Here's Steve's report on WOMADelaide, even more memorable this year given the circumstances:
Adelaide is Festival City for a month starting in mid-February each year as it hosts the highbrow Adelaide Festival, the relaxed Adelaide Fringe, and Adelaide's version of WOMAD, the world music and arts franchise founded by Peter Gabriel 40 years ago. It's a heady time for this isolated city of one million. WOMADelaide runs four nights and three days in the idyllic setting of Botanic Park, on the edge of the city center. This was my third consecutive trip to WOMADelaide, and it was another triumph.
Elders
"Welcome to Country" is an Australian custom for significant events, performed by a recognized elder of the local Aboriginal clan, often accompanied by music and dance. The ceremony pays respect to the traditional owners of the land and to their "elders past, present and emerging." As Jamie Goldsmith of the Kaurna people led this year's welcome, I reflected on the stunning roster of musical elders — all 70 years and older — at this WOMADelaide. 
First was 80-year-old Mavis Staples, who continues to be one of the most inspiring and enjoyable live acts on the circuit. She is assisted immensely, it must be said, by her brilliant road band, including guitarist Rick Holmstrom and vocalist Donny Gerrard. 
Mali's Salif Keita is from the top rank of African musicians. His 1987 breakthrough album Soro, combining bright, rhythmic West African music with Western sounds, is one of the great Afropop records. Although he's the youngest of this group of elders at 70, Keita looked tired and a little frail, but his voice is still unmistakable, and he can assemble a band of the very best. 
From Brazil, Jorge Ben Jor may be a lesser known name outside his country, but he's a giant nonetheless. The father of "samba rock" has been hugely influential. His set was as polished as you would hope.  
Violinist, composer, and conductor L. Subramaniam turned his back on a medical career to concentrate on the Carnatic music tradition of Southern India. Branching into multiple forms of fusion, he has recorded with artists as diverse as Mark O'Connor, Stephane Grappelli, and Jean-Luc Ponty. Subramaniam has the gravitas and quiet dignity of a true virtuoso.
At 75, Ustad Saami, from Pakistan, is literally the last of his kind, being the only surviving practitioner of the ancient 49-note microtonal scale known as Surti.  (His given name is Naseeruddin Saami, "Ustad" being an honorific that roughly translates as "maestro.") His evening set was mesmerizing.
Then there are The Blind Boys of Alabama. Led by 88-year-old Jimmy Carter, who sang with the original version of the band as a 12-year-old and joined them on the road in 1953, they are enduring flag bearers for gospel music. 
Respect
My main takeaway from each WOMADelaide is not great performances — although there are many — but an overwhelming sense of mutual respect and celebration of diversity. It's a happy, healthy community of the like-minded.
One of the best received and best attended performances was by Spinifex Gum, a musical collaboration between The Cat Empire's Felix Riebl and Ollie McGill with Marliya Choir, an all-female, all-Indigenous group of Aboriginal teenagers from remote Western Australia. With the help of professional lighting, choreography, and songwriting, they gave a moving and memorable performance. The involvement of Riebl and McGill no doubt swelled the crowd, but it was the young women who owned the show.
Liniker de Barros Ferreira Campos — known simply as Liniker —  is a 24-year-old trans woman and the vocalist of the Brazilian samba rock band Liniker e os Caramelows (who might be regarded as the  musical children of Jorge Ben Jor) who did a 2018 NPR Tiny Desk Concert. Little known in Australia, she was nonetheless accorded a headliner's welcome to the stage. 
Orquesta Akokán is collaboration between New York and Havana, a classic-style Cuban big band that lit up WOMADelaide on two nights.  (Their latest album was recorded by Brooklyn's Daptone records at the famous Areito Studio in Havana.) Jose "Pepito" Gomez is a classic frontman, channeling the big band singers of the '40s and '50s. 
Rhiannon Giddens and Francesco Turrisi's long tour of there is no Other, their excellent album on these themes, ended abruptly in Australia with the cancellation of the Blue Mountains Festival and a final Sydney concert. Fortunately, I took in the whole of their Saturday set in Adelaide and they were magnificent. Not for nothing was Giddens named one of ND's artists of the decade.
In a world dominated by demagogues trading in base nationalism and xenophobia, it's liberating to see celebration of diversity writ large.
Highlights
If I nominated a personal top three from this festival, they would be Giddens, Staples, and the erstwhile Canadian/New Zealand resident Tami Neilson, whose second show at the relatively intimate Moreton Bay Stage was an absolute cracker. Neilson was in great humor and great voice, abetted by the presence of younger brother Jay on guitar and vocals.
Low key, but charming beyond words, were Finland's Tuuletar, a female "vocal folk hop" quartet combining traditional song with beatboxing. Like many artists at WOMADelaide, they seemed to be having the time of their lives.
Trio Da Kali, from Mali, were a knockout. Their Friday show with the local Pocket String Quartet was based on the Ladilikan album, a collaboration between the trio and Kronos Quartet. Together, they made a sound as natural as running water.
I didn't know what to make at first of Ifriqiyya Electrique, who assaulted the senses with an uncompromising blend of post-industrial rock and traditional trance/healing music of Northern Africa. Ultimately, I found the music cathartic and surprisingly enjoyable.
Laura Marling and Bill Callahan, both of whom I admire greatly, played afternoon sets on Stage 2 into bright sunlight, and they seemed a little low key for the time and space. I thought the same of New Zealander Aldous Harding, but was clearly in a minority. Along with Aussie crowd favorites Cat Empire, Harding was one of the best received acts of the festival. 
WOMADelaide was a joy, as always. Who knew it would be the last "normal" weekend for the duration of what is now a worldwide crisis? More than ever, I'm looking forward to next year.
Now, the photos. 
---