THROUGH THE LENS: Two Oregon Roots Music Festivals Come Out Roaring in a Post-COVID World
---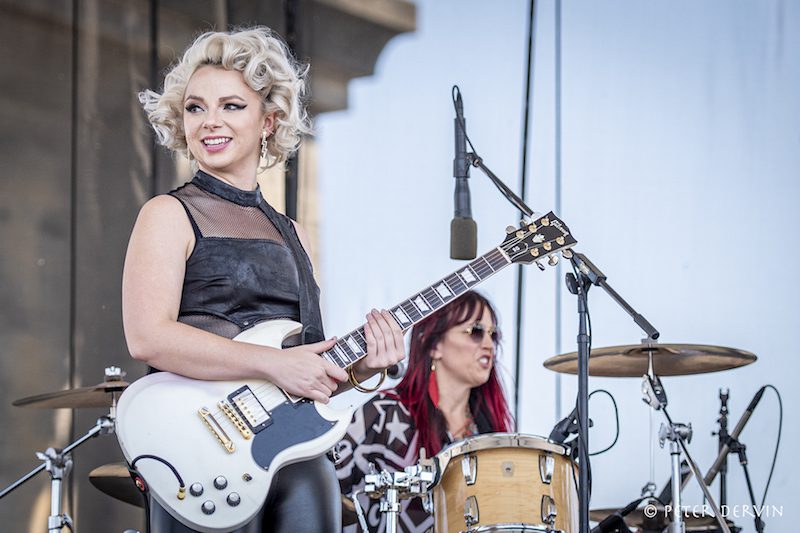 Samantha Fish - Waterfront Blues Festival Upriver 2021 - Photo by Peter Dervin
The June 8 edition of this column listed 30 festivals coming our way this year.  ND photographer Peter Dervin attended two of those festivals, Jackalope and Waterfront Blues Festival "Upriver," both in Oregon, and this week he reports on the first live, in-person festivals of the year to be featured in this column.
Astute readers will also notice that, as he had not attended any shows up to that point, Peter was noticeably absent from the June 22 column that featured the ND photographers' first post-COVID shows. In both his reporting and photos of these festivals, on back-to-back weekends, Peter's exuberance in returning to live music is just as obvious as it is joyous.
Jackalope Jamboree
Rebooting my post pandemic music festival routine was literally a scorcher! Jackalope in Pendleton, Oregon, hit 102 degrees in its return to live music. The intimate Happy Canyon Rodeo Arena was a perfect way to kick things off after a year and a half. Most of the bands and musicians had been scheduled to play in 2020 and all expressed how excited they were to be in front of an audience again.
Some of the artists were new to me and the mix of Americana and other roots music artists was diverse. Sierra Ferrell was new to me, with her unique sound and arresting stage presence; Shane Smith & The Saints rocked the first night with their brand of "Red Dirt" country. Jesse Daniel had folks dancing and kicking up some dust, and Shooter Jennings was flat-out amazing with his brand of outlaw country rock. 
Portland's Jenny Don't & The Spurs had everyone dancing to her brand of honky-tonk. The Northwest's very own Darci Carlson put on a fantastic set and thank goodness it was in the shade as she was on fire! Thanks to the great folks at Jackalope Jamboree for their hospitality, I can't wait to be back in 2022.
Waterfront Blues Festival "Upriver" 
The return of the annual Waterfront Blues Festival in Portland, Oregon went "upriver" to a new location, The Lot at Zidell Yards, an old salvage yard along the Willamette River. Planning began months ago for this year's festival with COVID restrictions in place, so the size and scale of the festival was distinctly different. Pod seating and two sets of each performance were offered to the devoted blues fans.
As booking for this event was challenging due to the unknown reopening of live music, the festival scheduled many locals, including the MarchFourth Marching Band (with a dazzling acrobatic performance and brass and drum funk); Northwest Women Rhythm & Blues featuring guitarist Sonny Hess, Lisa Mann, and "Lady" Kat Trotter; The Bayou Boyz featuring Lloyd Jones and Ty Curtis; Karen Lovely and Ben Rice; Outer Orbit featuring Sarah Clarke with LaRhonda Steele and Arietta Ward; Kevin Selfe; and the Too Loose Cajun Zydeco Band. Having these local favorites at the festival made it feel like the community was coming back together after a year and a half without live music.
The first evening featured Curtis Salgado, the original inspiration for "The Blues Brothers." The evening was a "Blues Fest Cares Concert" benefitting Meals on Wheels People & JWF Musician Health & Services Program. Salgado, along with Alan Hager, put on a rousing set of soulful blues, as did local blues diva LaRhonda Steele. What a wonderful way to kick off the Fourth of July weekend.
The Little Village Foundation, presented by Jim Pugh and the Greaseland All-Stars, introduced blues fans to the soulful Sonny Green from Los Angeles and the blues singer Tia Carroll from the Bay Area, who both gave fantastic performances. Marc Broussard and his new band put out a rocking set of blistering blues and soul with a wide variety of original tunes and some fun covers.
Samantha Fish was dazzling and is truly one of the up-and-coming blues guitarists out there today. She could be surly and tantalizing while playing some hot licks, switching to different guitars in her set. She truly can lay it down when she shreds her cigar-box guitar while playing slide in style. The zydeco sounds of Curley Taylor & Zydeco Trouble topped off the fest. Taylor and his band got everyone out of their pods and dancing to their infectious Cajun rhythms and grooves.
Thanks to everyone that worked so hard to bring back live music at both the Waterfront Blues Festival "Upriver" and Jackalope Jamboree, what a way to get things going again. To see so many people rejoicing in live music was both exciting and exhilarating!
Now, the photos. Click on any photo below to view the gallery as a full-size slide show.
---