THROUGH THE LENS: ND Photographers Share Photos and Stories of Their First Post-COVID Shows
---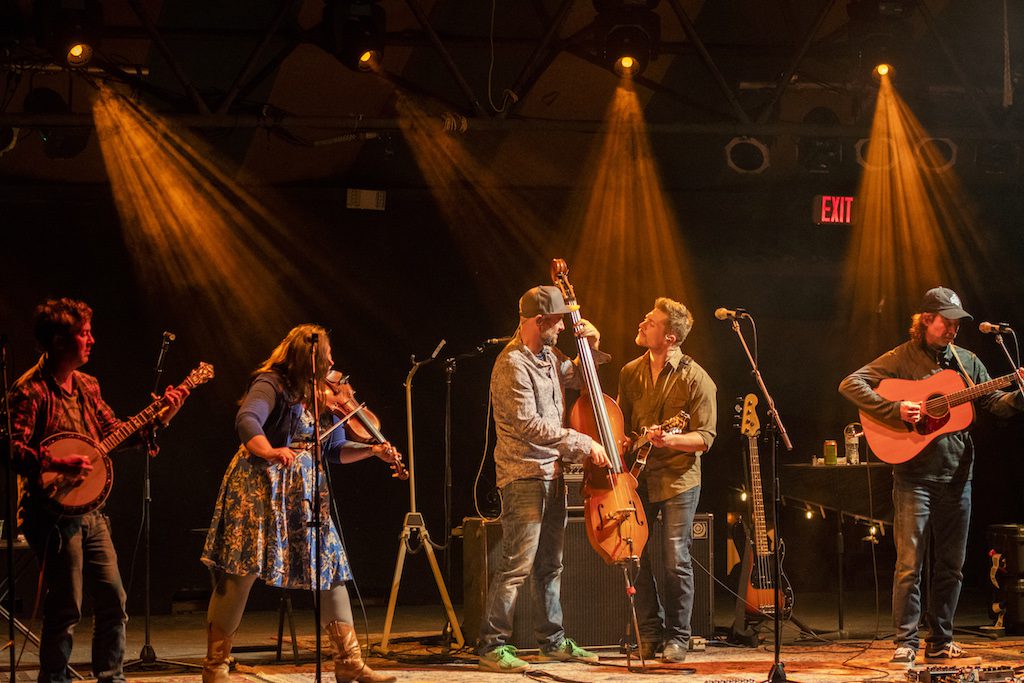 Yonder Mountain String Band - Shakori Hills, Pittsboro, NC, May 15, 2021 - Photo by Thomas Beck
As we are on the verge of returning to a semblance of normalcy and music venues are tip-toeing into the light of new performances, this week the column features photos and brief stories by eight ND photographers and myself on our first post-COVID shows. It was over a year since the last live show for each of us. 
While the music, the performers, and the venues were as diverse as roots music itself, all the performances had one thing in common: Both the performers and the photographers expressed their pleasure in being back. As one photographer told me, "I am so sick of taking pictures of flowers."
Grace Potter – The Amp, St. Augustine, Florida, April 23
The last time I had seen Potter perform was in a football stadium, opening for The Rolling Stones in St Paul, Minnesota, and performing a solo spot with them on "Gimme Shelter." But on a balmy night on her own Potter was almost giddy performing in front of an audience again and the crowd was just as enthusiastic. There was a lot of banter, joke telling, and requests taken throughout her 90-minute set, as she moved smoothly between keyboards and her numerous guitars.  — Kim Reed 
Imogen Clark – Baroque Room, Katoomba, Australia, March 26
Local singer-songwriter Clark did a solo gig in the Blue Mountains, west of Sydney. It was also her first post-COVID show, although you wouldn't have guessed. At 26, she is every bit the seasoned professional. Highlights included "First Class Man," a tribute to the late Glen Hannah, co-written with Colin Hay. — Steve Ford
The Steel Woods – Nashville Palace, Nashville, May 14
This Nashville band gained fame in the last few years  by relentlessly touring, and opening for such diverse folks as Dwight Yoakam and The Oak Ridge Boys. Mixing the sounds and influence of Lynyrd Skynyrd, Willie and Waylon, George Jones, and Black Sabbath into a heady and intoxicating blend, they've developed an extensive fan base. So it was fitting that they brought their Southern rock/honky-tonk sound to one of the town's iconic music venues to celebrate the release of their new album, All Your Stones. After the passing of lead guitarist and founder Jason Rowdy Cope earlier this year, new member Tyler Powers provided the right counterpoint to songwriter and lead singer Wes Bayliss, who possesses a voice that elicits awe and admiration from audiences everywhere he goes. Standing ovations from an appreciative crowd ensued. — Kevin Smith 
PD Ronstadt & The Company – Monterey Court, Tucson, Arizona, March 28
At an outdoor restaurant longtime local favorite Peter Dalton Ronstadt (yes, he's related to Linda) aims to explore the musical heritage of his family while presenting new and original material. Along with his band of Tucsonans, The Company, Pete paints a musical picture of the American Southwest by presenting music from the region, music from Mexico, collected favorites, songs of his father, and new songs that draw inspiration from all the elements of his upbringing. — C. Elliott 
Yonder Mountain String Band – Shakori Hills, Pittsboro, North Carolina, May 15 
Shakori Hills, home of one of the Grassroots festivals, has a special place in my heart as I found its festival shortly after moving to North Carolina from San Francisco. It was extra special to see a band I have followed for a long time. New members Allie Kral and multi-instrumentalist Nick Piccininni are great additions. While Kral plays the fiddle like she was born to it, by the evidence of a most soulful version of "Jolene" she's also quite a vocalist. They fit in seamlessly with the three original members, Dave, Ben and Adam. It was a magical experience that highlighted what makes both Shakori and the band so special. — Thomas Beck 
Seth Walker – Live at Andre's, Nine Mile Falls, Washington, May 23
With the Spokane River as a backdrop and 455 days since my last show, it was exhilarating to hear Walker, steeped in Americana, with touches of blues and jazz. After singing several dreamy, slow ballads he announced he was going to slow things down a bit. This dry humor was met with a big roar of laughter as he segued into a Bobby Charles cover "I Must Be in a Good Place Now." Another highlight was "Back in Your Arms Again" co-written with Raul Malo and Gary Nicholson. It may be better known as a song performed by The Mavericks, but Walker added his own touch of Cuban influences in his delivery. — Boom Baker 
VanHoy Farms Revival, Harmony, North Carolina, April 23 & 24 
The two-day VanHoy Farms Revival, home of decades of bluegrass history at the Union Grove Old Time Fiddlers Convention, featured The Infamous Stringdusters, recent American Idol contestant and new member of Old Crow Medicine Show Mason Via, Sierra Hull and Justin Moses, and The Travelin' McCourys. Despite being a spread out, socially distanced crowd, those who were there were stoked to return to live music. I also captured some vibey greenroom jams and produced some field recordings. It felt good to be back. — Rob Laughter 
Will Kimbrough – Chatt Hills Music, Serenbe, Georgia, June 12  
A temperate spring night, combined with being with many of my concert-going friends for the first time in a year, was made even more emotional by Kimbrough's lyrical songs and top-shelf musicianship.  The tears began early on during "The Late Great John Prine Blues" and his story of how he heard the news of Prine's death. The set list was varied and covered many years of fine songs. He got me again at the end with Townes Van Zandt's "To Live Is To Fly." It was a stellar evening back in the land of live music. — Brenda Rosser 
Mountain Stage – Shemekia Copeland, April 16; Amythyst Kiah, June 13 
Copeland, on a chilly night in Marshall University's football stadium, brought the house down when she finally got to perform live, with a full kickass band and her defiant, dynamic songs from her 2020 award-winning album Uncivil War. Both on the album and live she told the story of what's thought to be the last slave ship to smuggle African captives to American shores, the Clotilda. As she said from the stage, "History is not always pretty, but first you must accept it and then you have to change it."
Kiah, ND's Spotlight artist for June, performed songs from her new album, Wary + Strange, solo before a socially distanced indoor audience and brought the house down in a different way. Kiah's short set was on the introspective side, and included a dreamy cover of Radiohead's "Fake Plastic Trees." Until the last song that is. "Black Myself," first on the Our Native Daughters' album, was redone on the new album because, as she said from the the stage, "It's important to keep the conversation going." It's also an essential anthem. Just as James Brown's "Say It Loud – I'm Black and I'm Proud" was over 50 years ago, Kiah's "Black Myself" is the invigorating anthem we need now as we peel away the layers of history's lies and atrocities. — Amos Perrine 
Now, the photos. Click on any photo below to view the gallery as a full-size slide show.
---