THROUGH THE LENS: Traditional Music Rings Out in West Virginia
Posted On August 15, 2023
---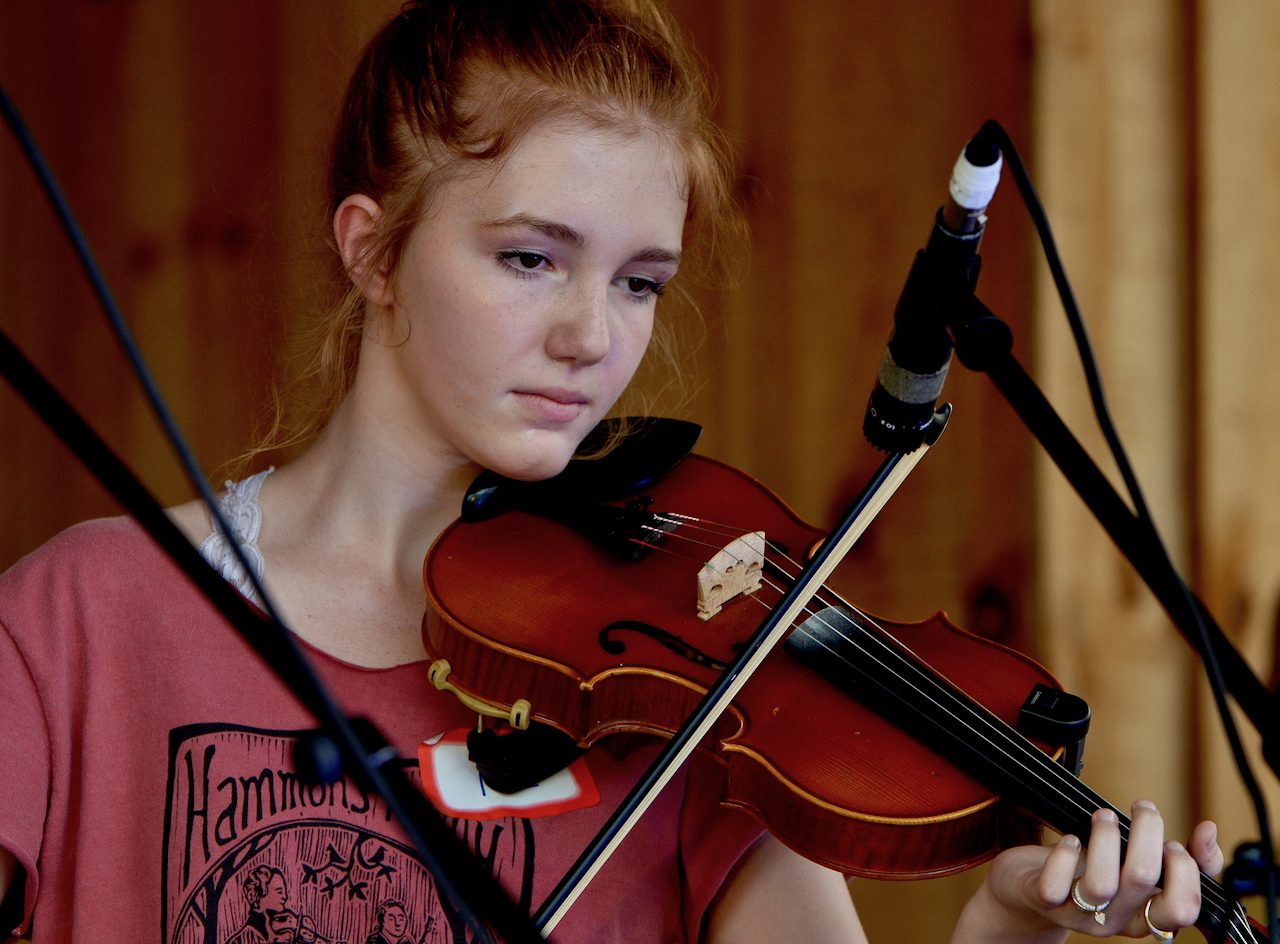 Ramona Hardy, Second Place, Youth Fiddle Contest - Hammons Family Fiddle & Banjo Contests 2023 - Photo by Amos Perrine
Being no stranger to traditional music in West Virginia (my first article for ND, in 2009, was about the Morris Family Old Time Music Festival), each year I attend the Appalachian String Band Music Festival, better known simply as Clifftop. This year I also visited the second annual Hammons Family Fiddle & Banjo Contests and World Class Jam in Marlinton, West Virginia.
The Hammons Family Fiddle & Banjo Contests and World Class Jam
Named for Pocahontas County's highly revered Hammons family (nine of whom were inducted into the West Virginia Music Hall of Fame in 2020), the Hammons Contests consist of an open fiddle category and two for banjo (traditional and bluegrass), with youth divisions in each. 
With prize money at stake, the July 8 contests drew 67 entrants, with some entering more than one category.  They were a representative mix of the area's premiere musicians, along with younger ones. Some of the state's best musicians, instead of entering the competitions, devoted their talents to either leading organized jam sessions around the small town, judging the contests, or, in the case of master fiddler Bobby Taylor, acting as emcee. 
In one way or another, the state's best and most well-known traditional performers were there, including Robin Kessinger and Robert Shafer, both national flatpicking champions; award-winning fiddler Jake Krack (who won the fiddle contest); former Old Crow Medicine Show member Chance McCoy; and several descendants of the Hammons family, including Trevor Hammons, who placed second in the traditional banjo category. Amid the performances, there was plenty of action behind the stage, too, with multiple impromptu jams, last-minute warmups, and lots of old friends catching up with one another. The day was a beehive of activity.
Other than articles in some local newspapers, publicity on the event was a bit scarce, but it did get a notice in Bluegrass Today and was efficiently promoted via social media by its organizer Joanna Burt-kinderman, bass player for many groups, notably Richard Hefner and the Black Mountain Bluegrass Boys. The event is so grassroots it doesn't even have a homepage, just a Facebook page.
Clifftop
This column has reported on Clifftop quite a few times. As last year's column went into the history of five-day festival,  this year's visit focused on the Neo-Traditional Band Contest on Aug. 4. 
If the Hammons event demonstrated the current state of traditional music, the neo-trad day at Clifftop showed us, using traditional instruments as a starting point, how the music has permutated and a glimpse into where it is headed. With 27 entrants from such varied locales as Australia, Florida, Utah, New Jersey, Massachusetts, upstate New York, and California, Clifftop personifies the rich, vibrant diversity of today's musicians who are dedicated to roots music.
As with the Hammons event, the number of younger folks participating either formally or just jamming was impressive. With a laidback, family homecoming feel to the festival, everyone reveled in each other's playing and success. Winning the contests was but icing on the cake.
Speaking of winning, this year's winner was The Shoats, brothers Gus and Huck Tritsch from Pennsylvania and West Virginia-native Mary Linscheid. Not to be confused with an indie/ska band rom Westford, Massachusetts, of the same same, this trio of fiddlers, and occasional guitar, outstripped the other performances. Again, as with previous years, I called them as the winner as soon as I heard them. I guess I have pretty good ears. 
Here's a fabulous, high energy video collecting scenes and sounds from Clifftop 2023 by Craig Evans:
If this doesn't make you want to experience Clifftop, then I don't know what will.
Click on any photo below to view the gallery as a full-size slideshow.
---