THROUGH THE LENS: Old-Time and New Approaches Make Friends at Clifftop
Posted On August 16, 2022
---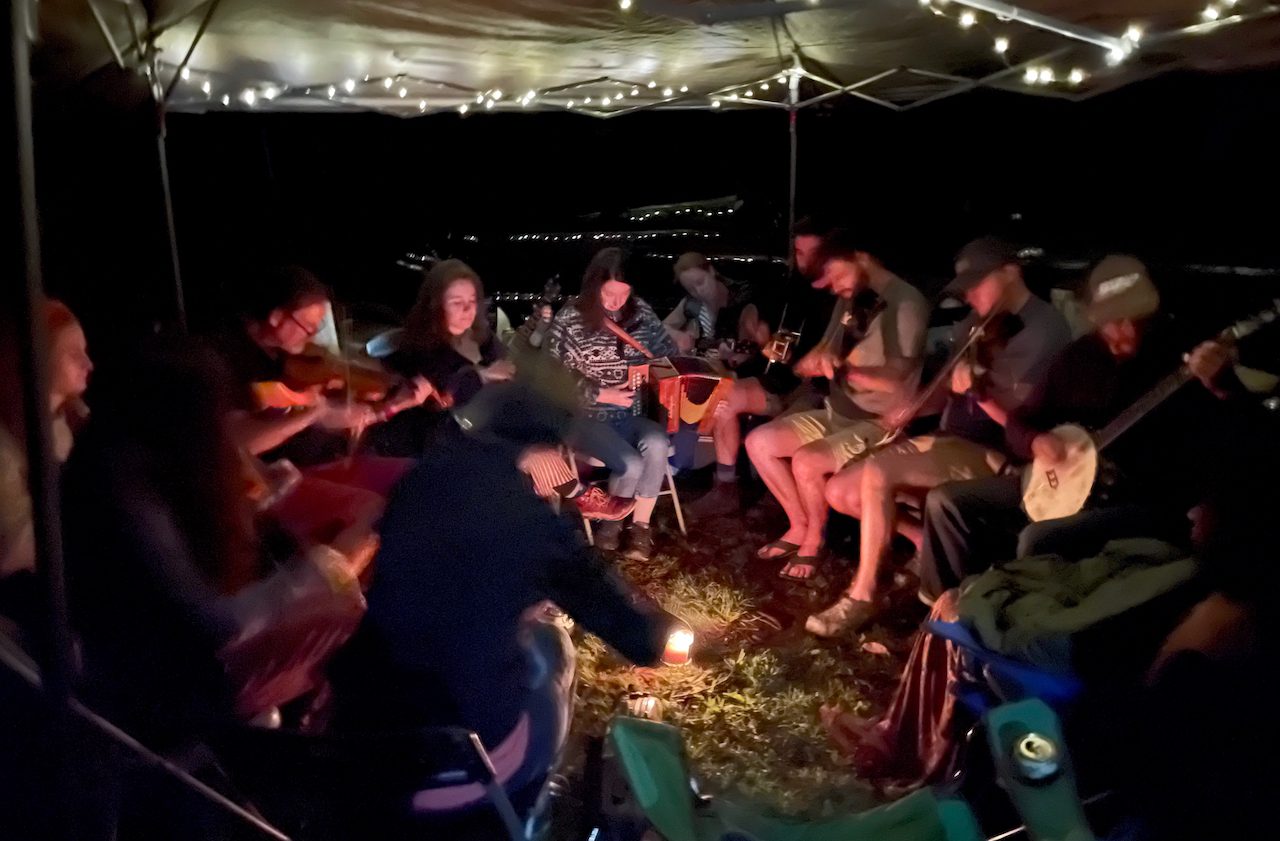 Campground Sessions - Clifftop 2022 - Photo by John Bolten
The Appalachian String Band Music Festival is a five-day mountaintop gathering of musicians and friends with contests, concerts, workshops, square dances, camping, and vendors. Better known simply as Clifftop (after the closest town), the festival was born out of the ashes of the Appalachian Open Championships, a bluegrass event that ran for five years in the 1980s. Following its demise, musician Will Carter sought to create a more encompassing festival, one that drew on West Virginia's musical heritage, an old-time stringband festival. 
Since it was first held in 1990, the festival has presented old-time Appalachian music to an average yearly audience of 3,500 musicians and stringband music lovers of all ages, from all 50 states and more than 20 countries.
The festival's site is of historical note as well: Camp Washington-Carver (named for Booker T. Washington and George Washington Carver) was, from 1942 to 1957, a 4-H camp for children of color. The site is now on the National Register of Historic Places, and its architectural centerpiece, the Great Chestnut Lodge, is the largest log structure of its kind in the world. 
For some years now I've gone down on Friday, the day devoted to the neo-traditional bands. The other four days feature individual instrument contests and, on its closing day, a contest for traditional bands.
But the contests are just the tip of the iceberg: The real action, and why people come in the first place, is found throughout the campground, where numerous jam sessions and informal mentoring sessions are happening pretty much nonstop during the festival's five days. During my wanderings this year I spoke with two musicians whose bands were comprised entirely of musicians who met during those sessions. 
The first was Micah A. John, a young guitarist from Boston whose impromptu band, Hokum Jumping Frogs, had never met until this year's festival. The other was Dakota Karper, a fiddler from West Virginia's eastern panhandle. Her trio, Hemlock & Hickory, also first met at Clifftop, some years back. With other members from Brooklyn and Baltimore, they won the neo-traditional band contest later that night — to my ears, and those of Will Carter, it was not even close.
As always, Fridays closed with a concert by the previous neo-traditional winner, the Ken & Brad Kolodner Quartet from 2019 (COVID caused Clifftop to be canceled for the two years in between).
There is usually something special that happens on Friday afternoons between selecting the five neo-trad finalists and the finals. This year was extra special: an album release party for Stole from the Throat of a Bird: The Complete Recordings of Ed & Ella Haley. The seven-CD set and 100-page booklet is the result of a seven-year project by Middle Tennessee State University to gather every recording West Virginia's Ed Haley (fiddle) and Ella Haley (mandolin) ever made. Many people, including John Hartford, consider Ed Haley the best old time fiddler ever. Haley passed away in 1951, so I never saw him perform, but my grandfather did. He told me stories about Haley playing the lumber camps in Webster County, West Virginia, during the early part of last century.
The festivities were presided by Bobby Taylor, master fiddler and a Clifftop organizer. Taylor played several of Haley's tunes on Haley's 1890 Czechoslovakian fiddle. Afterward, I noted to Taylor that the fiddle looked different than today's and that he seemed a bit awkward when playing it. He told me it was because the fiddle had a flatter archway that permitted its sound to travel farther (there were no electronics for amplification then). As modern fiddles are not made that way, older ones are a bit more difficult to finger. The sound, nonetheless, and the music were both stellar.
If you ever go to Clifftop there are a few things to note: 1) The visit is a pilgrimage where there are no "stars," every musician is on equal footing, sharing and learning from one another; 2) I have never seen a police officer there; 3) As there is little artificial lighting, it is extremely dark at night, so dark that you can see the stars above, and it is spectacular; and 4) As it is so dark, be sure to bring a flashlight.
Click on any photo below to view the gallery as a full-size slide show. Please pay particular attention to the photos by John Bolten of the Baltimore traditional band Geraldine, who, along with bandmate Jonathan Vocke, attended this year's Clifftop. Vocke was part of the Hemlock & Hickory trio that won the neo-traditional band contest.
---