THROUGH THE LENS: The Show Goes On for Lucinda Williams and Patty Griffin — Online
Posted On November 17, 2020
---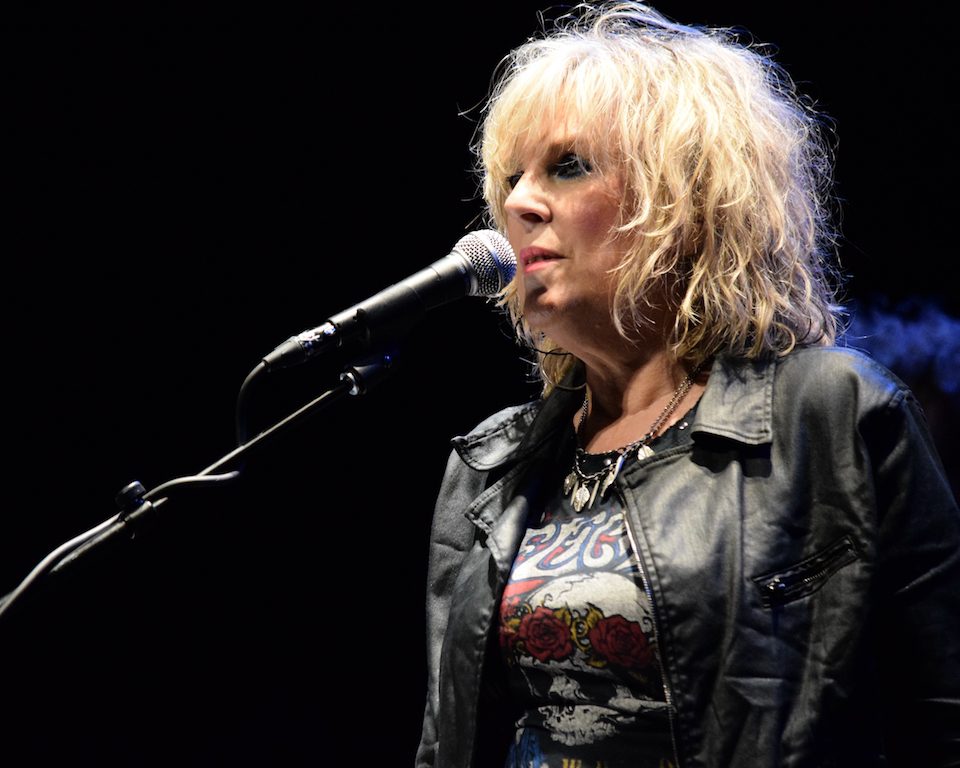 Lucinda Williams - Photo by Kim Reed
I know we all miss live shows, and that collective energy, the camaraderie, the excitement, that connection between artist and audience that simply cannot duplicated either on record or video. However, until the beast of the coronavirus can be tamed, streaming live shows serves as the methadone to our addiction.
While many artists have been streaming shows, for this week's column I want to focus on two whose bodies of work during their respective careers set them apart from their contemporaries: Lucinda Williams and Patty Griffin. I have made no bones about it over the years, no one compares to the breadth and depth of their work.
While Williams and Griffin use the same concert streaming platform, Mandolin, they have, as described below, embraced the present challenge in different ways. But they do have some things in common: The performances have set dates and times, will be available for screening by ticket holders several days after the initial stream, and a portion of the proceeds goes to support independent music venues. Based on the performances in each series to date (Williams has aired two of six, and Griffin one of three) both artists have achieved their own distinct nirvanas. I urge you to tune in.
Lucinda Williams
Williams has always been ahead of the curve, in terms of both her music and how it's presented. No one who first heard her self-titled album in 1988 will ever forget its shock to the system. (It certainly changed my world when I first heard many of those songs in an Austin bar in 1986.) In 2007 she performed that album and her next four in their entirety on consecutive nights in Los Angeles and New York. The performances were then released as 10 standalone albums.
Williams is doing something similar now with a series of six pre-recorded live-in-the-studio streaming performances called Lu's Jukebox. Recorded in high definition, Williams calls them "episodes," each features covers of songs written by others, encompassing a theme. The two recently streamed episodes were Tom Petty songs and "Southern Soul." The themes of the remaining four episodes are Bob Dylan, classic country from the 1960s, Christmas tunes, and, on New Year's Eve, a tribute to The Rolling Stones. The episodes will be released on CD and LP (expected mid-February 2021), with digital downloads available just a few days after the initial stream. It's an unprecedented undertaking.
Last week I spoke with Tom Overby, Williams' manager and husband, and he told me that there may be more "seasons" of the livestreamed shows. While there have been no special guests this season, there will likely be some next time.
The idea of doing a covers series had been around for some time, and due to the coronavirus-induced downtime, they finally decided to kick the tires and see how it'd go, Overby said. After the first one, recorded in September, went so well, they decided to do five more. Episodes were spaced about two weeks apart, and generally recorded over a two-day period. However, The Stones set took an extra day because 16 songs were recorded. So that New Year's Eve show will be longer, and, of course, promises to be a rocking way to kick out 2020. As it's identified as a "tribute" to the band, I expect to hear some songs that inspired them as well, quite likely some blues.
This season's six episodes, with full band, were all recorded in Nashville's Room and Board studio, where Williams' latest album, Good Souls Better Angels (ND review), was cut. With Butch Norton and David Sutton stuck in LA, only Stuart Mathis from her band was available, but they were able to enlist Fred Eltringham (drums), Steve Mackey (bass) and Joshua Grange (guitar), all of whom Williams had worked with before.
All in all, 80 songs were recorded over 15 days, and pre-recording the episodes gave them the opportunity to make sure everything went just right. A lot of "themes" were discussed, but the ones chosen were mainly songs Williams knew best or had personal attachments to. Once the selections were made, Williams worked on her part, and the band on theirs, before getting together. Usually no more than three takes were needed to get each song down. But there was one rule: If it was not working, they'd let it go.  
Overby said they were ecstatic with the results. Based on the two episodes so far, I feel the same, not just about the performances, but with the song selection as well. For example, last week she did Barbara Lynn's R&B hit "You'll Lose a Good Thing" from 1962. Lynn, an electric guitarist as well as writer of the song, has been criminally neglected for years and, like Williams, was ahead of her time. Set lists for the two episodes so far are included in the photo gallery.
Patty Griffin
Griffin is taking the opposite approach — streaming live rather than pre-recording — but based on last week's first show, the results are the same: wonderful.
Griffin's three shows are live from Austin's Continental Club with guitarist David Pulkingham on a small bare stage. Being live, they are spontaneous, with lots of stories, insights, and remembrances. There was one unexpected spontaneous event: The internet service went down. In spite of that transmission interruption, the show went on and was available for screening for a full week afterward.
Griffin's sets look to be all acoustic, and songs will come from her 25-year recording career, including many she doesn't often performe. The first show was of concert length, somewhat over 100 minutes. So we likely can expect five full hours of acoustic Griffin in an intimate setting. What more can we ask for?
While recordings of the shows are not planned for release, there is a virtual merch table where fans can order journals, bandanas, and T-shirts.
Below are some photos of Williams and Griffin taken over the years by ND's crack photographers. Enjoy. 
---