THROUGH THE LENS: The Roots Music Photography of Jim Gavenus
---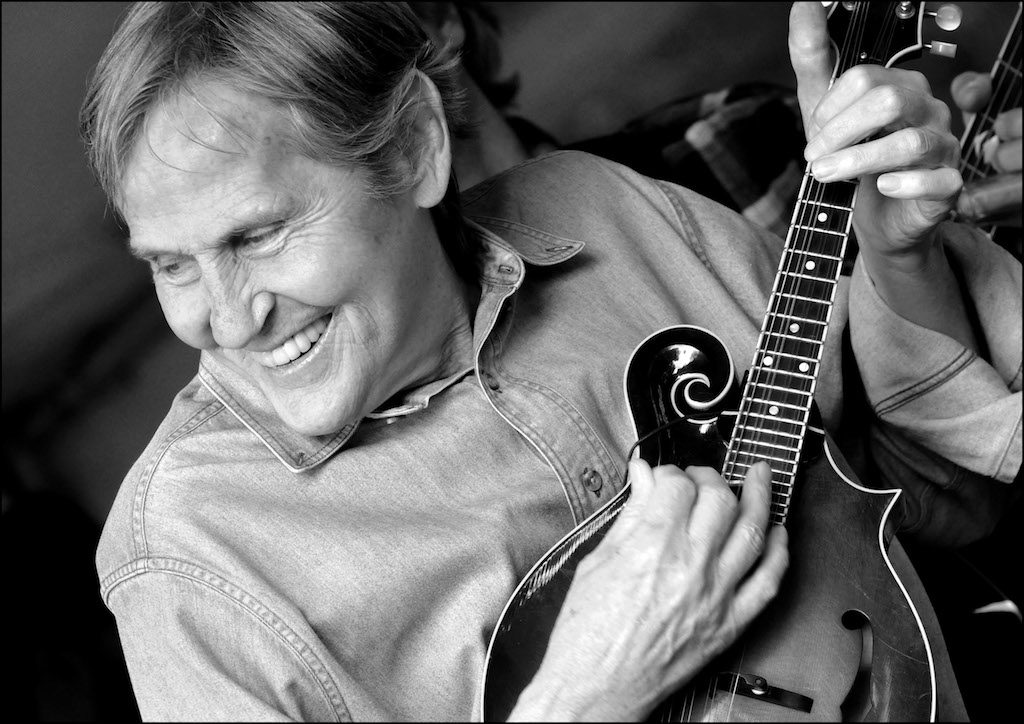 Levon Helm- Gill's Farm, NY - Photo by Jim Gavenus
During normal times this week's column would be reporting on MerleFest, which would have concluded just two days ago. In its absence, or at least its postponement until September this year, what better way to celebrate that fest than by featuring the work of one of that festival's most gifted photographers, Jim Gavenus.
During a past MerleFest, Jim met the creative writer and actress Kelly Shipe. Since then they have worked on various projects together, including ones for this column. This week they collaborate again: Jim's photos are featured while Kelly writes about him and his work.
Beginnings
There's something special about the family that is forged around a campfire at Moravian Falls during a MerleFest weekend. Truly a unique, once-a-year familial unit is created in that evening circle. I met friend and photographer Jim Gavenus around such a campfire a few years back.
During the festival days, I'd catch sight of Jim at different stages, his camera bag strung across his shoulder, Nikon D750 in hand, baseball cap backwards (if he was about to shoot). A favorite memory is seeing Jim photograph The Wood Brothers sitting cross-legged on the Hillside Stage.
I wanted to know Jim's story and he obliged. I've learned that amazing art and a rich narrative go hand-in-hand. Jim's journey is no exception.
It begins in Eastern Pennsylvania, where Jim's aunt gifted him with a Kodak Instamatic 126 film camera. Graduating to a 35 mm camera by junior high, Jim started accompanying his three older brothers to concerts. Undoubtedly endeared by young Jim's earnest, enthusiastic interest in music, legendary artists like Clarence Clemons, Jerry Jeff Walker, and Levon Helm (who would later become a friend) allowed the teenager stage access to take photographs. Jim found a couple of books on film processing and started developing his images in a makeshift darkroom in his parents' basement.
Alaska and Photography School
As a young man Jim ventured to Alaska and became a commercial fisherman. He also worked at an engineering firm for a spell, but his fierce passion for photography persisted. After the loss of his father, he decided to go all in and pursue the art of photography professionally.
During his last semester of photography school, Jim, camera in hand, slipped into the soundcheck for a Jayhawks show. The band noticed and asked, serendipitously, who he was and if he wanted a media pass. That night led to a friendship with the band and regular tenure as their East Coast photographer. Soon he was photographing bands like Golden Smog and Wilco as well.
While on tour with Soul Asylum, the late bassist Karl Mueller spent a fateful evening with Jim. Hanging out, having a beer, Karl started folding Jim's pictures into CD covers and tri-folds, exclaiming, "Do you see it?" He understood Jim's unique ability to capture musicians in their most authentic moments.
MerleFest
 and Beyond
Around the same time, Jim's oldest brother, now an Asheville resident, invited him to attend MerleFest. Camping plus live roots music, Jim was sold. There he found himself drawn to the warm, creative energy of Doc Watson's festival. He knew he had to a part of it. He wasn't immediately accepted as an official festival photographer, but Jim took his camera to the next year's fest anyway, photographing not just the musicians, but the fans as well, the life surrounding the sets. He submitted that portfolio and became a yearly MerleFest resident. Jim has captured countless poignant images from that late April weekend, one being the iconic backstage photograph of Doc Watson chosen to honor the esteemed bluegrass/folk artist's memory at the 2013 Grammys.
Jim Gavenus is truly a gifted visual storyteller. His images can ferry your spirit into a particular experience and evoke a powerful emotional response. Whether it be a shot of John Prine crooning "That's the Way the World Goes Around" on MerleFest's Watson Stage or one of John Lewis high-fiving a supporter in the streets of Selma on the anniversary of Bloody Sunday, Jim elevates photography to a space of inclusion. 
You look at his pictures and you are transported into the exact moment that his shutter clicked. Capturing the undeniable energy and magic of an amazing music festival or live concert or the depth of emotion felt when witnessing a truth of the human condition, that is Jim's wheelhouse.
"I was drawn to music because of my lifelong love of it. The energy, the talent, the process of crafting a song and playing it." Jim says. "While I was also photographing heavier subjects, the music was a good balance for me. Kept me level."
Whatever the subject, Jim's photography can churn up the deepest parts of the human viscera, inspiring thought and spurring the desire for connection to something greater than ourselves. That's the charge of an artist and Jim owns that charge with his whole heart.
While this column has focused on performance photography, it should be noted that Jim's social justice and civil rights photography has won him numerous honors, including the prestigious Gordon Parks Documentary Photographer of the Year award. See more of Jim's work here and here.  
Now, the photos. Click on any photo below to view the gallery as a full-size slide show.
---