THROUGH THE LENS: Something For Everyone in March's Roots Music Releases
---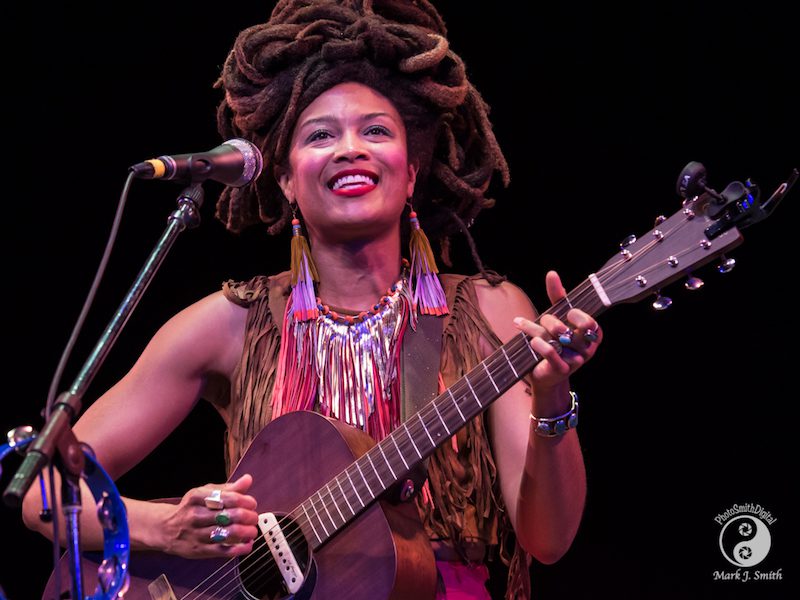 Valerie June - Philadelphia Folk Festival 2018 - Photo by Mark J. Smith
Whenever March rolls around, I play George Harrison's "Here Comes the Sun." Usually, the line "It's been a long lonely winter" is perfunctory, but this year we need that sun more than ever. We also need an appropriate soundtrack. While there are quite a few interesting releases coming down the pike this month, there are four in particular that got me though a colder-than-usual February. They are a diverse lot, but from down-home country to David Olney's sweet and mystifying swan song they have one thing in common: They're irresistible.
Elizabeth and the Catapult – sincerely, e (March 5)
It wasn't the first time I saw this band, but the show that really stands out for me was deep into December in New York's Le Poisson Rouge some 10 years ago. The performance had the feeling that Elizabeth Ziman had invited us into her living room. This memory came flooding back when I learned that these 12 new songs were written and recorded in Ziman's living room during the past year. Perhaps, then, it is no surprise that the songs, which internalize the anxieties of solitude juxtaposed with the overstimulated chaos of the world, would result in a Laura Nyro-esque landscape of intimacy and identity.
But these heady themes are not downers, as Ziman fuses them with jazzy, indie-pop melodies that are as captivating as they are luscious. Counterintuitively, she used isolation to look beyond the self and embrace the larger, if mixed-up, world outside with a grace and elegance sorely missing from much of today's music. If you are wondering how the album was conceived in a living room, you can get a better idea this Friday (March 5) at 8 p.m. ET when Ziman will play the album's 12 tunes in her living room during a livestream on her Facebook page.
Valerie June – The Moon & Stars: Prescriptions for Dreamers (March 12) 
Valerie June continues to defy expectations. The opening track portends what's to come, beginning with a twinkling piano, then a vocal that echoes back on itself, adding instrumental layers of marching drums and cascading strings. Acting like a whirlpool, it threatens to swallow her whole but instead she's washed upon the shore with the reflective lyric, "I don't know how long I'll stay." Not a silly love song, rather a metaphor for life. 
None of this comes as a surprise for anyone who follows June on social media, as even as the song titles suggest she's on a spiritual journey amid the chaos. What sets the album apart is how June amasses instrumental arrangements, ambience, static, African rhythms, and the New Orleans Queen herself, Carla Thomas, to a cohesive whole to achieve a dreamy, mediative masterpiece that also invigorates.  
David Olney & Anana Kaye – Whispers and Sighs  (March 19) 
Anyone who has the good fortune to have seen Olney perform knows how elegantly he could take disparate fibers and weave them into a magical carpet. On his last recording before his death early last year, Olney introduces us to Anana Kaye and her European sensibility, smoky, voice and co-writing skills. Together, they create a dreamy song cycle that reveals intimate self-portraits, myths, and existential tales exposing the various crutches we use to cope with our own impermanence. 
The last bastions, the last line of defense against the dust that awaits us all, are love and relationships. Paradoxically, whether Olney whispers about "summer days and the way he made [a lover] laugh" in "My Favorite Goodbye" or when Kaye sighs about "needing a friend on [a] lost and lonely night" in "Tennessee Moon," it's as though we are hovering, riding a magic carpet that eloquently transcends time and space.
Melissa Carper – Daddy's Country Gold  (March 19)
Has this pandemic left you aching for a real country record, full of original tunes, one without a hint of being self-consciously retro or merely nostalgic? If so, this is the one for you — and me. Carper is no newbie, having made a bunch of records in a variety of settings, most often with girlfriend Rebecca Patek, but this time she pulls out the stops. With Chris Scruggs (whose fingerpicking has never been better), Time Jumpers' Dennis Crouch, and guest appearances from Brennen Leigh, Sierra Ferrell, and the legendary Lloyd Green on pedal steel, the album is more than aptly titled, it's solid gold.
Carper knows how to swing, as evidenced the opening track, "Makin' Memories" that she'd like to remember. But she's no Pollyanna; there's an undercurrent of loss. That loss comes to fruition in the next track, "I Almost Forgot About You." It's a forlorn waltz centered on memories she'd like to forget. Not that she's drowning too many sorrows; Carper perks it up with the beautiful come-on, "Would You Like To Get Some Goats" inviting a lover to settle down on a farm, canning beans, rolling dough, baking cherry pies, making cheese, and letting peppers grow nice and slow. But this album is anything but slow, be it in a barnyard, a dance floor, or holding back a tear. I did not want the album to end.
Now, a nice selection of photos in the gallery below.
---