Remembering David Olney and Celebrating Life at 30A Songwriters Festival 2020
Posted On January 22, 2020
---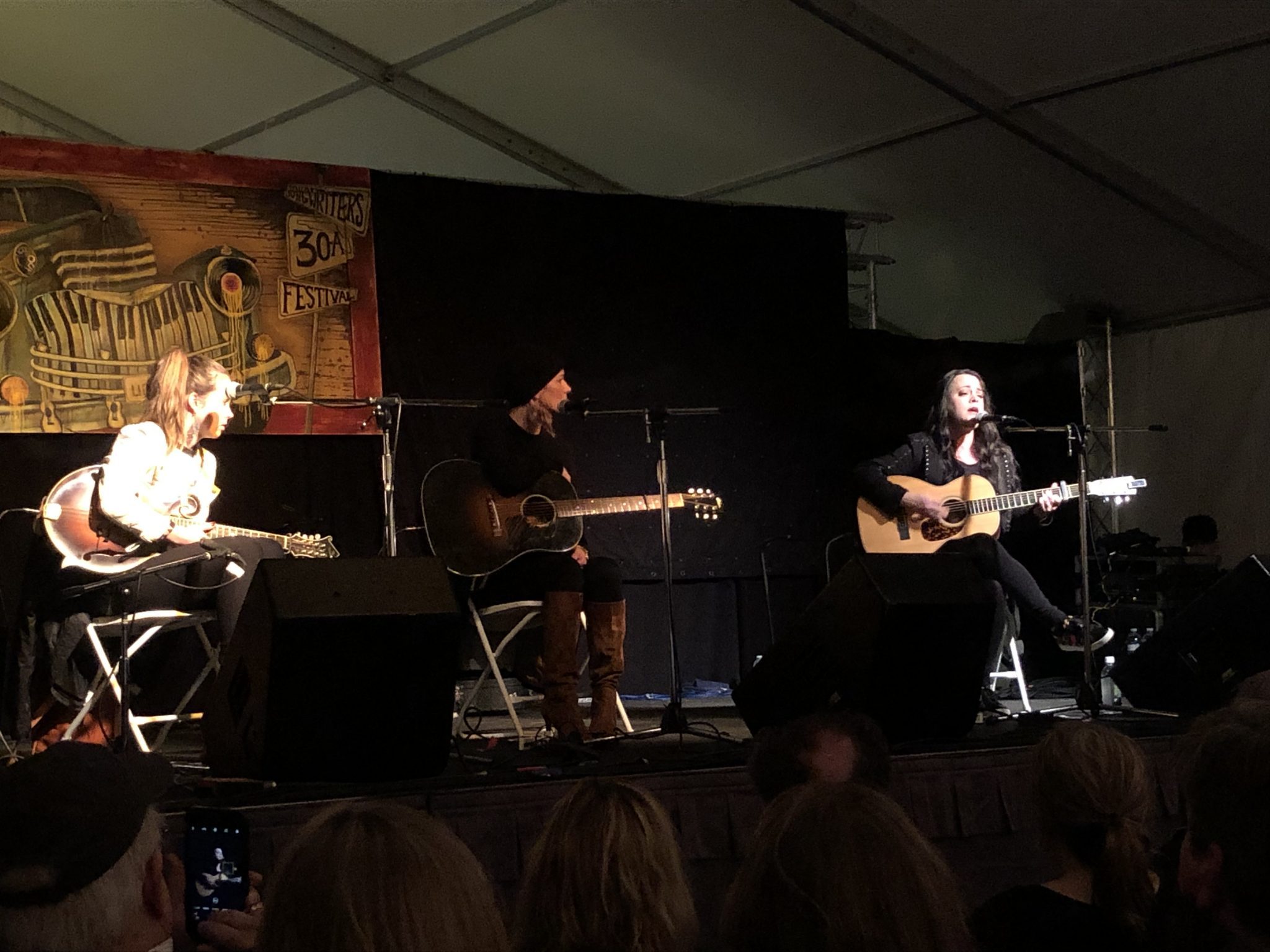 From L: Sierra Hull, Allison Moorer, and Mindy Smith perform in the round at 30A Songwriters Festival 2020 (Photo by Kim Ruehl)
The 11th annual 30A Songwriters Festival wrapped on Monday, after five days and nights of a diverse array of songwriter-centered music, spread across 36 venues along a scenic highway on Florida's panhandle.
Though 30A does the big-stage-in-a-field thing that many people envision when they hear the phrase "music festival," it is not the central focus of the event. The main stage provides an opportunity for everyone at the festival to gather in one place, as nothing else is scheduled while the main stage is utilized. And sure, 30A headliners are always wonderful: This year they included Brian Wilson, John Prine, Indigo Girls, Tanya Tucker, and a bevy of others, but these "headlining" sets are over by 5 p.m., at which point everyone pours back into the clubs, where the 30A Festival wields its unique charm.
Indeed, what makes the best 30A festival experience is hopping from small venue to small venue, where one can see some of the finest songwriters in the country — well-known and unknown, alike — up-close, playing to cozy crowds of folks working their way through crab dip, fish sandwiches, and rum cocktails. (The impeccable beaches of Florida's Gulf coast are only ever a block or so away.)
On the opening night, I ducked into a bar and grill in the small town of Watercolor, a stone's throw from Seaside, Florida, where Jim Carrey's Truman Show was filmed. There, in a venue called the Fish Out of Water (or, as locals prefer, FOOW, pronounced "fooh"), Mary Gauthier and Gretchen Peters held court in a songwriters-in-the-round set, joined by Jaimee Harris and Peters' husband Barry Walsh. They cycled through some of their most beloved songs — Peters' "When All You Got Is a Hammer" and Gauthier's "Mercy Now" were crowd favorites — and swapped stories like only a couple of old friends, who often work together, can do.
In fact, the songwriter round is the primary method of music at 30A. I'd set out on a mission of discovery this year, and this performance style quickly emerged as the optimum avenue for hearing new artists.
Case in point: Mobile, Alabama-based singer-songwriter Abe Partridge played a 10 a.m. round with Nashville's Shawn Byrne on Saturday, in the backyard of a coffeeshop, rimmed with enormous, long-armed trees. Though Byrne's songs are tried-and-true Nashville-tight, Partridge's raw, emotional attack and stirringly honest lyricism balanced between the deeply, heart-achingly personal and the political. Partridge was one of the most compelling artists I stumbled upon, thanks to this early morning round.
Also new-to-me were Kyshona Armstrong and Dan Rodriguez, who played a stellar round on the back patio of a bay-side bar. It was a cold, breezy morning and a packed house of strangers huddled around tables sipping Bloody Marias and chomping on churros, white caps on a shallow bay blowing by behind the crowd, dazzled by these two Nashvillians who are not yet household names.
But 30A rounds aren't all up-and-comers. Some buzzworthy sets featured Shawn Mullins, Kim Richey, and Emily Saliers; Robby Hecht and Alexa Rose; Cliff Eberhardt, Radney Foster, Kim Richey, and Mando Saenz; Birds of Chicago and Erin McKeown; Sarah Lee Guthrie, Dan Navarro, and Nora Jane Struthers; and many more.
But it was a Saturday night round that left many in the audience and among the artists, alike, feeling emotional and reflective for the rest of the weekend. Amy Rigby and Scott Miller were playing in the round at the Watercolor Boathouse with Nashville-based singer-songwriter David Olney, when the elder paused in the middle of a song, closed his eyes, and passed away.
Rigby posted to Facebook:
Olney was in the middle of his third song when he stopped, apologized and shut his eyes. He was very still, sitting upright with his guitar on, wearing the coolest hat and a beautiful rust suede jacket we laughed about because it was raining like hell outside the boathouse where we were playing- I just want the picture to be as graceful and dignified as it was, because it at first looked like he was just taking a moment. Scott Miller had the presence of mind to say we needed to revive him. Doctors in the audience and 30A folks were all working so hard to get him to come to. It's hard to post about this because I can't really believe he's gone. I am so sorry for his wife and family and friends and all the people who loved him and his music. Even those who never heard of him. We all lost someone important last night.
On the same night, an hour or so earlier, in a round that took place inside a tent at the center of a condo community courtyard, Mindy Smith, Allison Moorer, and Sierra Hull seemed to be trying to out-sad each other with ruminations about trauma, devastation, and feeling like life is going so fast that you can't catch up.
Moorer's songs, especially poignant given her recently released album and book, both titled Blood, carried an extra sting in retrospect. There's so much pain in the world, Moorer explained to the crowd as she told how her tour behind Blood has introduced her to other people who have been quietly shouldering childhood trauma all their lives. She pointed out the importance of calling it what it is, so that we can talk about it and begin to heal as a human race.
As the ambulances raced to try to revive a living legend across town, Moorer's words inspired a tent full of strangers to share a moment of quiet rumination, acknowledging life is short and hard for everyone, and we do our best when we can come through it together.
For more highlights from this year's 30A Songwriters Festival, visit Folk Alley — also a part of the FreshGrass Foundation — where videos and podcasts will be released throughout the year, featuring my interviews with artists like Indigo Girls, Kim Richey, Allison Moorer, Kyshona Armstrong, Abe Partridge, and more.
---