THROUGH THE LENS: Outlaw Country Cruise 2022 Delivers Memorable Moments at Sea
---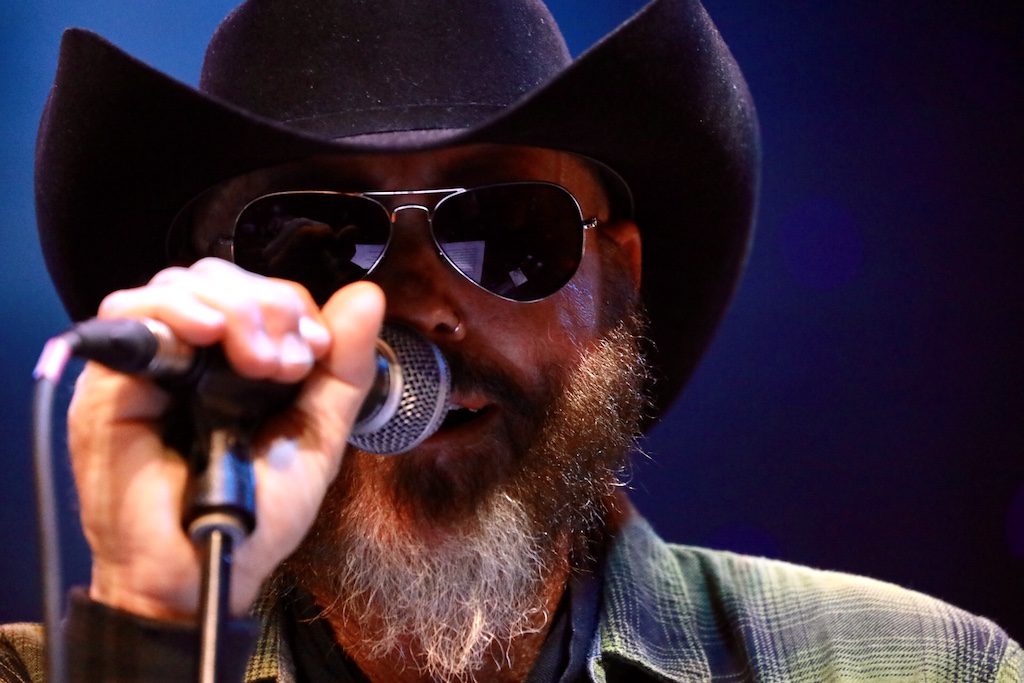 Eddie Spaghetti of The Supersuckers - Outlaw Country Cruise 2022 - Photo by Larry John Fowler
The sixth edition of the Outlaw Country Cruise set sail on Feb. 25 out of Miami for a one-week, self-contained roots music fest in the Caribbean. With stops in Costa Maya, Mexico, and Harvest Caye, Belize, Sixthman and Renegade Circus, with Sirius XM Outlaw Country, crushed it with a who's who of modern roots music, too many legends to count.
We were fortunate once again to have one of ND's regular correspondents, Larry John Fowler, on board to share with us his photos and impressions of that cruise. Here is his report. 
Breaking the Pandemic Blues
Yeehaw! Back on the high seas with the sixth edition of Outlaw Country Cruise. It was wonderful break from the pandemic blues with a host of wonderful artists, abundant collaborations, and many extra-special events.
Some of the usual suspects from previous Outlaw Cruises (and Sirius XM's Outlaw Country Radio) were there: Steve Earle, Elizabeth Cook, Lucinda Williams, Asleep at the Wheel, The Waco Brothers (with Jon Langford), Carlene Carter, Roger Alan Wade, and Warner E. Hodges. Newbies Shinyribs, American Aquarium, and Chuck Mead with The Grassy Knoll Boys were enthusiastically received.
Standout Shows
Albert Lee, who joined Emmylou Harris' Hot Band in 1976 and has also played with everyone from Eric Clapton to The Everly Brothers, was treat not just for what happened on stage but off as well. During his set Harris took the seat next to me! She was a wonderful audience member, whooping and cheering on Lee as he journeyed through the history of songs by artists he had played with, who just so happen to be my own favorites. I was concerned my picture taking might interfere with her concert enjoyment but, as always, I was careful not to detract from anyone's enjoyment of the performance.
Rodney Crowell's lyrically driven acoustic shows backed by Will Kimbrough and Eamon McLoughlin were perfection, and of course Harris, backed by The Red Dirt Boys and McLoughlin, was beyond excellent.
Bill Kirchen's Salute to Commander Cody and The Lost Planet Airmen was mesmerizingly delightful, and with many guest artists sitting in.
The Whitmore Sisters' album release party for Ghost Stories was a treat. It's a wonderful album of original songs with a vocal sound that only "family harmony" can bring. (See ND's story here.)
Lucinda Williams and the Buick 6's burning performance of  the Essence album reminded me of how much I was taken with it in 2001, and still am. Back from her 2020 stroke, a jubilant Williams was obviously overjoyed. Multiple standing ovations were the icing on her cake.
Special Events 
Stars On The Water: An Outlaw Tribute to Rodney Crowell: Many delightful remembrances were given by each artist along with fine deliveries of Crowell's large catalog of well-crafted songs.
SiriusXM Sessions: Steve Earle's interviews of onboard legends were to die for. First, Ray Benson (Asleep at the Wheel) and Bill Kirchen (Commander Cody and The Lost Planet Airmen) discussed their beginnings in the Cosmic Country movement, from living in chicken coops to playing Austin's famed Armadillo World Headquarters. Second, and just as significant, was Earle's interview of Harris, Crowell, Lee, and Phil "Road Mangler" Kaufman on the history of the fabulous Hot Band. You shoulda been there.
Elizabeth Cook's "Women For Sheriff":  With Cook on board, you never know what to expect. Besides great music there was a fashion show this year that featured beach fashions of her own design. Who wouldn't love going to go to a fashion show hosted by Cook, especially one that also featured her dog?
Guitar pulls: These "song swaps" are always a highlight, but this one with Earle, Harris, Crowell, and Williams was one for the ages. Given what she had been through in the past couple of years, Williams' "Big Black Train" was extra poignant. There was not a dry eye in the house. With war raging on the other side of the world, Harris and Earle closed the set with his song "Pilgrim." The song was dedicated to the people of Ukraine, with the audience singing along on the final chorus.
Warner E. Hodges and Friends All Star Jam:  This jam put a rockin' exclamation point on the final night of the cruise. The show closed with Neil Young's "Rocking In The Free World," featuring The Waco Brothers, The Supersuckers, The Beat Farmers, and Eric "Roscoe" Ambel. What a ramble.
Bon Voyage 
The Outlaw Country Cruise offered many terrific shows packed full of emotion and memorable moments during those six days. I'm sure I missed a few other moments, but these Sixthman festivals at sea allow for a customized schedule for each attendee's priorities that keeps the audience coming back year after year. Whether you're young or old, you're given new memories to last a lifetime. And whether you're the entertainer or the entertained, everyone is a participant. A lot like life itself.
Click on any photo below to view the gallery as a full-size slideshow. 
---