THROUGH THE LENS: 'Old Trails, New Tracks' at MerleFest 2022
---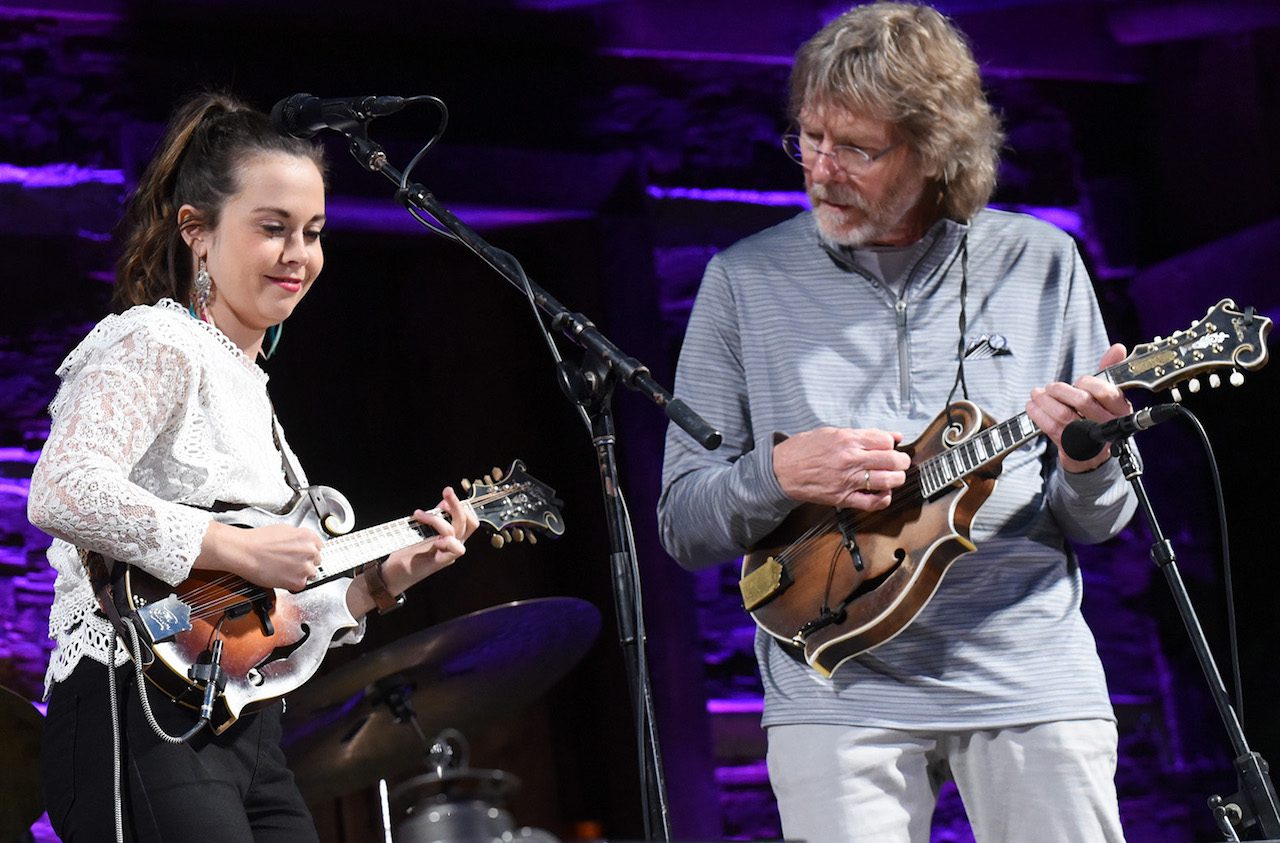 Sierra Hull & Sam Bush - MerleFest 2022 - Photo by Jim Gavenus
More so than at any other festival I attend every year, something happens at MerleFest that spurs me to thinking about tradition: what it is, what it means, and where it's going. Perhaps it is no coincidence that those thoughts, and the festival, occur during spring, when all of us, nature too, are renewing ourselves after the hardships of winter.
That moment happened again for me during Alison Brown's Friday set on the Hillside Stage. This year her band featured a young duo, O'Connor Lee (Forrest and Kate Lee O'Connor), who debuted some songs from a forthcoming album. Even before I knew one of the songs' title ("Old Trails, New Tracks"), I heard these lyrics: 
Got good memories of this place
All those years running around, falling down, and being raised
But my imagination's taking me along a distant path
Old trails, new tracks
Isn't that what tradition is, trails? But those trails do not change, we do — musicians and audiences alike. Just as those who came before us, we bring our own experiences, our places and times, to those the trails. As we travel, our own footsteps are left behind. Below is just a few of the artists who marked their trails at MerleFest this year.
New Tracks 
Those marks were perhaps best crystalized when Sam Bush sat in with Sierra Hull. Bush, who just turned 70, began walking the path Bill Monroe discovered, made his own journey from it, and now Hull and the current generation continue on. With enthusiasm, I might add.
Willie Watson left the band he helped found (Old Crow Medicine Show) to follow the trail of the troubadour. He brings out the ghosts of Woody Guthrie and Cisco Houston. The highlight of his set was the best version of Utah Phillips' "Rock Salt and Nails" I've heard since Rosalie Sorrels. Both Sorrels and Watson left their own inimitable marks on the trail. 
From southwest Virginia, The Blue Ridge Girls follow the path The Carter Family, and others, laid down nearly a century ago. To hear Martha Spencer's vocals is to be transported back to a time and place where hayfields and barnyards dotted the landscape.
From Arizona, teenager Roman Barten-Sherman follows yet another road, losing himself in intricate guitar stylings of Blind Blake and the bottleneck style of Mississippi Fred McDowell. Before Barten-Sherman's Cabin Stage set, Roy Book Binder told me, "He's the real deal." 
Twenty years on the road has added a rich patina to Shannon McNally's bluesy Americana. All of her Watson Stage set was comprised of songs from her The Waylon Sessions album, songs associated with the original outlaw himself, Waylon Jennings (ND story). In lieu of Jennings' antagonistic growl, McNally, with a greater sense of empathy, delivered the lyrics with a voice smoothed out like well-aged, sipping whiskey.
Spontaneity is another hallmark of MerleFest. This year it came most notably in the form of an unannounced, impromptu set by Old Crow Medicine Show at the fountain between the Americana and Traditional stages. Dubbed the "Fountain Stage," Old Crow danced, pranced, and played away the barrier between artist and audience. It was utterly delightful.
A Coat of Many Colors
Last year the festival began intentionally ensuring that a substantial number of folks of color were in the lineup. This year that effort was noticeably broadened to more accurately encompass what's been going on in the roots community for quite some time. 
One of the highlights of the weekend was Allison Russell. Her lone set on the Cabin Stage, immediately before Old Crow Medicine Show's raucous Saturday night set on the much larger Watson Stage, made for a truly memorable 45 minutes. I do not know what the entire crowd's reaction was, but down front where I was it was nothing less than reverential. You could hear a pin drop as she laid bare her heart and soul. It was a thing of rare, pure beauty.
Hubby Jenkins' old-time sets delighted a rapt audience. Between tunes he shared the history of roots and old-time music, cutting across industry-created racial lines.
Rissi Palmer's trajectory got a huge boost with her Apple Radio show Color Me Country, and now more and more people know she is an impressive, soulful, rightful heir to the best real country music has to offer.  
From Rhode Island, Jake Blount added another yet another color to the coat. As an a LGBTQ activist, he weaves queer identities back into old-time narratives. He's not a two-time winner at the prestigious Appalachian String Band Festival for nothing. 
Many thanks to my fellow photographers, Jim Gavenus, Willa Stein, and Rob Laughter, who share their fabulous photos with us. With over 40 performers featured below, you will not find a more complete photo collection anywhere.  Click on any photo below to view the gallery as a full-size slide show.
---