THROUGH THE LENS: Nelsonville Music Festival 2023
---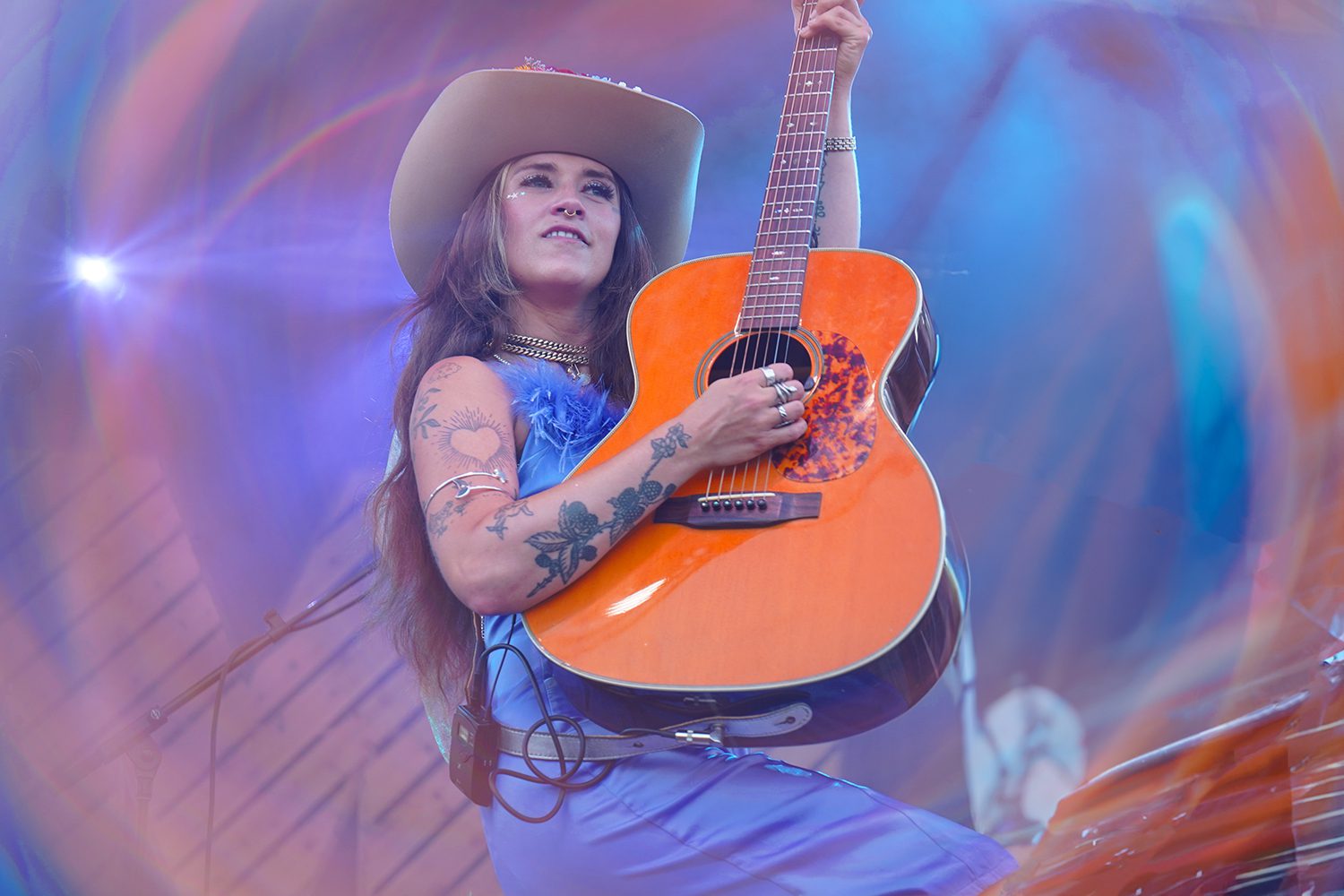 Sierra Ferrell - Nelsonville Music Festival 2023 - Photo by Chad Cochran
How does one begin talking about a perfect musical weekend in a tucked-away corner of southeast Ohio? A weekend highlighted by fair skies, moderate summer temps, and what seemed to be a constant gentle breeze. The evenings were even a tad chilly. That was the backdrop of last weekend's Nelsonville Music Festival.
As reported last year, the fest's new home is on a parcel of farmland just a few miles outside the small town of Nelsonville. The three stages are easy three-minute walks from each other, and ideally spaced so there is no annoying sound overlap. Food vendors are evenly spaced about in one area between two of the stages, as are the artisan and social change vendors but on a different tangent. One vendor that piqued my interest was True Pigments, which sells T-shirts tie-dyed with acid mine drainage while also making folks aware of how coal mine waste pollutes the region's streams. Yes, there is coal mining in Ohio. 
Save for in front of the main stage, there are plenty of shade trees under which folks can spread blankets and otherwise relax in comfort. One stage, Creekside, sits at the bottom of a gently slopping hill, a natural amphitheater in a wooded area with hammocks scattered about. The sets at this stage are filmed by local public broadcasting station WOUB . Called the Sycamore Sessions, they will be available within the next few months.
The ambiance is congenial, room enough for everyone, and there quite a few families in attendance. With gentle wafts of marijuana smoke here and there, enthusiasm abounds without being boisterous. In other words, if you are looking for a place to bring all your rowdy friends, this is not the scene for you.
As with all fests, there is way more music than you can shake a stick at, let alone cover thoroughly, but I'll concentrate on a few themes: three women artists who have paved their own distinctive paths, three newer artists who are about to make some noise, and the band all of us were waiting for, Big Thief.
Lucinda Williams, Margo Price & Sierra Ferrell
Having suffered a stroke not long ago, Lucinda Williams was noticeably less animated during her performance but no less demanding of her band, which featured the twin guitars of Doug Pettibone and Stuart Mathis. While some of her vocal depth had lessened, there was no denying Williams' singular gift of putting herself out there, on the line, channeling defiant spirits. 
Likewise, for years Margo Price played all the bars, dives, honky-tonks, and backyards of Nashville before selling the family car to fund her first solo album, which laid bare what she went through. Before her fiery Barbie-pink badass set Price joined Williams on stage, giving credit where credit was due, which drew a huge cheer from the crowd.
Upon leaving her local band, 600 Lbs. of Sin, West Virginia native Sierra Ferrell hit the road and bummed around the country, performing on street corners and wherever she could for years before ultimately landing in Nashville. 
Many of the folks in the audience I spoke with were excited to finally see Ferrell, and judging by their reaction during the show they came away true believers.
Nick Shoulders, Mama's Broke & Jay Skaggs
With his fourth album coming out in September, Nick Shoulders, with his ghostly croon that's a near yodel, is set to make his mark in Americana/country/roots music. With an eye toward the absurd side of life, not unlike Vic Chesnutt, his tales of growing up in the Ozarks are both insightful and hummable. 
ND's review of Nova Scotia duo Mama's Broke's 2022 album, Narrow Line, hit the nail on the head when it pointed to "[a] mournful fiddle and the duo's weighty harmonies that sometimes sound like they are holding generations' worth of tears."
From central Kentucky, Jay Skaggs takes an understated, if somewhat irreverent and slightly off-kilter look at the world around him. I heard someone refer to him as grunge country, but that's not it by a long mile. It's more like country as it oughta be.
Big Thief
Big Thief played the 2017 fest to somewhat modest fanfare, but six years can make a big difference. Everyone eagerly waited to see this band close this year's fest down Sunday evening. Drawing upon their 2022 release, Dragon New Warm Mountain I Believe in You (ND review), Big Thief offered languid melodies and breathy vocals interspersed with fluctuating rhythms that kept the crowd both on its toes and lost in a dreamland. Yes, they did their new single, "Vampire Empire," and to everyone's utter delight covered "O My Stars" by the fest's guiding spirit, Michael Hurley.  It was an extra special moment for me as it's my fave of his many songs.
Click on any photo below to view the gallery as a full-size slideshow. 
---