THROUGH THE LENS: Jason Ringenberg Says Goodbye to Nashville's Legendary Exit/In
Posted On November 29, 2022
---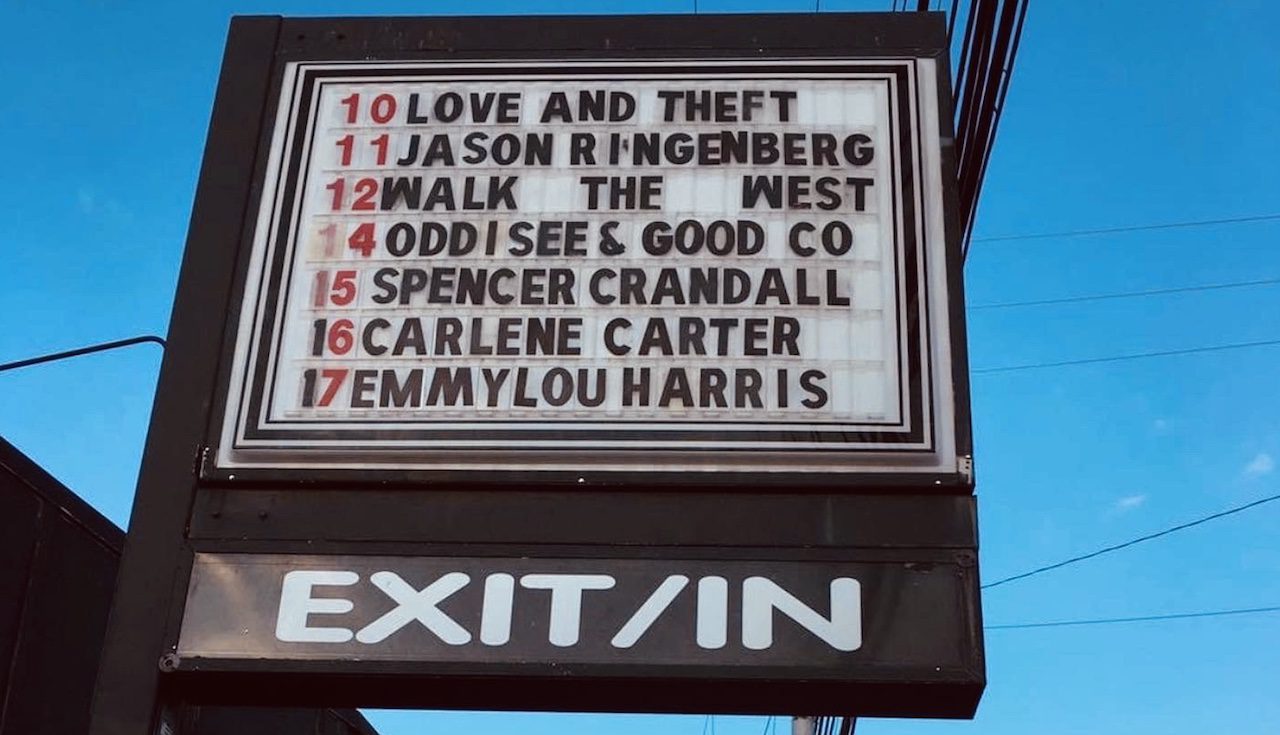 November 2022 Exit/In Marquee - Exit/In 2022 - Photo by Jill Kettles
This week's column is both celebratory and sad, as Nashville's fabled Exit/In music club hosts its last show tomorrow night. By Dec. 1, only memories will remain of a venue that gave rise to legends when they were unknowns and hosted the famous (e.g., Billy Joel, R.E.M., Neil Young) because they just had to play there. We are fortunate to have Jason Ringenberg share with us his thoughts and memories of the venue.
As many of you know, Ringenberg's band, Jason & The Scorchers (originally Jason & The Nashville Scorchers), was influential in turning sleepy, country Nashville into a destination of choice for alt-country. To bid the venue farewell, Ringenberg debuted his new band, Jason Ringenberg & His Barnstormers, at a sold-out farewell show at the Exit/In on Nov. 11. His pals Government Cheese and Kristi Rose & Fats Kaplin were also on the bill. Their fiery sets demonstrated that they — and the club — were not going gentle into that good night.
Located in the heart of the Vanderbilt University area, the Exit/In opened in 1971. It had numerous owners over the years and went dormant a few times, but always managed to claw its way back. Last year, however, despite a benefit aimed at keeping it open, the property that houses the venue was sold to a real estate development fund for a reported $6.45 million.
The new owners, Adventurous Journeys Capital Partners, said in a statement that after making some "improvements," the venue would reopen next year. But even if it does, given what the city's new music venues look and feel like it seems unlikely it will retain the heart and soul of what the Exit/In's walls have heard during the past 51 years. (More about the sale of Exit/In's building and plans for the future can be found in coverage from Nashville Scene.)
Roots music gadfly Jill Kettles and fellow ND columnist Chris Griffy were on hand for Ringenberg's farewell show and share their thoughts and photos (including some from backstage) from the evening. Many thanks to all three for their perspective.
Jason Ringenberg on the Exit/In
When I moved to Nashville in 1981, the Exit/In was already a legend. Playing in the Exit/In was a huge step on any Nashville band's career ladder. Most of the music venues at that time in "Music City USA" were actually rather crummy. The sound systems were tiny, ancient, and rarely worked properly. The door person was normally drunk or dishonest, or both. People came mostly to hear cover songs.
The Exit/In was an entirely different ball game. They had a real sound system with solid production standards. They were honest and cared about the performers. Audiences came there to experience originality and, in fact, expected it. This venue was where the first wave of American singer-songwriters like Guy Clark, Rodney Crowell, and Townes Van Zandt first cut their teeth and found audiences. Cutting-edge rock bands like The Ramones, Cheap Trick, and The Police played there on their way up to stardom. George Jones and Neil Young played there for kicks. So when an emerging artist stepped on that stage, it meant something.
When my band, Jason & The Nashville Scorchers, started making noise in the early '80s, our biggest career step at that time was putting out our first 12-inch EP, Fervor, in 1983. Our manager, Jack Emerson, had the idea to do our record release "concert" (this was the first time we had used the word "concert" for a show of ours) at the Exit/In … if they would book us. Surprisingly, although we had never played in Nashville in a venue bigger than 200 capacity, they jumped at the idea. The show ended up selling out and launched a trajectory that would eventually lead us to a major-label recording contract with Capitol-EMI.
After that, the Exit/In was always a milestone for whatever was happening in our career. We celebrated our first major-label release there. We played there when we broke up, then reunited in 1995. We played there when our drummer Perry Baggs needed help with his medical bills in 2008 and then again for his memorial concert after he passed away in 2012.
These days, Nashville has more venues than you can ever even attend. They have great sound systems, publicity teams, and dressing rooms with lighted mirrors. Many have substantial corporate money behind them. They are world-class, befitting a world-class entertainment city. But none will ever have the soul of the Exit/In. That is one thing that no amount of money or snazzy promotion can buy. It was a true original, giving truly original performing artists a place to shine their art. God Bless the Exit/In and all it stood for all these decades.
Chris Griffy on Ringenberg's Nov. 11 Show
Children of the 1980s Nashville radio market got a thrill on Veteran's Day as the era's two biggest names, Jason Ringenberg and Government Cheese, took the stage at the Exit/In, where both saw most of their greatest moments. The marathon show proved, as Ringenberg said, "I can still rock just has hard as I used to. It just takes longer to recover." 
And rock they did. Ringenberg, flanked by long-time collaborator Fats Kaplin, ran through a 90-minute set that pulled from his solo output, Scorchers material, and even his Farmer Jason persona. Throughout, Ringenberg whirled and danced like a marionette in a hurricane.
From there, Government Cheese took the stage for a two-hour set of high-octane rock and roll. Tommy Womack might today be known for his more sedate Americana output, but on this night he reminded everyone just how good a lead guitarist he is, shredding solos like a heavy metal star while trading vocal duties with Scott Willis and Billy Mack Hill. The sellout crowd, some who came from as far as Colorado, sang along to hits like "Fish Stick Day" and "The Shrubbery's Dead" before Ringenberg joined them at the encore for a rousing take on The Ramones' "I Wanna Be Sedated." What a friggin' way to add even more dynamic memories to those hallowed walls.  
Click on any photo below to view the gallery as a full-size slideshow.
---