THROUGH THE LENS: Idaho's Treefort Music Fest Celebrates Its 10th Anniversary
---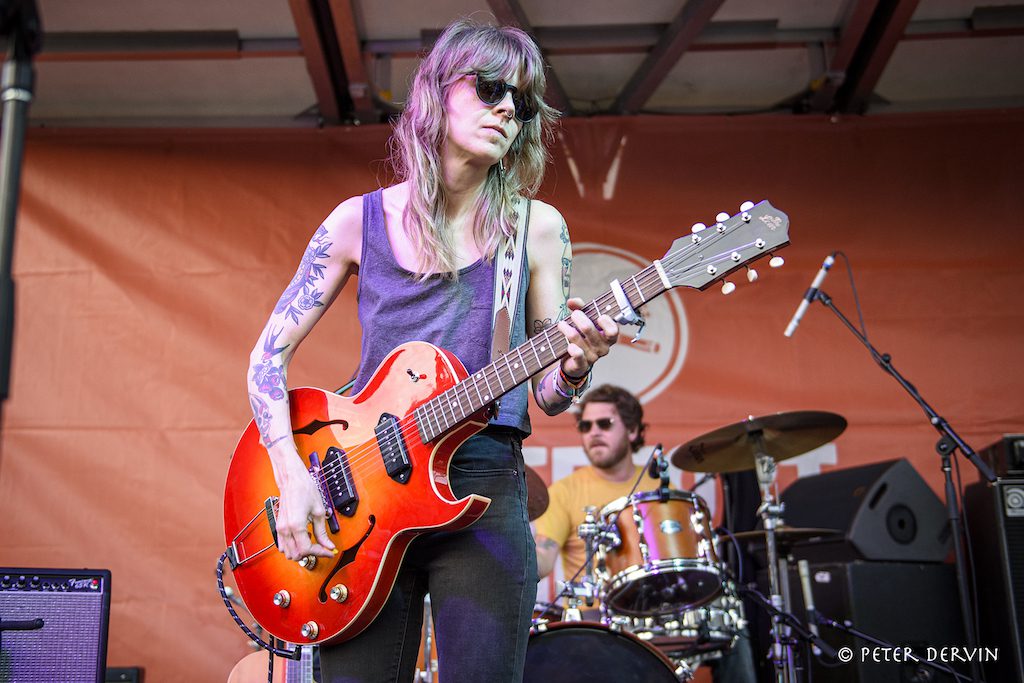 Sarah Shook - Treefort Music Fest 2022 - Photo by Peter Dervin
Held in downtown Boise, Idaho, the five-day Treefort Music Fest returned in style this year to celebrate its tenth anniversary.  Over 400 artists and bands came to perform and hang out in intimate settings, outdoor stages, bars, and theaters. Regular ND contributor Peter Dervin, who's been there for nine of those fests, was on hand last month to report on the action. Included in the photo gallery below are some "informal portraits" of the artists that Peter captured. So be sure to stick around to the very end.
Treefort Music Fest
Treefort is such an amazing community event. With over over 12 hours of music every day, and lots of walking from venue to venue, the fest is a marathon that can really test your endurance. Trying to do everything on my schedule was challenging — and I loved every minute of it. The diversity of music at Treefort is amazing. Every musical genre is presented, and being able to explore so much new talent is exciting. 
Singer-songwriters: This year's fest saw an abundance of singer-songwriters. My first photo shoot of the festival was with Margo Cilker, whose album Pohorylle received glowing reviews, including here at ND. As Cilker and I walked around downtown, we talked about the challenges of getting back out on the road and the impact the cost of inflation. Touring is a break-even reality for independent artists like herself; she echoed many of the trials and tribulations that fellow touring musician Rachel Baiman has written about in her ND column, The Long Haul.
Another artist I was looking forward to seeing once again was Lee Penn Sky, whose album Lean Into the Letter, my favorite roots music record in 2019. Sky presents a unique style of storytelling within the lyrics of his songs that is engaging and heartfelt. I especially wanted to hear Sunny War. Her songs and finger-picking guitar playing, both engaging and intense, did not disappoint. Don't miss her when she comes to your town!
Cutting edge: There was also a lot of "cutting edge" music to catch. Two Seattle bands, Acid Tongue and Smokey Brights, kicked out the jams. I also couldn't miss some favorites, such as WEEED and The Shivas. New bands King Youngblood and Blood Lemon were quite impressive.
Americana: The Americana showcases were exceptional. The Brothers Comatose came out in space gear and dazzled the audience. Darci Carlson, Tylor & The Train Robbers, and Jeff Crosby tore it down at Humpin' Hannah's for a rockin' good time. Sarah Shook & The Disarmers and TK & The Holy Know-Nothings played some awesome tunes at The Hideout stage. Shook also did an intimate solo set at the state's largest indie record store, The Record Exchange, that was pretty cool.
Worldbeat: Worldbeat music was well represented with Ata Kak from Ghana,  and W.I.T.C.H. (We Intend To Cause Havoc) from Zambia, and you couldn't keep me away from the fantastic Norteño sounds of Grupo Impulso from Burley, Idaho.
Jazz and R&B: High Step Society brought their brand of jazz to the Egyptian Theatre, a beautiful venue that recently was restored. Jackie Venson ripped it up with her sizzling electric guitar blues, and Durand Jones & The Indications brought some sweet funky soul to the Main Stage.
Once again, Treefort Music Fest did not disappoint, and along with beautiful weather, it was a wonderful way to kick off spring. I can't wait to return for Treefort 11 in 2023.
Click on any photo below to view the gallery as a full-size slideshow. 
---