THROUGH THE LENS: Celtic Connections – A Celebration in Glasgow, Scotland
Posted On February 12, 2019
---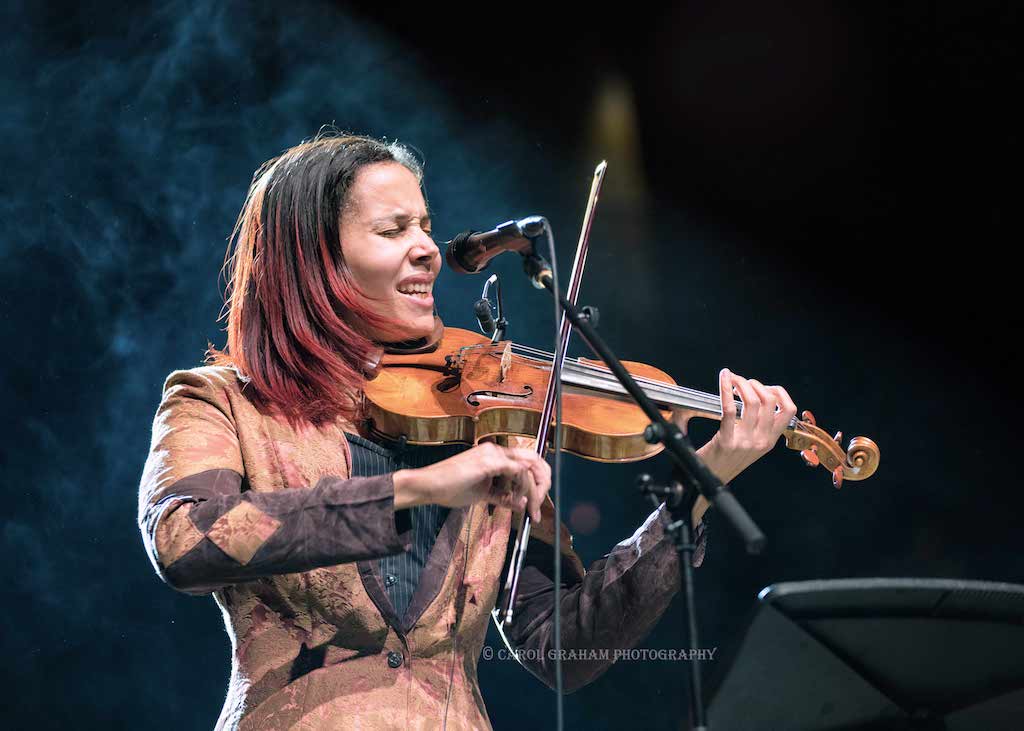 Rhiannon Giddens at Celtic Connections. Photo by Carol Graham
"Some of my best shows have been in this City. Celtic Connections is very special, and I'll keep coming back."
— Rhiannon Giddens
What better way to kick off the new-look Through the Lens column than to feature the words and photos of  Scottish-Americana photographer Carol Graham reporting from what is perhaps the most international of roots music festivals, Celtic Connections. Its music, its artists, its city stands as a testament: What binds us is far stronger than the petty, cynical attempts to divide us. Here's more from Carol:
Another January, another Celtic Connections festival in Glasgow. Once again, in synchrony with the first snowfall of the winter, the UNESCO City of Music turned itself into the go-to destination for roots music — with every available venue playing host to musicians from across the world. More than 20 countries were represented this year, with over 2,000 musicians performing across 18 days and 35 stages in the city.
At the core of Celtic Connections is a celebration of Scotland's intertwined musical history with the US. Many artists speak of family ties with Scotland, and strong transatlantic friendships are palpable through humor and camaraderie. There is a sense of homecoming and reunion throughout the festival, such that the music is so much more than just entertainment. These are turbulent times for both countries politically, with underlying concerns about ease of travel for musicians in the post-Brexit era. However, seeing the hundreds of young musicians taking part in the festival, and the education program that has reached over 11,000 children this year, it is certain that the 26-year-old festival will transcend whatever obstacles come its way.
Rhiannon Giddens
Giddens surpassed even my highest expectations by collaborating with Glasgow's own Celtic Blues Orchestra. Sublime in every way, and receiving countless standing ovations, Giddens' barefoot rendition of the Gaelic "S iomadh rud tha dhìth orm / Ciamar a nì mi 'n dannsa dìreach" was the pinnacle of an outstanding event.
Transatlantic Sessions
This annual event is a household name now and runs over two evenings before going on a wider UK tour. Hosted by Jerry Douglas and Aly Bain, with a "house band" including Phil Cunningham, John McCusker, and festival producer Donald Shaw, this year saw Molly Tuttle, Gretchen Peters, and Tim O'Brien added to the transatlantic collaboration. It was full of humor, energy and outstanding musicianship.
Reviews
A kilted Danny Thompson curated a unique concert to pay tribute to his lifelong friend, the late John Martyn. The "Grace and Danger" event (based on the album of the same name and other well-known Martyn songs) was an uplifting and emotional event, with Thompson recounting memories and stories, and a cast of handpicked musicians — including Eric Bibb, Paul Weller, Eddi Reader, John Smith, and Ross Wilson — providing musical interpretations while being watched over by images of the great man himself.
Curated each year by Roddy Hart, the annual Roaming Roots Revue is always one of the first tickets I buy, and it exemplifies the uniqueness of the festival's musical collaborations. This year, the revue celebrated 50 years since the Beatles' Abbey Road was recorded and artists — including KT Tunstall, The Staves, and Admiral Fallow's Sarah Hayes — covered all tracks from the album together with original material.
Mary Gauthier
Gauthier, just named the 2019 AMA UK International Artist of the Year, performed with Jaimee Harris at the Charles Rennie Mackintosh church. It was another emotional event that showcased the power of Gauthier's lyrics and music against the backdrop of stunning architecture and a beautiful acoustic setting.
Other Highlights
My artist-to-watch for the future, Scottish singer-songwriter Roseanne Reid, gave a preview of her long-awaited debut album Trails at the Mitchell Theatre. A protégé of Steve Earl, Reid's album was produced by Teddy Thompson and is slated for release in April. Judging by her Celtic Connections performance, Reid is a star in the making.
Karine Polwart brought her unmistakable voice and character to songs spanning the archive of Scottish pop music — to hear over 2000 people singing and dancing along to Polwart's reinvention of Deacon Blue's "Dignity" in the party atmosphere of Glasgow's Old Fruitmarket was truly uplifting.
Last, and certainly not least was Caroline Spence in the glorious setting of St-Andrews-in-the-Square; Willie Watson playing in a dark, packed-as-sardines basement venue; the Suitcase Junket (outstanding — and my first vinyl purchase of the festival); Chris Smither showcasing his new album; Andrew Combs' mesmerizing voice; and the energy and passion of Amy Helm's uplifting set. I didn't manage to see UK AMA Award winner Dean Owen's Buffalo Blood collaboration with Neilson Hubbard, Joshua Britt, and Audrey Spillman; Jill Jackson's performance with guest Rab Noakes; or Nashville's Rachel Baiman — but these were also talked-about performances throughout the festival.
Now, experience Carol's photographs. 
---