THROUGH THE LENS: Scotland's Celtic Connections Festival Makes an Enthusiastic Return
Posted On February 15, 2022
---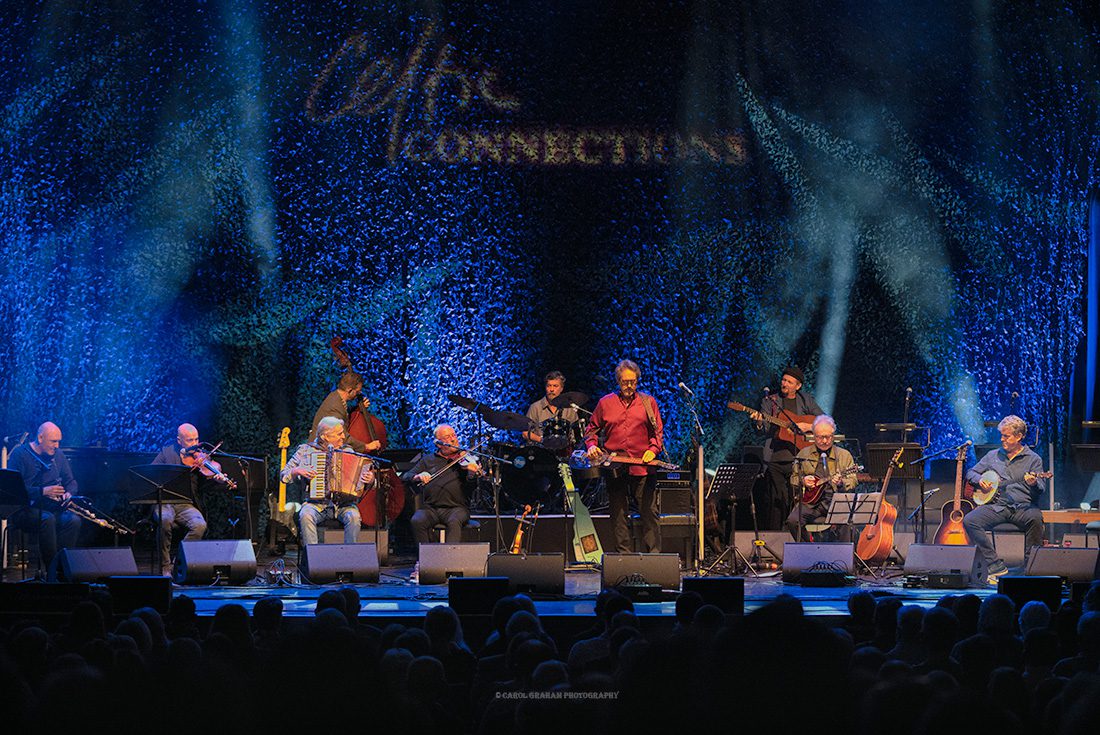 Jerry Douglas' Transatlantic Sessions - Celtic Connections 2022 - Photo by Carol Graham
This column began publishing Carol Graham's report on the Celtic Connections festival in 2016 and has featured it every year since, save for last year, when COVID-19 caused its cancellation. Not only has Carol covered the fest for No Depression five times previously, she's attended it at least 15 times total. Moreover, as it is held in her hometown of Glasgow, there is absolutely no one better to provide us with the details. Here now is her report from the 2022 festival, and her photos in the gallery below.
Celtic Connections 2022 
For 29 years, the Celtic Connections festival has brought energy and light to Scotland's dark winter months. This year, after nearly two years of pandemic, Glasgow was eagerly anticipating three weeks of live roots music, including the return of many international artists. However, Omicron had other plans and, gradually, many of the scheduled artists began canceling, including Sierra Hull, Watchhouse, The Mastersons, and Aoife O'Donovan.
But as COVID restrictions slowly eased in Scotland, Celtic Connections was able to preserve an 18-day festival last month, staging some 60 in-person concerts that featured more than 500 artists, with 23,000 attendees, across 18 venues throughout Glasgow. 
Despite the unfortunate cancellations by many of my favorite artists, roots music was present in full force. The Americana and roots genres are flourishing in Glasgow and that scene becomes stronger every year, in large part due to the commitment of local music promoters and Celtic Music Radio.
In an emotional start to the festival, Scotland's homegrown musicians celebrated the music of the late Nanci Griffith, with a spectacular evening of covers by artists including Dean Owens, James Grant, and Karen Matheson. Owens is steeped in Americana: In 2019 he won the UK Song of the Year Award at the Americana Music Association UK Awards for "Southern Wind" (co-written with Will Kimbrough), and in 2017 he was the first Scottish musician to have an official showcase during AmericanaFest in Nashville. His cover of Townes Van Zandt's "Tecumseh Valley" (included on Griffith's Other Voices, Other Rooms album) was fabulous. Other highlights included singer-songwriter Kirsten Adamson, whose vocals were reminiscent of Dolly Parton as she covered Griffith's "Ford Econoline." Jill Jackson made her Celtic Connections debut this year and included a wonderful cover of "Lone Star State of Mind" with fabulous humor. 
In one of the city's most intimate venues, The Glad Cafe, the Irish Americana duo The Remedy Club brought a wonderful combination of gorgeous vocals and grungy guitar. They played material from their latest Nashville-produced album along with some great covers, from Dylan to Thin Lizzy. In an opening set, Amy Papiransky, finalist for the BBC Young Traditional Musician of the Year, delighted the crowd with her exquisite vocals and lyrics. 
Each year, the Transatlantic Sessions showcase gets better and better. Thankfully, a full suite of musicians captained by Jerry Douglas made it across the Atlantic for two sold-out performances. Perfect in every way, this year's addition of Sarah Jarosz, Leyla McCalla, Siobhan Miller, and Paul Brady joined regulars Aly Bain, Phil Cunningham, John McCusker, Donald Shaw, and Michael McGoldrick. It was a joyous celebration of Scotland's partnership with the US and Ireland. A toe-tapping combination of traditional fiddle and accordion, with dobro, mandolin, guitar, and banjo, Transatlantic Sessions brought its customary lavish all-star extravaganza that concluded the 29th Celtic Connections festival.
To sum up, Celtic Connections 2022 was, as we Scottish/Glaswegians say, "Pure dead brilliant!"
Click on any photo below to view the gallery as a full-size slideshow.
---