THROUGH THE LENS: At Big Ears 2023, All Roads Lead to the Incredible
---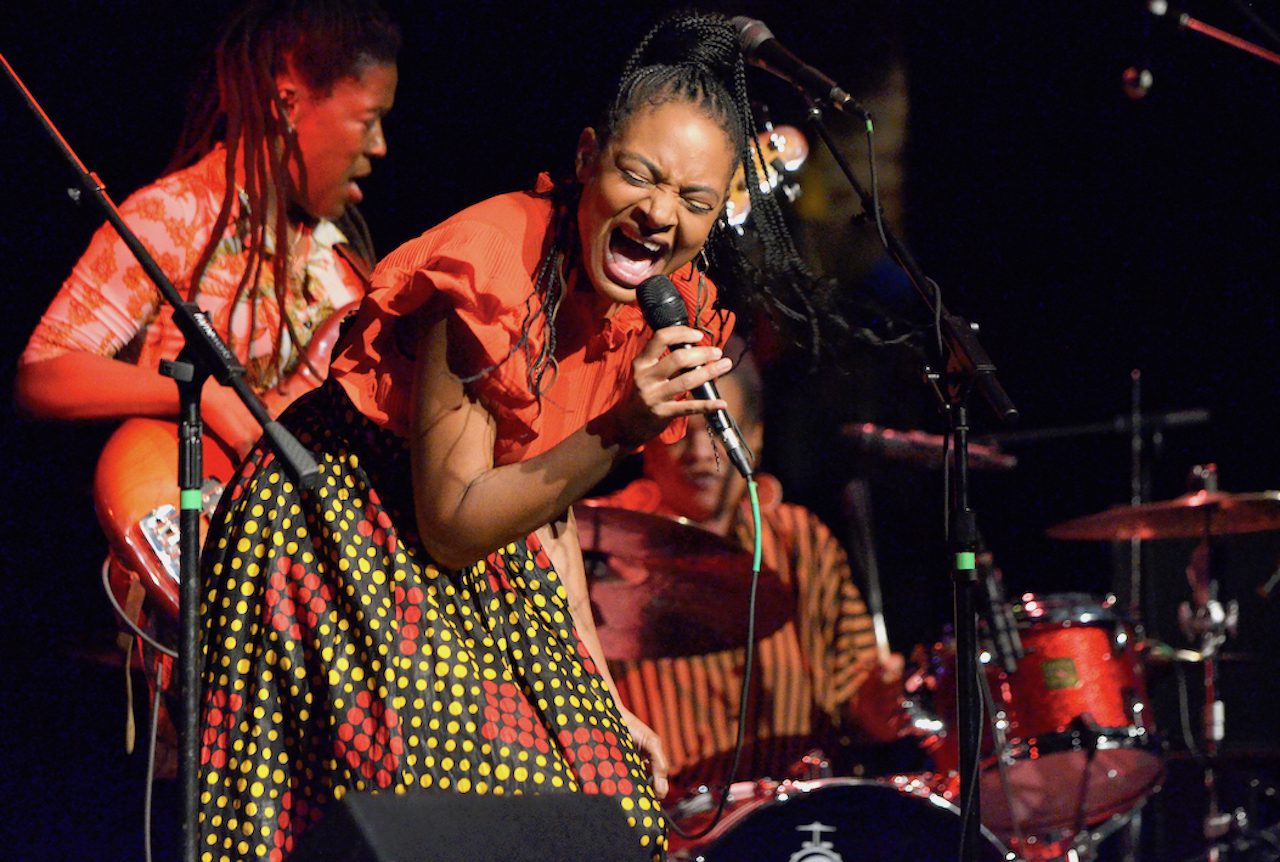 Allison Russell - Big Ears 2023 - Photo by Amos Perrine
For one four-day weekend in the spring, when the dogwoods are blossoming, music lovers from all over the world and of virtually every genre converge on Knoxville, Tennessee, to attend the Big Ears Festival. With a dozen indoor venues that stretch from one end of downtown to the other, none more than a 20 minute walk or a short trolley ride away from each other, it's spring break for adults.
As with last year's fest and last week's preview, I was joined by Kelly Shipe to cover this expansive event. Save for Sierra Ferrell's captivating set there was no overlap, so you'll get two sets of eyes and ears.
Big Ears 2023 by Amos Perrine
The audience at Big Ears is just as diverse as the performers. Among the many new folks I chatted with were the well-known music journalist Geoffrey Himes, Cruz and Molly Contreras with their young baby, and a banjo-playing member of an opera company. These serendipitous encounters enrich the experience.
While I caught a nice selection of sets, there was a symmetry to my fest this year. It began and ended at the Bijou Theatre with with what turned out to be my highlights, Allison Russell and Cécile McLorin Salvant.
Russell set a high-water mark from the beginning. Having seen her numerous times, I thought I knew what to expect. But my expectations were incomplete. Refusing to rest on her many laurels, Russell debuted new songs that swirled with a rhythmically driven force that at times was laced with a soft funk. With a sound that engaged the audience, Russell moved around the stage like a shaman conjuring up the spirits of ancient ancestors.
I spoke with Russell and her husband-producer JT Nero the following day. They affirmed my take and said the performance echoed the the new album due this fall. Nero told me that the first album was to come to terms with the past, but the new one represents a push forward into the future. Not just the music, but with life itself.
My fest ended with Salvant, a jazz vocalist/songwriter/painter I had wanted to see for an extremely long time. Some artists are performers; Salvant, who has toured the world many times over, treats the stage as her personal music salon. She engages with the audience, transforming us from spectators to participants. 
On this night her set, sung in Haitian Creole, French, and English, varied from originals to a murder ballad to a most tender cover of Tim Hardin's "Reason to Believe" to a light-hearted rendition of "The Trolley Song" (from the film Meet Me in St. Louis). I have never seen an audience at Big Ears as beguiled as this one.
Big Ears 2023 by Kelly Shipe
Growing up, I loved the Choose Your Own Adventure books. I would read the same book again and again, altering the destiny of the characters each time. The narrative journey was thrilling, the outcome a mystery. As an adult, I've fallen in love with music festivals, but most, to me, are like a favorite novel that follows the lines of a beloved genre. Big Ears is different: It is an experience of discovery, surprise, and undetermined culmination. To attend Big Ears is to surrender to the mystery, not knowing how the story will unfold as you are presented with limitless paths.
The 10th Big Ears weekend was trumpeted in by dramatic, blow-your-hat-off wind gusts whipping down Gay Street, whistling as if begging to be added to the lineup. I held tight to my blue trucker cap as I surveyed the festival's program, which is as mind blowing as it is eclectic, a perfectly curated web of musical offerings, peppered with spoken-word, visual art, and film, a veritable Land of Oz.
My festival began with the fierce, sweet, soulful voice of Tarriona Ball ("Tank" of Tank and the Bangas), who did a solo set with just a keyboard accompaniment. Before a packed crowd in Jackson Terminal, she reached deep into our hearts with her vulnerability and magnetic spirit. It was as if all of us were collectively leaning in toward her as she did a spoken rendition of one of Tank and the Bangas' best-known songs, "DM Pretty." Later that evening she would bring that same connective intensity to the band's full set at The Mill and Mine. She was a solar flare in electric red fringe, with the crowd chanting "Everything is better outside." I couldn't get enough.
Then there was Bonny Light Horseman, a chapter of pure enchantment. Harmonies poured over me like amber molasses. The voices of Anaïs Mitchell and Eric D. Johnson floated so potently through the symphony hall, it was as if I could reach up and touch the sound. Mesmerizing, passionate, personal.
I landed next at the feet of a country queen in sparkling emerald green, Sierra Ferrell. If this is Oz, I certainly chose well at this crossroad. While Ferrell evokes Loretta, Dolly, and Tammy, what sets her apart from those predecessors is that she is creating something entirely new from that rich country-and-western clay. As Amos told me beforehand, no one is doing what Ferrell is doing. Based on what I saw, she can stand strong alongside that royalty.
My adventure choice was Lucius, which was particularly special. The show was nothing short of amazing, but nearing the set's end Jess Wolfe and Holly Laessig (a cosmically perfect vocal union) disappeared from the stage. Moments later, they emerged in the middle of the standing crowd. Microphones in hands, they were the sun, and we the orbiting planets around them. Singing a lullaby, gentle, quiet, entranced, all of us in a place of peace and intimacy. It was a moment of human connectivity, spellbound by the ethereal voices of Lucius.
There were also happy surprises along the way. I greeted Big Kitty outside the Mast General Store; saw my dear friend, Knoxville local legend and homeless advocate John Bush during a stop for tacos; and bumped into singer-songwriter/poet/playwright R.B. Morris crossing Jackson Avenue.
There are no wrong turns on the Big Ears journey, all roads lead to the incredible.
Click on any photo below to view the gallery as a full-size slideshow.
---