Through the Lens' Artist of the Year: Rhiannon Giddens
Posted On January 2, 2018
---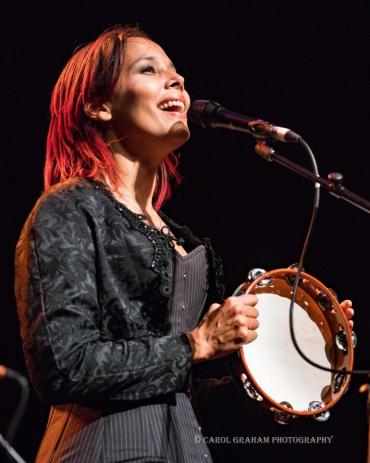 Little did I know some 12-15 years ago, when, as a member of the Carolina Chocolate Drops, Rhiannon Giddens played a house concert in my hometown, that she would today be acclaimed as one of the foremost artists of roots music.
Eloquent and graceful in her manner, with a playful side, Giddens nonetheless has a commanding presence. She released one of the most respected albums of the year, Freedom Highway, and toured in the US and Europe. Her outstanding songwriting and banjo and fiddle playing are only the tip of her artistic iceberg. While her music talents are considerable, what sets Giddens apart from many of her comtemporaries is her willingness to tackle today's difficult issues.
In his IBMA World of Bluegrass review for this column last fall, Todd Gunsher had this to say on Giddens' address to that organization:
"It was a beautiful speech recognizing the Southern African-American music that influenced and later existed alongside the early bluegrass, the key takeaway being that we need to bring diversity back into bluegrass. You can read the full text of her address here; it will be worth your time."
Giddens' address was also picked up and distributed by not only many music publications, but by the national press as well.
But she was not done, not by half. In naming her a 2017 McArthur Fellow, the Foundation said that Giddens was "Enriching our understanding of American music by reclaiming African American contributions to folk and country genres and revealing affinities between a range of musical traditions, from gospel and Celtic to jazz and R&B." (Read more on her grant here.)
In an interview with the Huffington Post, when asked what she intended to do as a MacArthur Fellow, Giddens responded:
"A piece about 1898, which is something that we never learn in school. This is something that happened in North Carolina in Wilmington ― and I'm from North Carolina and I only learned about it as an adult. It was a political coup that happened in Wilmington when a black and white Fusionist party started getting power and the white supremacists basically destroyed it and killed a lot of black people in the process. It's been called a race riot; it was a massacre."
Here's what frequent ND contributor Carol Graham from Scotland told me in a note:
"Giddens is my artist of the year as well. I was fortunate enough to see her three times this year, I loved Freedom Highway, but the tour brought a completely new dimension to her music. Her passion for civil rights, and her faultless knowledge of the history she has carefully researched, made the songs even more impactful. Her stage presence is powerful; without doubt the most accomplished vocalist and musician, but also a wonderful entertainer on stage. She's funny and charming – and barefoot. Her passion and delight are contagious. In both the Nashville and Glasgow auditoriums she silenced the audiences to complete stillness with her stories of injustice, swiftly followed by howls of laughter and clapping. Giddens has blossomed into much more than a wonderfully talented musician and singer – she is delivering a powerful message through her songs, particularly timely during the politics of 2017."
Rhiannon Giddens is not just on the verge of being the artist of her time, she's the artist her time needs.
Now, let's take a look at some of her performance photos your ND photographers have taken during the past few years.
---