THROUGH THE LENS: 2020 in Review – The Best of Everything
Posted On January 12, 2021
---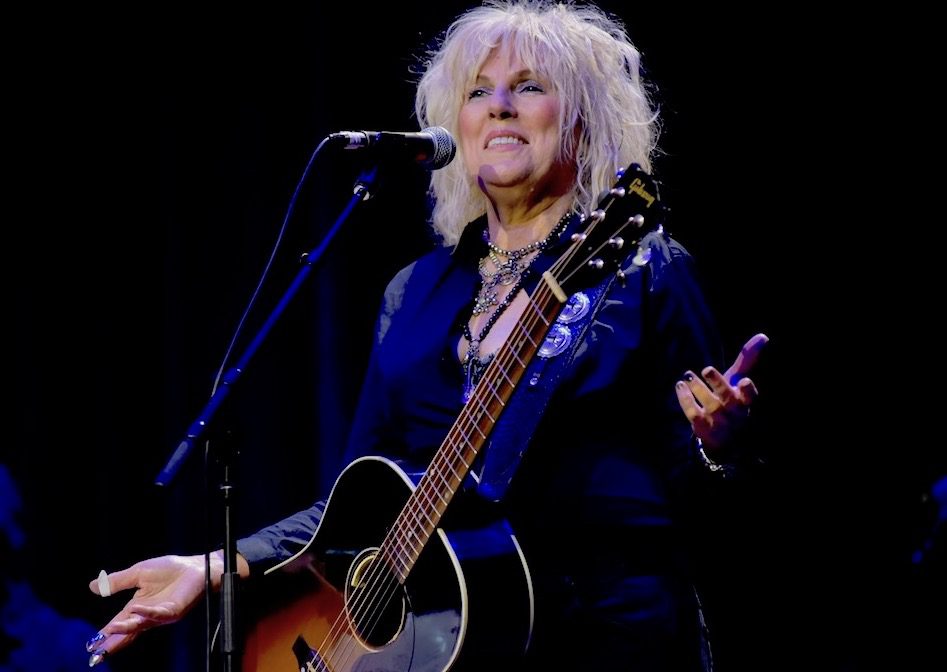 Lucinda Williams - The Ryman 2019 - Photo by Amos Perrine
As COVID-19 put a stranglehold on live performances last year, I stuck pretty much at home and listened even more to recorded music. It's always been a focal point, but this year was a constant reminder of its significant role. Regardless of format, without recorded music we'd have no Robert Johnson, no 1927 Bristol Sessions, no "Rocket 88," and so much more that makes up our roots heritage.
Of course, we are always in the midst of creating our own heritage, one that, once recorded, will outlast us all. Below are my takes on what 2020 added to that heritage, and what helped me retain a semblance of sanity.
THE ESSENTIAL TEN
1. Lucinda Williams – Good Souls Better Angels
Williams has a pronounced throaty ache in her songs that reveals the internal devastation of her characters, whether it's Sylvia's loneliness as a waitress in Beaumont or the metaphysical vulnerability of waiting on someone's back steps. On this album she summons that same considerable skill to directly address the external forces that lately wreaked havoc upon us. It has grown more evocative and necessary every day.
2. Tami Neilson – CHICKABOOM!
On these 11 knockout originals, Neilson displays her delicious Nashville side as well as her "tear up from the floor up" Memphis side. It's the most original, feverishly invigorating album of the year. It's an aptly titled one as well, being a nice play on words: Neilson's hip to your tricks.
3. Bob Dylan – Rough and Rowdy Ways 
Dylan's voice is the key; it's Guatemalan rum, Cuban cigars, and Spanish leather, all rolled into one. The digital is good, the vinyl is great.
4. Elizabeth Cook – Aftermath 
During a 2019 performance, Cook said that her new songs were about heartbreak, addiction, death, and resurrection, all resulting from casting off the chains of expectations. No one does it better.
5. Courtney Marie Andrews – Old Flowers 
As with Joni Mitchell, Andrews takes the personal and makes it universal. This is her, and her generation's, Blue.
6. Will Sexton – Don't Walk the Darkness
Sexton's laidback style has enabled him to successfully blend his Austin roots with those of his new hometown, Memphis. The album is a brew that's as intoxicating as it refreshing, one that keeps getting richer upon repeated listenings.
7. Gillian Welch & David Rawlings – All the Good Times 
You feel as though you are in their living room as Welch and Rawlings record these ten covers on an analog reel-to-reel recorder. It also marks the first time both their names are on an album marquee. 
8. Gretchen Peters – The Night You Wrote That Song: The Songs of Mickey Newbury 
Only a noted singer-songwriter such as Peters would attempt the daunting task of doing the Newbury songbook. Her arrangements and vocals deliver the emotional impact of his songs without dipping into sentimentality.
9. Whitney Rose – We Still Go to Rodeos
Rose loosens the reins, ramps it up, and pushes the boundaries of her countrypolitan sound while retaining the vocalization style of the queens of country music that's at the heart of her music. The result is disquieting one moment, consoling the next.
10. Kris Delmhorst – Long Day in the Milky Way 
The album's a cinematic dream, its songs soft, billowy, and enigmatic, best savored on a firefly-filled summer evening as darkness creeps in or peering into the flames of a log fire on a snow-bound winter afternoon.
ONLINE EVENT
Lucinda Williams – Lu's Jukebox 
Williams outdid herself in recording 76 songs (all but three were covers) over 15 days live in the studio. Each of the pre-recorded performances had a theme and were streamed as part of a series of six episodes during November and December. It was a magnificent, unprecedented achievement, both in terms of the depth of Williams' affinity for the music and the quality of her renditions. Audio downloads were available just days after the episodes aired, and will soon be available on CD and LP. The Nov. 17 Through the Lens column provided an in-depth look at the series.
LIVE ALBUM
Ruthie Foster Big Band – Live at the Paramount
Foster is in full command of not just an 18-piece band, but also a wide range of vocal styles, from New Orleans gospel to Ella Fitzgerald's swinging jazz. Her voice, so expressive, so smooth, permits the lyrics to linger and become even more meaningful in this fine collection of of originals and covers.
EP
Molly Parden – Rosemary 
This gem's crystalline beauty is like a water spider gliding over the water's surface, never stopping long enough to sink. "Kitchen Table" is one of the finest songs of the year.
TRADITIONAL ALBUM
Jake Blount – Spider Tales
There are ancient rivers running through Blount's music, fed by new streams.
JAZZ ALBUM
Bill Frisell – Valentine 
Beginning with 1997's Nashville, Frisell has molded jazz and roots into a subgenre all its own. This time he brought his touring trio of the past two years into the studio, and the result is unparalleled lyricism.
COUNTRY ALBUM
Mandy Barnett – A Nashville Songbook 
Barnett caresses song lyrics like a lover, bringing their subtexts to the surface, worthy of the finest cabaret singers. She is remaking the Great American Songbook in Nashville's image, and hers.
BLUES ALBUM
Rory Block – Prove It On Me
On her 35th album, the second in her Power Women of the Blues series, Block brings great tunes by obscure artists to a wider audience, showing not only the depth of the blues but the significant role women have played as well.
INSTRUMENTAL ALBUM
Hawktail – Formations 
Gustav Mahler said, "Tradition is not the worship of ashes, but the preservation of fire." Hawktail's sophomore album takes that fire in many directions at once.
BLUEGRASS

ALBUM
The Barefoot Movement – Rise & Fly 
Live, I've heard them take tunes from Jimi Hendrix to the Beach Boys and make them seem part of the tradition. Here, they stay knee-deep in the new wave of bluegrass. 
PANDEMIC HOME RECORDING
Jody Carroll – Old Dogs; Lost in Time; Promise Land
At his family's home in Yamhill County, Oregon, with the aid of a Spire multitrack system, Carroll was able to play and record all the instruments, even background vocals, on this triune of albums grouped together as loose metaphors, respectively, for the past, present, and future. His textured blues mixed with folk and Americana is dark and haunting. 
ARCHIVE RELEASE
Gillian Welch – Boots No. 2, The Lost Songs
Recorded between Time (The Revelator) and Soul Journey, these 48 songs are more than intimate glimpses at the artist's sketchbook or the creative process, they should have been released years ago. "Strange Isabella" is their "Blind Willie McTell."
TRIBUTE

ALBUM
Various Artists – The John Hartford Fiddle Tune Project, Volume 1 
There's an entire side of the bluegrass universe that owes its existence to John Hartford. During his final years he turned his attention to the fiddle. After his passing, over 2,000 original, hand-written fiddle tune charts were discovered. On this 17-track album, Sierra Hull, Alison Brown, Brittany Haas, Tim O'Brien, Kristin Andreassen, and others pay tribute.
RETROSPECTIVE
Grayson Capps – South Front Street: A Retrospective 1997-2019
The album, compiled by his wife Trina Shoemaker, spans Capps' career to date. In the liner notes she writes, "It is a collection of songs that paint a picture of our life together and reveals a world from the uniquely enchanted, poetic and tormented perspective of Grayson Capps." 
BOOK
Brian Allison, Elizabeth Elkins, Vanessa Olivarez – Hidden History of Music Row 
Nashville's Music Row is as complicated as the myths that surround it. From the early Quonset hut recordings to record labels in glass highrise towers, the authors dig into the dreamers and the doers, the architects and the madmen, the ghosts and the hit-makers that made Music City's avenues and alleys world-famous.
Now, the photos. 
---