The Rise of Jason Isbell and The Fate of Country Music
---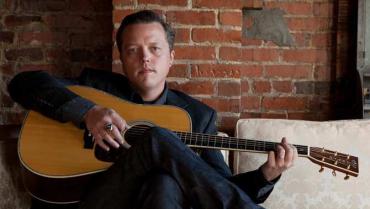 By 2012, Country Music had fully transformed from the gold-spun ballads of everyday tragedy into assembly-line pop, retrofitted with patriotic bromides and blue-collar pandering. Reigning jester of this unabashed profiteering, Dierks Bentley, penned the ultimate anthem of reductive garbage "Home" — regurgitation from a focus group, with all the hoary allure of a seersucker suit. Yet, like the Ford F150 it once proselytized, the song's melody had an unexpected weight, which kept the chorus from fish-tailing in its own lyrical manure.
Why? Because Bentley & CO. straight stole that shit from "In A Razor Town" — a stripped down, hauntingly beautiful track from Jason Isbell american music debut album Sirens of the Ditch. Featuring a sleek arrangement of vocals, bass, acoustic and steel guitars— it is a stark cry from the over-produced fair of Bentley's "Home", whose lack of oxygen makes you brace for an overdub listing sales prices for Home Depot. None of it escaped Isbell's attention, who took it up via his Twitter account, igniting a feud between him and Bentley — decidedly clinched by Isbell's closing salvo: "Eat a bag of Dierks."
For those whom have been following Isbell since his entry to Drive-By Truckers, it was a fitting introduction to the masses. Charismatic and brash — the brief exchange carried the name-brand swagger of the virtuoso. A crash course in the rugged grace which was a perfect amalgam to DBT's roaring angst — producing album defining tracks: "Outfit", "Decoration Day", "Danko/Manuel", "Never Gonna Change", and "Goddamn Lonely Love", along with a third guitar capable of luscious harmonies or bone-chilling attacks. For the Cognoscenti, we knew his affable demeanor belied a jagged edge; so we enjoyed the schadenfreude of watching Bentley bumble through failed rejoinders.
Nonetheless, it started to become evident that Isbell was growing restless — frustration with limitations is what facilitated his growth in the Truckers and his solo career, but this seemed different. It wasn't long till the tea-leaves read of approaching trouble. If you were indoctrinated into the mythology of Isbell, alcohol was suspect as a lubricant, if not the fuel for his discontent. Still, we ogled with the fetishistic voyeurism enabled by our obsession with demise. I have been a devoted fan of Isbell since 2005. I prayed for the man's health — and still devoured his online drama like novelty-sized Milk Duds.
Although enduring a battle with alcoholism, each album he produced bested the previous. An ascension of triumphs leading to the heart-achingly beautiful Here We Rest. Isbell's ability to incorporate the uncharted with deft familiarity is the genetic marker of genius. Too many who possess artistic brilliance in their genome remain on the periphery of fame. I remember the roiling excitement as I screamed for my wife when I happened across Sons Of Anarchy using the electric anthem "Go It Alone"; a sweeping rock ballad anchored by the succor of a hook-heavy chorus. Anarchy's use of the song was not only significant fo Isbell, it was the acceptance of quality music into the milieu of Television. Soon, Jason Isbell Jason Isbell american music live performances bore witness to this success,. New converts were less DBT holdouts and more bonafide Jason Isbell American music fans. Finally, it seemed his course was not destined for a collision with tragedy.
Then, unceremoniously, he came to falter. Americans have become devout followers of spectacle, baptized in the brackish waters of TMZ. I, no exception to this, feasted on the sensationalism with all the self-loathing indulgence of an opium den or Sizzler's buffet. Humanity loves to gorge itself on the plummet of brilliance . Selfishly, we hoard our heroes like deranged magpies — driven by deviant impulses that crave fallen luminaries to strengthen our delusion of personal satisfaction.
Ashes may be key to an indelible rise. To inhabit and broadcast the entire emotinal spectrum—careening from its heights to plumb the depths while noticing everything in between—is a journey that too many artists set out on but never return. Isbell's redemptive Southeastern works from that entire palette, painting portraits with captivating narratives ensconced in verdant melody. His rise, fall, and rise-again has imbued those  siren melodies with his poignancy of word, inescapable to all who listen. "Cover Me Up" is a startling maturation, featuring peak-and-valley sonic landscapes that artists typically don't find till late in their career. A depiction of excess and redemption, the expertise in its crafting satisfies all requisites for a lasting American ballad — eliciting personal connections and individual interpretations that differ with each listener. In two years Isbell went from an artist I would list to demonstrate the depth of my musical taste — to a Balladeer with songs so powerful, I dare not mention the personal thoughts and memories his music evokes within me.
Something More Than Free eschews many Alt-Country aesthetics for conventional Country Music structures, while managing to evolve lyrically to a plane of simple brilliance. As with most who have mastered their art — it builds complexities with deceptive ease — pleasing neophytes and lifelong devotees with an inviting base and intricate flourishes. "24 Frames" has the foundation and familiar moldings of Springsteen, yet sleek and modern, stripped of the garish festooning that spills out of every E-Street recording. This album bathes freely in traditional Country instrumentation and vocal harmonies in "Hudson Commodore" and the titular "Something More Than Free". In this trek to roots, many have followed along who would usually be wary of such brazen and out-front traditional Country & Western shuffles. With intrigue and talent, Isbell accomplished what the Nashville song-writing industrial complex failed to engineer by making Country Music dumber than shit — crossover appeal and a fanbase that generates revenue.
In this album both tame and daring, the sword of Damocles no longer swings over Jason Isbell american music, nor do we need his demise as an accessory. Isbell's resurrection elevated his music, creating the foundation of legacy and legend. Traditional Country celebrated performers as cultural touchstones and generational ombudsmen. Modern Country has espoused a business model of obsolesence and turnover. Their demographic pandering has made the genre bereft of substance and quality—diluting genuine artistry in a deluge of cloying sycophants. These acolytes of fame, not music, share no common ancestry with Jennings, Haggard, Coe, Strait, or even Nelson. Music industry muckety-mucks lack the ability and desire to disentangle ambition from talent. Content to churn out pitch-corrected opportunists, they did nothing as the bottom fell out. To turn a profit you need a following–requiring the drive, purpose, and talent that are fundamental to artistic identity .
The industry is at a nadir, perhaps the end. Isbell, on the other hand, has an unwritten future margined with promise.
Comfortable in an expanding definition, Isbell fans look forward to new releases with the same zeal carried for previous recordings. Isbell may go stratospheric, or he may stay darling to a loyal fanbase . And though his feud with Dierks Bentley may be history — Isbell's "Speed Trap Town", off his latest album, not only captures but eclipses the stark beauty of the song stolen from his freshman release. With Isbell's career receiving ample and due attention— Dierks Bentley (formerly Snidley Whiplash) will need to skulk elsewhere to poach choruses for his Denny's Grand Slam jingles..
— Jefe has a mild-mannered job by day that isn't down with him talking about certain subjects.
---
Jason Isbell is on tour! Check out to see if he's playing in your town!
---