THE READING ROOM: Picture Books for Pint-Sized Country Music Fans
---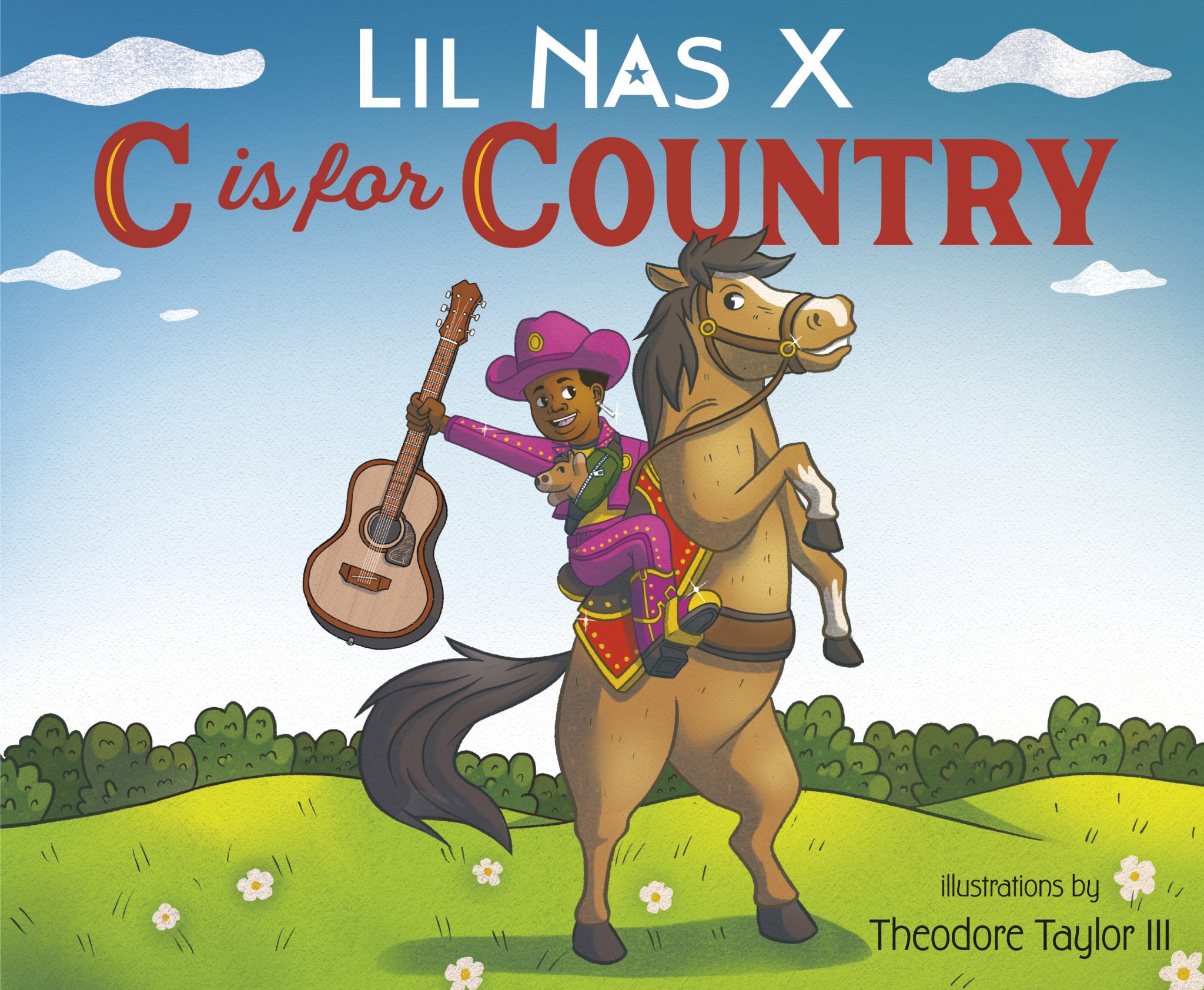 The late, great Shel Silverstein left us with wry, tongue-in-cheek nods to the vagaries of life in songs such as "A Boy Named Sue," "One's on the Way," "Big Four Poster Bed," "Marie Leveau," and "The Cover of the Rolling Stone." Yet, Silverstein might be best remembered, and most widely known, for his children's books The Giving Tree and Where the Sidewalk Ends. The former, now almost 60 years old, has sold over 10 million copies and remains a cherished tale, at least on one level, of unconditional love.
Silverstein is not the only artist, of course, who turned from song to children's books and back again. These days at least two country artists have tried their hands at reaching a new audience by writing children's books.
In January, Lil Nas X published C is for Country, illustrated by Theodore Taylor III, an abecedary that teaches children the alphabet through sing-song rhymes as they follow a pink rhinestone-clad little cowboy around a farm. As he moves from one place to another, he moves from letter to letter, journeying down the "Old Town Road" (a reference to Lil Nas X's country hit). On every page, the little cowboy points out things that start with the letter and make him happy or that he wants readers to reflect on (or that parents reading the book to their children can help their children experience). So, "A is for adventure. Every day is a brand new start. B is for boots — whether they're big or small, short or tall. C is for country. D is for dirt. Mama says it's good to get down and play in the mud. E is for everybody! Because we can all share the shine." Like Silverstein's books, Lil Nas X's book encourages children to embrace life, to be free to be themselves and not some version of what others want them to be, and to explore the world around them to discover and revel in the diversity they see.
Just in time for Father's Day this year, singer-songwriter Brent Cobb released his first children's book, Little Stuff, illustrated by Delaney Royer, on his Ol' Buddy Publishing imprint. Based on the final song on Cobb's 2020 album Keep 'Em on They Toes, the book tells the story of a father guiding his children on a journey through life, teaching them in various moments that what matters in life is the little stuff. Each page features a line from the song as well as a scene in which the father and his children are walking through the woods or fishing or gazing at the stars or sitting in a meadow reading a book. Early in the book, the father and his two children go fishing, and the father says: "The important stuff isn't about what's farthest away. It's about what we hold closest each and every day."
When Cobb sat down to work on the book, he told me in a recent interview, he originally "wanted just to use the lyrics, but then as I re-wrote the lyrics for the book, I started to tell a story to go with them." Cobb says he's been writing stories and songs since he was a teenager. He credits two of his high school English teachers — Patti Wertz and Joanna Arnold — for inspiring him and encouraging him to keep writing. The difference, he says, between writing songs and books is that "songs, for me, come out of the sky; writing the book was more of a learning curve."
Silverstein's The Giving Tree was a huge influence on Cobb. "It's the first book that ever made my daughter cry," he recalls. "I've always been attracted to the songs that Waylon sang for his children, and I loved Schoolhouse Rock as a kid," says Cobb, reflecting on other inspirations for his writing his first children's book.
"Each album I've made since Shine On Rainy Day in 2016 — which I made just after my daughter was born — has been written with my kids in mind," he reflects. "I've always wanted to make sure they knew where daddy's heart was in the event something happened and I wasn't around anymore. I wanted to leave something behind for them to remember me."
Cobb says he's hoping to write more books, including a book of short stories. "I'm learning," he says, "and I suppose I'll keep getting better at writing these books."
Meanwhile, Akashic Books launched a series of children's books last year called LyricPop. The books feature song lyrics by renowned songwriters as illustrated picture books. Titles from 2020 include Respect: A Children's Picture Book, with song lyrics by Otis Redding, and These Boots Are Made for Walkin': A Children's Picture Book with song lyrics by Lee Hazlewood. Both are illustrated by Rachel Moss. This year, Lori McKenna's "Humble and Kind" gets the LyricPop treatment in Humble and Kind: A Children's Picture Book, with illustrations by Katherine Blackmore, and Otis Redding and Steve Cropper's classic is featured in (Sittin' on) The Dock of the Bay: A Children's Picture Book, with  illustrations by Kaitlyn Shea O'Connor.
All of these entertaining books introduce children to the energy and power of a story well told and its ability to capture the imagination, helping us see ourselves more clearly as we are and as we aspire to be.
---