ELECTRIFY MY SOUL: 'Old Town Road' and the Problem of Genre
---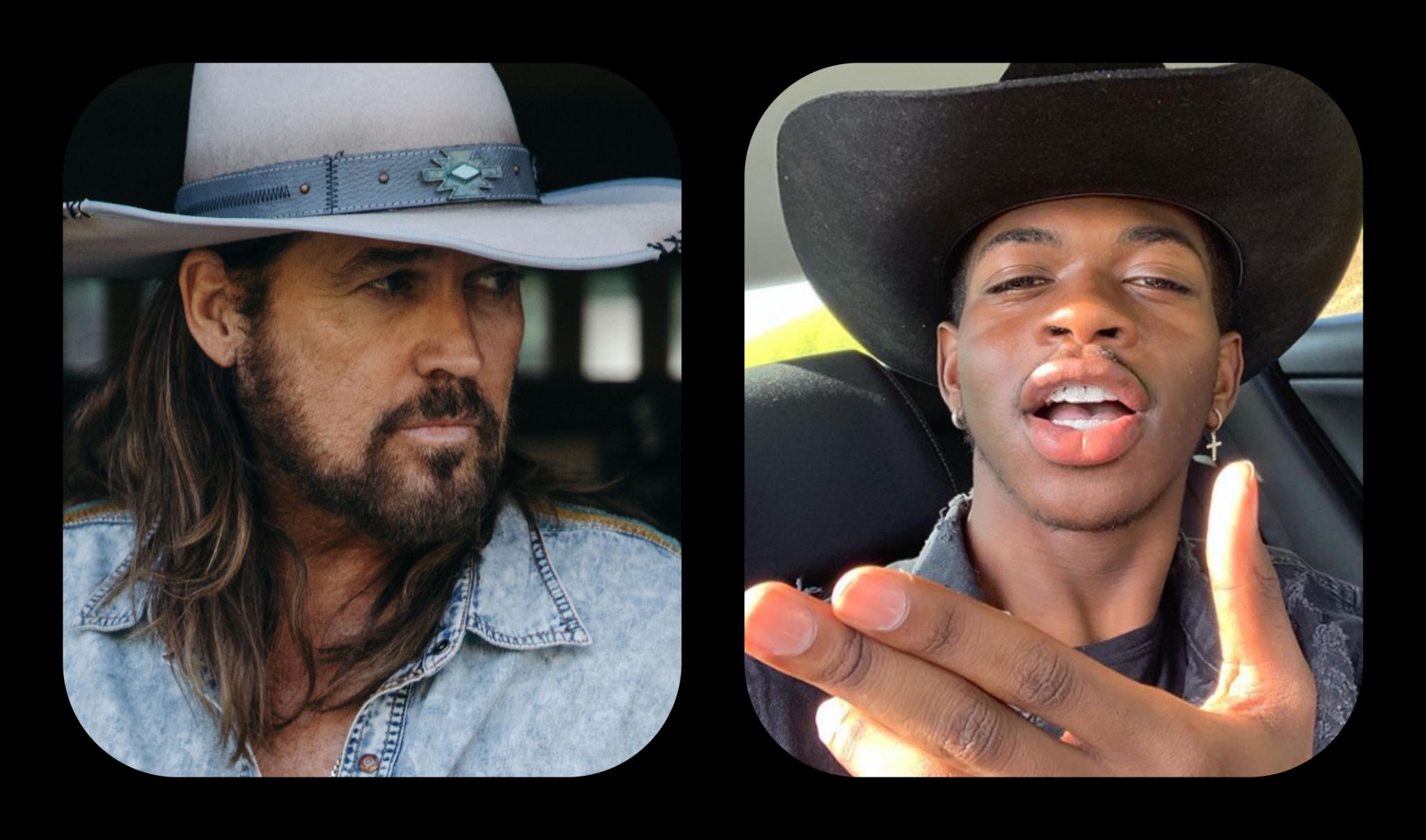 A couple of weeks ago during a long ride in the tour van, my bandmate Mali looked up from her phone to ask the van at large if we'd heard of a song called "Old Town Road" by Lil Nas X. I excitedly replied "Yes, I am obsessed." Unbeknownst to each other, we'd both spent the last couple of days becoming ever more fascinated with this song. We immediately put it on the van speakers for our bandmates to hear, and we ended up listening three or four times in a row. The song clocks in at just under two minutes, so it makes for good repeat listening. Then we put on the remix featuring Billy Ray Cyrus.
The song opens with a few chords plucked on an instrument that may or may not be a banjo. Then Lil Nas X's voice (replaced by Billy Ray Cyrus' voice in the remix) appears, singing the chorus: "I'm gonna take my horse to the old town road / I'm gonna ride 'til I can't no more." Then the trap beat comes in, Lil Nas X's voice drops an octave, and he begins half-singing, half-rapping, with a bit of a country twang. (Trap is a subgenre of rap music characterized by a synth drum beat comprised of rapid hi-hat patterns over a deep half-time kick and snare.) The production is lo-fi, but it's maybe one of the catchiest songs I've ever heard.
Here's quick recap of the history of "Old Town Road": In December 2018, Lil Nas X, who was virtually unknown at the time, uploaded the track to SoundCloud and YouTube. Soon, it went viral. By early April, the song had topped the Billboard Hot 100 chart and gotten close to the top of both the Billboard R&B/Hip-Hop chart and the Billboard Hot Country chart. If you haven't heard about "Old Town Road," that's probably because it made its way to the mainstream via meme culture and the video-sharing app TikTok, overwhelmingly the domain of teens and college kids. (I only know enough about TikTok to know that I would have to Google "what is TikTok" in order to write this article.) The song went so viral so quickly that radio stations had to rip the song off YouTube in order to fulfill listeners' requests to hear it.
If you, like me, sit squarely in the middle of the Venn diagram of "people who know and like country music" and "people who know and like internet culture," you will understand why "Old Town Road" was pretty much destined go viral. "The culture" has been having a bit of a cowboy moment lately – Mason Ramsey went viral singing Hank Williams in a Walmart, the introduction of the smiley-face-with-cowboy-hat emoji led to popular new memes and joke formats on Twitter, and pop stars and rap stars alike embraced country aesthetics. Lil Nas X (who just turned 20) has said that he deliberately nodded to meme culture with the lyrics to "Old Town Road."
The lyrics are designed to invoke a joking parody of cowboy aesthetics, delivered with the brand-name swagger that we've come to associate with both rap and modern pop country: highlights include "Cowboy hat from Gucci / Wrangler on my booty" and "Ridin' on a horse / You can whip your Porsche / I been in the valley / You ain't been up off that porch." Get it?! It's fun because of the seemingly incongruous juxtaposition of parodied rap and cowboy aesthetics! For what it's worth, Justin Hiltner at The Bluegrass Situation aptly pointed out that humorous songs referencing cultural jokes have always been a staple of country music.
Anyway, the week that "Old Town Road" would have hit No.1 on the Billboard Hot Country chart, it was removed for failing to "embrace enough elements of today's country music to chart in its current version." This then launched a controversy over what exactly those "elements" are, and how many of them have to do with the race of the artist. Around the same time, the Billy Ray Cyrus remix came out, blurring the line further. (See also: the Keith Urban cover.)
I'll get this out of the way right now: I don't care whether you think "Old Town Road" is a country song or not. To me, that isn't the important question to ask about this song, and it's not what makes the song interesting. The roots music world has a tiresome habit of judging music's value based on how well it fits into decades-old categories of genre. Most of the contemporary music that interests me is music that consciously rejects those limitations. For the record, Lil Nas X says "The song is country trap. It's not one, it's not the other."
On top of that, country music and rap music both originated as an expression of the lives and values of struggling people, even if much of today's country and rap is more about posturing. To me, there's something subtly radical in the country aesthetic being reclaimed by young people, particularly people of color, because that is a more accurate reflection of the history of cowboys and the deepest origins of country music. This song, and the surrounding "yeehaw agenda," is indirectly calling attention to the whitewashed history of cowboys: one in four cowboys in the West were black. It's also a rebuke of the music industry's long-documented divisions of the working class along racial lines. They did it in the early 20th century when record companies categorized rural roots music recordings as "race music" or "hillbilly music," and they did it in 2016 when the Grammys refused to consider Beyoncé's country/R&B hit "Daddy Lessons" in the country category. Think of how music made by people of color is usually coded as "urban" while roots music made by white people is often coded as "rural," and think about how that is a gross oversimplification of reality. The "incongruous juxtaposition" I referred to earlier isn't actually all that incongruous at all.
Now listen to the Billy Ray Cyrus remix of "Old Town Road." It starts with Billy Ray Cyrus singing the song's chorus in what we might think of as a typical white-guy country voice. Then Lil Nas X sings the verse in a style that leans far more toward rap. Then, later on, they switch – Billy Ray Cyrus takes a verse and Lil Nas X takes a chorus. How do the vocals recontextualize the backing track? How much does the perceived race of the vocalist influence our perceptions of the song's genre? When Cyrus is singing, how different does the song really sound from a Florida Georgia Line song? What genre would you call this collaboration between Florida Georgia Line and rapper Nelly?
Lil Nas X also cites Young Thug, arguably the inventor of country-trap, as an influence — check out this song, with its acoustic guitar and tambourine-filled backing track and country-inspired music video.
At this point, you might be saying, "But all of this music is bad! Florida Georgia Line isn't real country either! Hank Williams — now that's real country." And sure, part of me agrees with you. But the average person blasting country radio in their car probably doesn't agree with you. They play Florida Georgia Line on mainstream country radio, and they don't play Hank Williams. So who gets to decide what country music is? If it's a popular vote, aren't we purists losing that vote? And why does that really matter, as long as there are still people listening to Hank Williams? I don't care to talk about whether any of this music (or any music ever, really) is "good." That is not the point. Taste is subjective, and a lot more people like Florida Georgia Line and Lil Nas X than like my band, so why not think critically about what they're doing, even if it's not to my taste?
If I have a point here, I suppose it's that I am sick of music genres. "What kind of music is this" feels, to me, like such a useless question. I especially dislike when genre labels facilitate value judgments about music, especially since many of the genre divisions that we now take for granted have origins that are as much or more about race as the actual sound of the music. (They're racist, one could say.) And I think it's notable that a two-minute rap song made by a meme-savvy kid with a SoundCloud account sent me down this rabbit hole. And I'm not the only one — I am not even the first person to write about "Old Town Road" in this publication! In internet time, the "Old Town Road" moment has maybe already passed and I wrote this article too late. But for those of you who didn't hear about it, even if the song's appeal doesn't quite make sense to you, I hope it will elicit some examination of our society's long-held biases and how they operate in the music world. And then I hope you'll listen to "Old Town Road" a couple more times.
---