The Band's With Me: Tour 1964-1975
Posted On December 18, 2018
---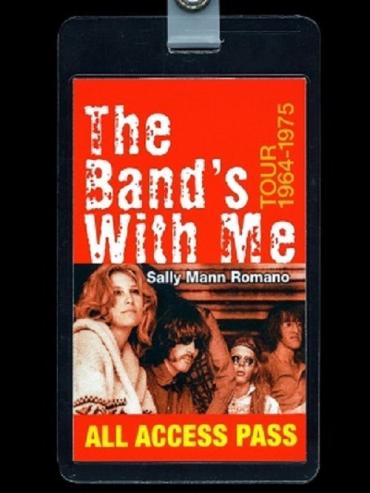 In the interests of transparency, I have to admit that I've known Sally Mann Romano, off and on, for a very long time. We first brushed wings (or shoulders or possibly leather trousers) in the insane world of rock and roll nearly half a century ago.
We were not always close friends – different priorities, mine being chiefly to stay as invisible as possible. I have many memories of which Sally is a major component: shows, events, softball games in Marin County, with the local rockers' kids running around the field, and Bob Weir's then-sweetie, Frankie, sleek and elegant, pitching for the Grateful Dead. I remember Sally wandering in to the band room at a Hot Tuna show in San Francisco sometime during the seventies, in a schoolgirl skirt, ankle socks and a pair of classic saddle shoes. She rocked that outfit so hard that I yearned for a pair of saddle shoes for decades afterwards.
That's Sally's thing: she owns her life, her past, her body, and her history. And owning one's own history, the ability to say "that's right, this was my life and the way I lived it, deal with it or use the door", is not always easy. So it's no surprise that, when it came to writing her memoirs, Sally not only owns her history, she wears it like a tiara.
The Band's With Me is an astonishing read. She sent me an e-draft some months back, and not having heard back from me, poked me to see if I'd got it. Oh, I'd got it, all right. The exchange went thusly:
Me: You had Frank Zappa? And you didn't KEEP HIM?
Sally: I know, right?!
This was not always an easy book for me to read; I have too many roads that crossed and created backroads during many of those same years. Unlike Sally, I walked away from a lot of what I loved, and stayed away for thirty years. We knew many of the same people she talks about, hung with, lived with, fought with, and cried over: Spencer Dryden, Paul Kantner, Jerry Garcia, Jorma, Jack, Marmaduke, Dave Torbert, and course my own personal long strange trip, Nicky Hopkins, who provided the astounding piano work on the Jefferson Airplane's Volunteers, which may have been the best album of the 1960s. I have yet to make my own kind of peace with my memories, or see many of Sally and my common denominators the way they were, through the eyes of who I am now, as well as who I was then.
Reading it was not a choice, though, because not reading stopped being an option when I realised I'd been alternately giggling like a loon, nodding and saying "yep!", holding my breath because I could tell she was about to make a really bonkers decision (a boa constrictor named National Velvet), or muttering "WTF SALLY NO YOU DID NOT DO THAT OMG YES YOU DID" under my breath. The Band's With Me is compulsively readable. You either do it in small bites, because it takes you back to your own memories of that time and those people, or else you binge-read. Those are your only two choices. I did both.
Sally's voice is everywhere. Long florid ornamented paragraph-long sentences, that would leave me snarling at any other author I have ever edited, work here. They work because this is Sally; if her history is worn like the Crown Jewels, her language and phrasing become part of the deal. It's so authentically Sally, I can't imagine her writing any other way. Her language and style are the only vehicles that could carry her memories and history with any justice: riding this train is like riding the Orient Express. Nothing but the best (check out her account of New Years Eve at the Fairmont to see Marlene Dietrich).
Sally has written a memoir that, like Sally herself, is both inimitable and inevitable. This is a great, great read. But don't take my word for it – here's a note from Grace Slick:
You can get The Band's With Me here: http://www.blurb.com/b/9043957-the-band-s-with-me
---