Tequila (SUMMER) Mockingbird (TOUR) Orchestra
---
SUMMER TOUR/FEST DATES
Thurs. May 27: Last Thursday, Portland, OR w/ Chevrona
Sat. May 29: FOLKLIFE, Seattle, WA
Wed. June 2: TOST, Seattle, WA w/ Sour Mash Hug Band & The Underscore Orchestra
Thurs. June 10: Sam's Garage, Eugene, OR w/ Sour Mash Hug Band
Sat. June 12: The Alberta Pub, Portland, OR
Tues. June 15: The JewelBox Theatre, Seattle, WA
Thurs. June 17: Old Schoolhouse, Ymir, BC
Sat. June 26: The Royal, Nelson, BC
Sun. July 4: SOULFEST, Twin Butte, AB
Fri. July 9: The Marquee Room, Calgary, AB
F-S. July 16-18: SOUTH COUNTRY FAIR, Fort MacLeod, AB
Mon. July 19: The Grand Central, Fernie, BC
F-S. July 23-25: ISLANDS FOLK FESTIVAL, Duncan, BC
F-S. July 30-Aug 1: ARTSWELLS, Wells, BC
Fri. August 13: FUNDY FROG FESTIVAL, Saint John, NB
Sat. August 21: Le Divan Orange, Montreal, QC
T-S August 26-29: Buskers Ball, Toronto, ON
MORE DATES TO BE ANNOUNCED SOON!!
The Tequila Mockingbird Orchestra are on the move this summer! Crossing the country and foraying to the US Pacific Northwest, excitement will be generated with each audience they entice with their brand of ska-influenced gypsy folk songsmithing.
DOWNLOAD "Joseph and Iris" FREE ON MODMAYPROMOTIONS.COM
The Tequila Mockingbird Orchestra are taking the nation by storm! Two years ago, one may have said Tequila what-now?, but today it's a name on the breath of music lovers everywhere. Expanding their scope in popularity with a four month European tour in 2008, the Tequila Mockingbirds followed it up with a cross Canada (and parts of the US) tour that garnered much recognition. This summer, following their Monday Magazine 'M' Award for Most Promising Local Band, TMO are back on the road playing festivals and concerts in support of their first full length release and culmination of their success to date, "The Blanche Album" (engineered by Zak Cohen). Named after their beloved piano-carrying touring bus, Blanche is a beautiful melting pot of sounds, binding Eastern European/klezmer influences with African Rhythms and Americana/Traditional Roots to produce an undeniably addicting beat. It sways through 7 original tracks from dreamy indie rock to a gypsy beat that compels your feet to move, and back again through a gauntlet of hand drums to traditional roots pickin' and bowin'; never losing its continuity. Its an accurate reflection of this maturing band, whose M.O. has been described as "taking your favorite (musical) tradition, and then; playing it with precision and intensity, use it as a rhythm stick to alternately taunt, tremor, and keep the beat with an unrelenting pulse." (Ben Halts, New World Theatre).
The Tequila Mockingbird Orchestra hail from the enthusiastic Victoria, BC music community, and got started towards international recognition through playing both the Victoria Ska Fest and Victoria Jazz Fest. They've since headlined at Artswells Festival (BC), played Toronto's Buskers Festival (where they sold over 800 CDS in three days) and continue to sell out venues across Canada such as Sala Rossa in Montreal. As their rise continues, catch Ian Griffiths (lead vox/accordion), Kurt Loewen (vocals/guitar), Patrick McGonigle (violin), Peter Mynett (upright bass) and Paul Wolda (djembe) during summer 2010 anywhere from west to east across Canada and the Northwestern US!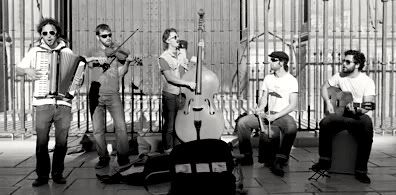 TMO BOOKINGS/MGMT
TMO's WEBSITE
TMO's MYSPACE
TMO on YOUTUBE
TMO on CBC RADIO 3
TMO on FACEBOOK
---